Some might call it the start of a new day for the graduating seniors of the Academy of Construction and Design (ACAD), who on May 18 completed their high school journeys to officially become the program's Class of 2022. The class of nine included one "outstanding" junior and eight seniors, noted ACAD leadership.
On a grass-covered field in Southwest, D.C., a crowd of more than 100 ACAD students and supporters including construction industry leaders, vocational education instructors and students' families turned out to celebrate the accomplishments of this year's graduating class. In between video highlights, those gathered cheered on the high school students now readying to pursue academic careers in college — or, professional careers in architecture, construction and other skilled trades.
Under the umbrella of ACAD, this year's grads were all part of the Academy's signature ACAD Builds internship program.
"We've got engineers, project managers, architects — and we've got paralegals, police officers, teachers and playwrights that have come through the Academy of Construction and Design," shared Shelly Karriem, the Academy's director, reflecting on the paths of prior graduates. "This year, this group of young people was really committed to academic excellence. One student received $64,000 in scholarships. All of them are college bound or considering collegiate careers."
The Meet the Future 2022 graduation ceremony continues a journey started nearly two decades ago at Cardozo Senior High School. "The greatest reward is seeing all the grads going out into the world and making a difference," said John McMahon, chairman emeritus of Miller & Long Concrete Construction, and founding member of the D.C. Students Construction Trades Foundation (DCSCTF), created in an effort to break down the D.C. government roadblocks to successful career and technical education (CTE) in the city.
Without ACAD and McMahon's vision, Karriem added, "some of our students would have been lost."
A Day Celebrating Student Achievement
This year's ceremony took place on the grounds of Jefferson Middle School Academy, the site of ACAD's outdoor classroom pavilion, a hands-on classroom learning experience where students participating in the Academy's signature internship program, ACAD Builds, work on construction projects.
Despite the challenges of the pandemic, the Academy in recent years successfully expanded to 10 schools across the city. The students came from charter and public schools including Phelps Architecture, Construction and Engineering (ACE) High School, Ballou Senior High School, McKinley Technology High School, H.D. Woodson High School, Jackson-Reed High School (formerly Woodrow Wilson High School), Cardozo Education Campus, Columbia Heights Education Campus, Paul Lawrence Dunbar High School, IDEA Public Charter School, and Roosevelt High School. Enrollment totaled nine this academic school year, with seniors studying areas like architectural design and sustainable building, and completing core safety modules to put into practice. Those modules included the construction industry's best practices in safety for hands-on building projects. The annual Meet the Future event topped off the academic year by presenting scholarships and other awards for student achievements inside — and outside — the high school career tech program.
Named after the COO and executive vice president of the IDI Group Companies, the Norman Dreyfuss Scholarship Awards goes to scholars to help them in college or career, whichever pathway they choose. So far, Dreyfuss has contributed more than $150,000 to the award and has helped more than 25 students, who have used the monetary gift to help pay for college expenses and tools (if pursuing a job in the skilled trades). Emille Robinson, program coordinator for the ACAD Builds internship program, said that for more than 15 years Dreyfuss has "put his money where his mouth is" to help countless student graduates of the Academy.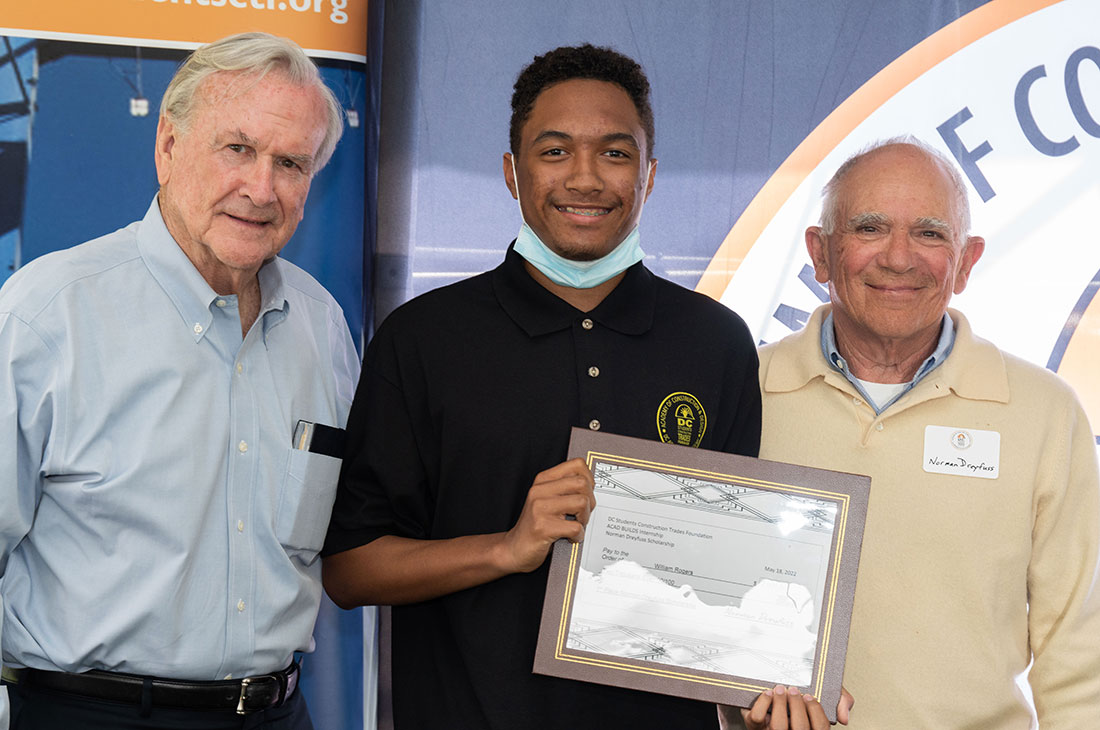 For consideration, students had to write essays about topics of their choice. William Rogers, the top winner with a $2,000 prize, wrote a personal essay about what motivated him to study architecture at the University of Pittsburgh. "William's essay was so personal and so well-written, and you knew it was straight from his heart," said Robinson during the awards presentation, in which she was joined by Karriem, McMahon and Dreyfuss. "It was just that good."
And it proved to be a family affair — in more ways than one. Rogers' twin brother, Edward, received a $1,000 Norman Dreyfuss Scholarship and plans to study mechanical engineering at George Mason University. Kelly Bonilla rounded out the Dreyfuss scholars with a $500 third-place award. She plans to attend George Mason University in the fall and major in business administration.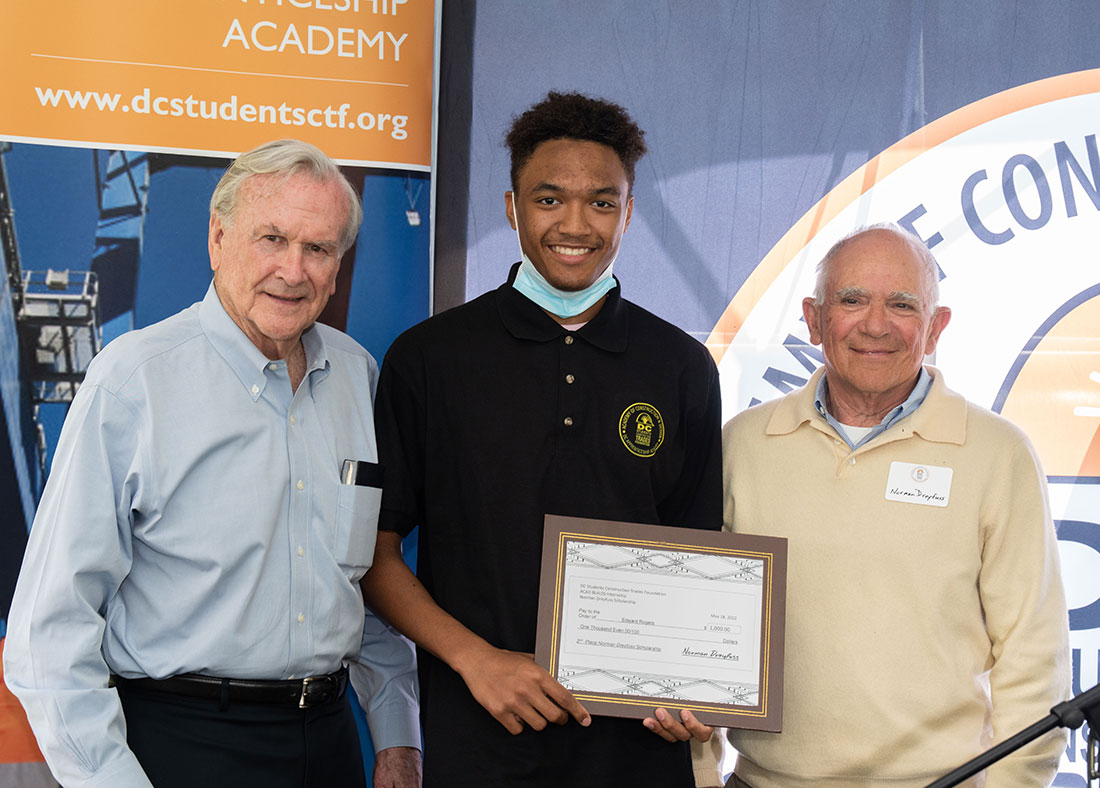 Meanwhile, Bonilla's twin sister, Keyri, took home the honor of a 2022 Marshall Janifer Award, bestowed with a $250 gift card. She plans to attend American University and also major in business administration. Keyri received accolades for embodying the characteristics of helpfulness to her peers. Tatiayna Jones, an early graduate from Dunbar in January 2022, also received a $250 Janifer Award.
The Marshall Janifer Award, named in memory of a longtime Academy carpentry teacher, is presented to ACAD Builds interns that exemplify Janifer's traits of dedication and commitment. Ahead of accepting this honor, Robinson praised fellow winner Jones for demonstrating consistency. "She's always on time," said Robinson, noting that when it comes to her internship, she is often the first one to arrive.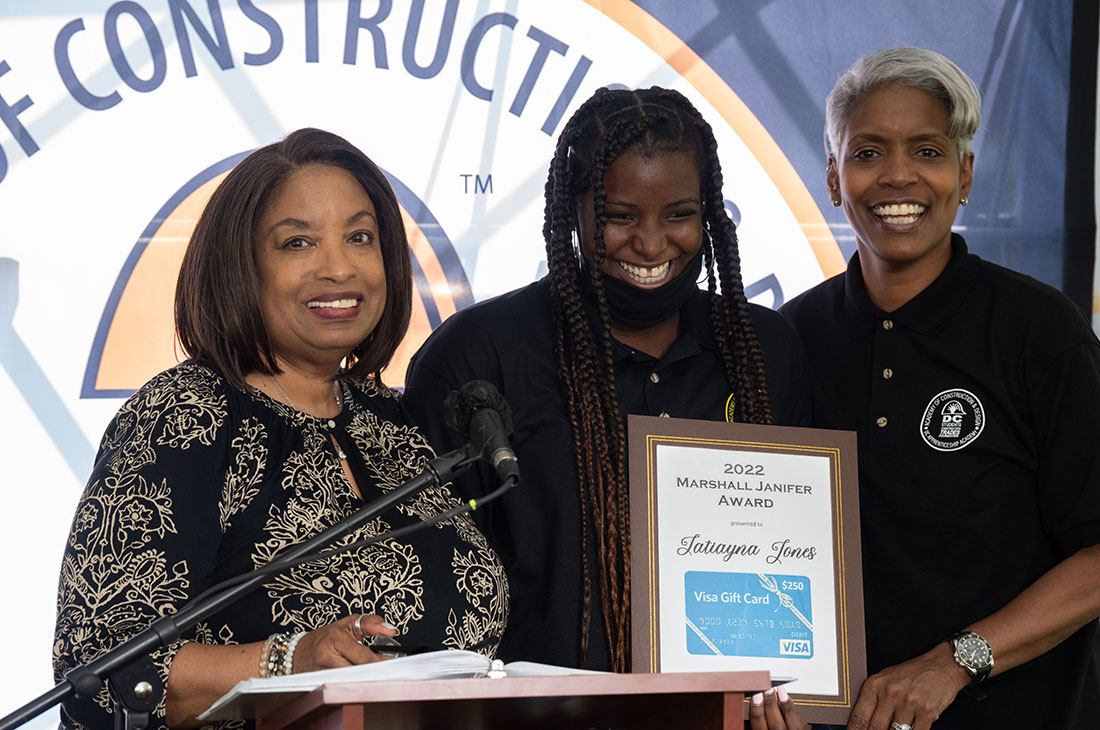 Meanwhile, three other Academy grads from Phelps ACE High School signed letters of intent with electrical engineering and technology services company, M.C. Dean.
A Road Less Taken
The Meet the Future ceremony also revisited the Academy's beginnings.
"We graduated class after class and there was a small number of kids who would go off to college, but a vast majority of our kids were not moving on to higher education," recalled Reginald Ballard, then-principal at Cardozo, where the program launched. "We weren't serving our kids fully by just trying to prepare them to go off to college, a number wanted to go into the trades."
Academy students have participated in landmark projects since ACAD's founding at the formerly named Cardozo Senior High School in 2005. The projects included working on the Academy's first student-built house in the District, constructing homes alongside D.C. Habitat for Humanity for in-need families, assisting in the renovation of the Cardozo campus, helping build homes in Jamaica, holding a youth farmer's market in the food desert of Ward 7's Deanwood neighborhood, and now, readying to construct a second student-built house in Ward 7, a project that broke ground last year.
The story behind ACAD is the inspiration behind this year's theme, "The Blueprint of a Vision," a nod to John McMahon, who pushed through bureaucratic challenges to help revive CTE — first in D.C. Public Schools, and more recently, expanding to charter schools. Also DCSCTF board chair emeritus, McMahon's rally for construction trades drew the support of faith-based, community and business leaders. And from this collaborative effort, grew the Academy of Construction and Design.
During the pandemic, the Academy expanded virtually to more schools.
Mark Drury, current Foundation board president and a longtime construction industry executive, said in remarks that the DCSCTF's education and training mission is "as strong now as it was when John McMahon brought construction industry leaders together to establish the Foundation."
A Time to Shine
Besides lauding the next generation to embrace CTE training, the event also saluted those already making commitments to construction trades. The day marked graduation for 28 from the D.C. Apprenticeship Academy (DCAA), an intensive four-year apprenticeship training program for registered apprentices. Graduates must successfully complete 2,000 hours of on-the-job training and a minimum 144 hours of related instruction each year as they strive for their goal to attain industry-recognized credentials. In the face of the pandemic, the students and instructors embraced a hybrid approach to learning, with live online instruction combined with in-person, small group sessions for assessment and testing.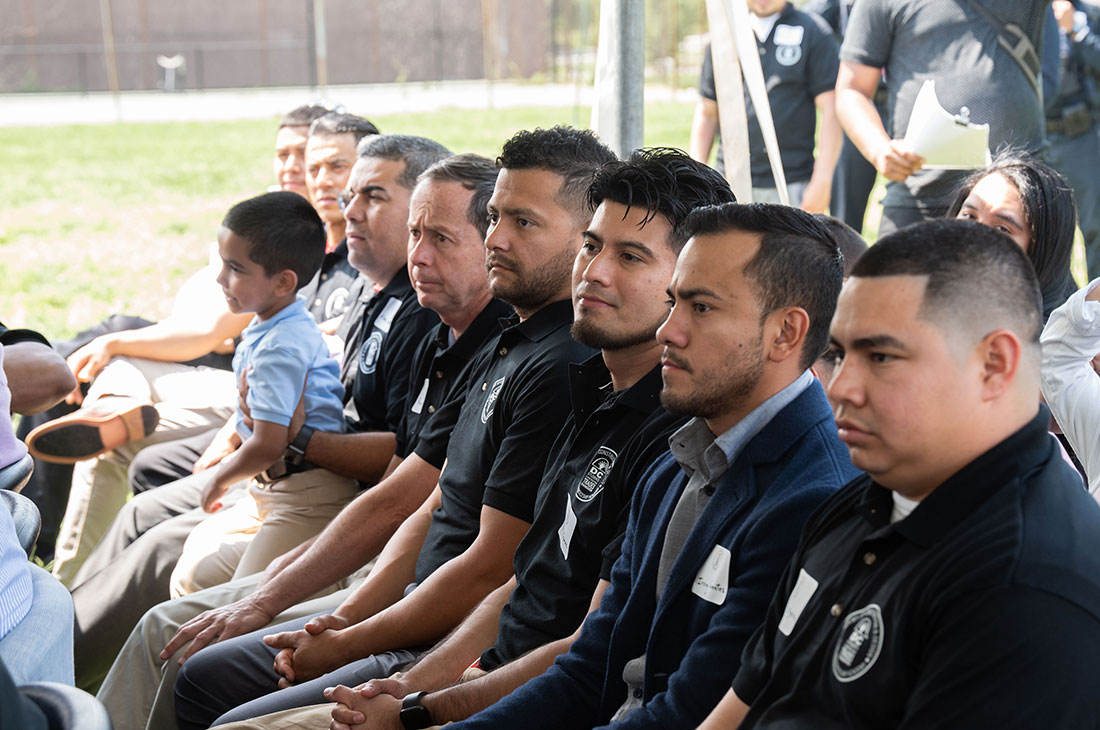 "You've taken this step and the sky's the limit," said Lesley Harris, D.C. Apprenticeship Academy program coordinator.
Since starting the apprenticeship academy in the District in 2007, DCSCTF has graduated 130 registered apprentices. The group included carpentry as well as electrical apprentices, which were sponsored by M.C. Dean, general contractor Keystone Plus Construction Corp., APM Vocational Institute, as well as self-sponsored individuals. Each electrical apprentice will now be eligible to receive a D.C. journeyman's license. M.C. Dean also signed three Phelps graduates.
"I'm especially proud this year because we had more graduates than we've ever had," said Beth Moore Shenton, director of Foundation programs for the D.C. Students Construction Trades Foundation, who also praised the students for their accomplishment. "These young men parked in people's driveways to take their tests, they went to different locations to do their hands-on testing, and they showed a huge amount of determination and resilience to reach their goals to graduate."
For a Job Well Done
Through the years, Shenton and Karriem have been consistent sources of support for graduates of ACAD and DCAA. Now, both are pursuing their next acts and saying goodbye — through tears and smiles. "Breaking up is really hard to do," said Shenton, of her departure from the Foundation.
As her last Meet the Future in the director's position, Karriem reflected on her journey and offered lessons learned since starting with the Academy in 2005. "This experience has impacted my life for the rest of my life," she said. "From my students, one of the biggest lessons learned was to be open to receive them however they come. These kids — with so many backgrounds and diversity culturally, socio-economically and of sexual identification — has been amazing. When they know you accept them where they are, they'll give you 110%. You help them meet the best part of themselves."
For their years of dedicated service, Rev. Stephen Tucker, president of the nonprofit JOBS Coalition, presented to both Karriem and Shenton awards of appreciation on behalf of the Foundation. In giving the engraved crystal, he acknowledged Shenton for her "life of service to the community" and Karriem for her "devoted service to the Academy and the D.C. Students Construction Trades Foundation."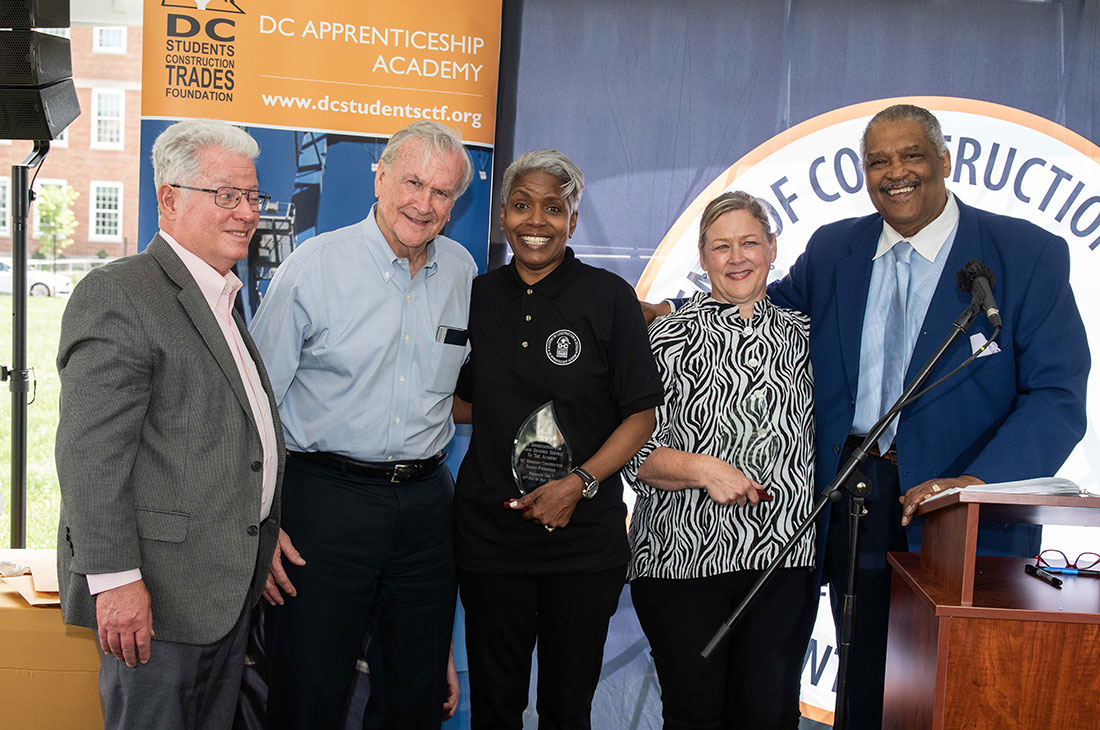 Karriem also received an unexpected surprise: McMahon and Dreyfuss announced they are funding a $20,000 scholarship in her name. "This is amazing," she said through tears. "I'm never lost for words, but on this day, I am." While standing beside the benefactors, she noted that leading the high school construction program has been more than a "part" of her life: "It has been my life."
As the ceremony ended, students hurried to huddle with friends, chatting excitedly over the events of the day while exchanging glances at each other's awards. Some shared hugs with their families in celebration of a job well done. For the Class of 2022, this day is done. Now, it's time to meet the future.