On a grassy lot at 4950 East Capitol Street in Northeast, Washington, D.C., a small group of students from high schools across the city readied for this year's reimagined Meet the Future celebration. Instead of a networking mixer, some 30 construction industry leaders and career and technical education (CTE) supporters gathered to cheer on scholars of the Academy of Construction and Design (ACAD). And unlike year's past, the event convened outdoors with a "stage" adorned in black and gold balloons in view of nearby city streets.
"Covid-19 changed how we operated and we embraced those changes with a sense of resiliency," Shelly Karriem, director of the Academy of Construction and Design, told the crowd in a video and later reiterated to JOBS Coalition Pathways. Of the Academy and its evolution, she added, "This is a never-ending story, a book filled with many chapters."
This last year has been challenging for the more than 20 students in the Academy of Construction and Design, who attended classes virtually while studying subjects like architectural design and sustainable building. In the midst of a pandemic, these young people dealt with personal struggles — like family job loss, homelessness and even one student whose family returned to their home country only to get locked out of the United States throughout the pandemic — as well as academic hurdles, according to Karriem, "But they met the challenge."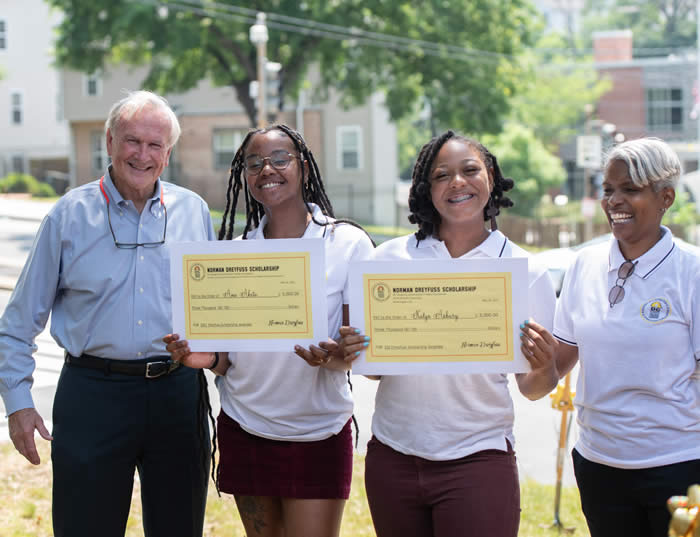 For Ama Akoto, 17, the personal challenge was the isolation of being at home because her mom is a frontline worker. It proved to be quite an adjustment after attending McKinley Technology High School, a science, technology, engineering and mathematics, or STEM-centric, school with an enrollment upwards of 700 students. On top of that, she balanced studies with maintaining her well-being. "I set myself a time limit for certain assignments and dedicated certain times to certain tasks, and would take my work to the park," says Akoto, while noting the importance of also getting out of the house and spending time with her two pets.
It's a strategy that worked. On May 26, Akoto received the first place Norman Dreyfuss Scholarship Award, an honor shared with fellow McKinley Technology student and best friend Kalyn Asbury, also awarded the top prize in the two-way tie. "It was a very funny experience to go up there together," admits Akoto, who will be attending New York University and pursuing anthropology, women and gender, and Africana studies as part of a specially-designed program. "I'm planning to get my doctorate because I want to be a professor."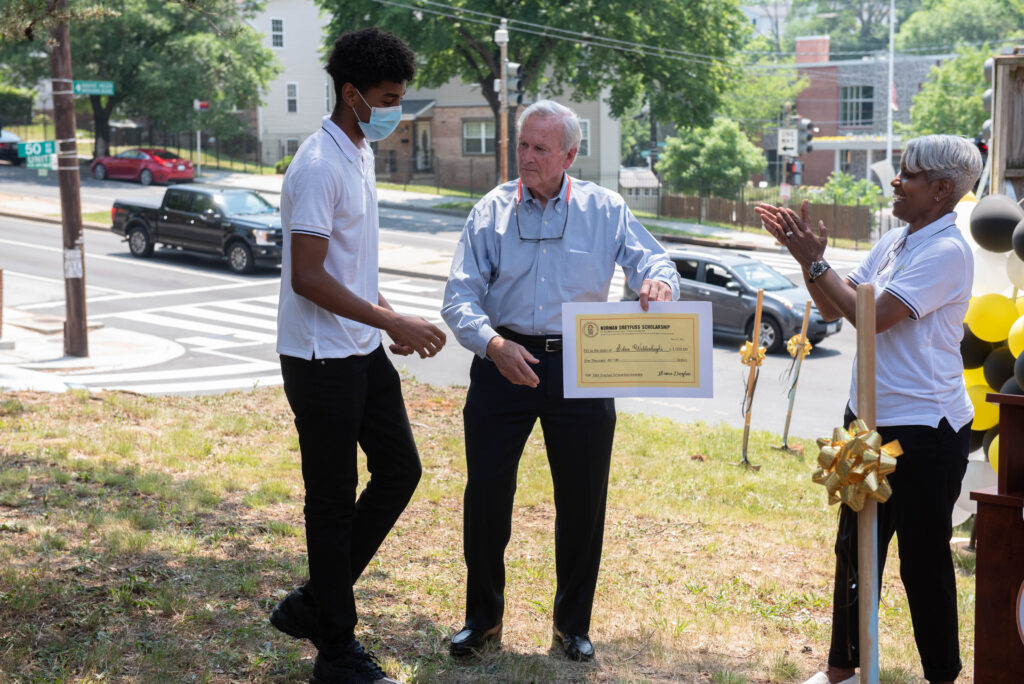 As the latest recipients, they are part of a growing list of more than 25 given the scholarship named after the COO and executive vice president of the IDI Group Companies, Norman Dreyfuss. To date, he has endowed more than $150,000 for the award.
Stepping Into One's Purpose
During the 2020-2021 school year just as the pandemic unfolded, the Academy transitioned to a new model. No longer tied to a single school, ACAD has partnered with D.C. Public Schools and now reaches 10 D.C. schools citywide, including Phelps Ace High School and McKinley Technology High School in Northeast and Theodore Roosevelt High School and Dunbar High School in Northwest. Plus, instead of graded classes, participants receive CTE training, direct access to hands-on internships through the Academy, and NCCER (National Center for Construction Education & Research) certification. "We report their success to their school administrators," explains Karriem of the partnership with DCPS.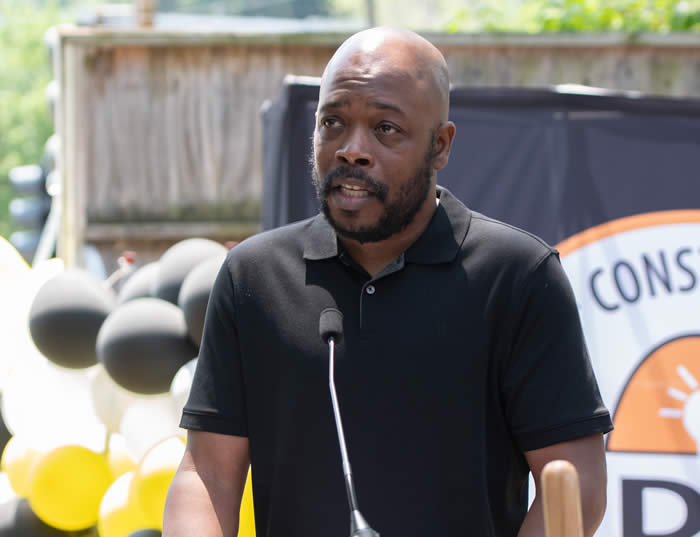 "These type of projects make the connection, that's the importance of CTE," says Clifton Martin, director of career and technical education for DCPS. "Students can now take that knowledge and connect it to real-world experiences."
The Meet the Future celebration remained true to its legacy: uplifting and honoring the achievements of ACAD students. Five graduating seniors — who simultaneously participated in the Academy's signature ACAD Builds internship program — were recognized with awards for their personal tenacity and academic achievements. The accompanying monetary gifts are designed to help these young people pursue future college or career goals.
When Asbury's name was called, she remembers being "overwhelmingly happy," especially since Akoto stood beside her while also accepting a $3,000 Dreyfuss scholarship. "It's good that you can celebrate with other people and share that same joy," says Asbury, 17, who in the fall will be attending Hampton University, where she plans to major in architecture with a double minor in marketing and Spanish. "It felt like a portion of the weight of the tuition was lifted off my shoulders."
She also took home a $300 Marshall Janifer Outstanding Student Award, in memory of the longtime Academy carpentry teacher. Her ACAD peers voted her as one of the winners, making the win especially noteworthy. "When I heard my name, my jaw dropped," says Asbury, who like Akoto, plans to put the money towards college expenses.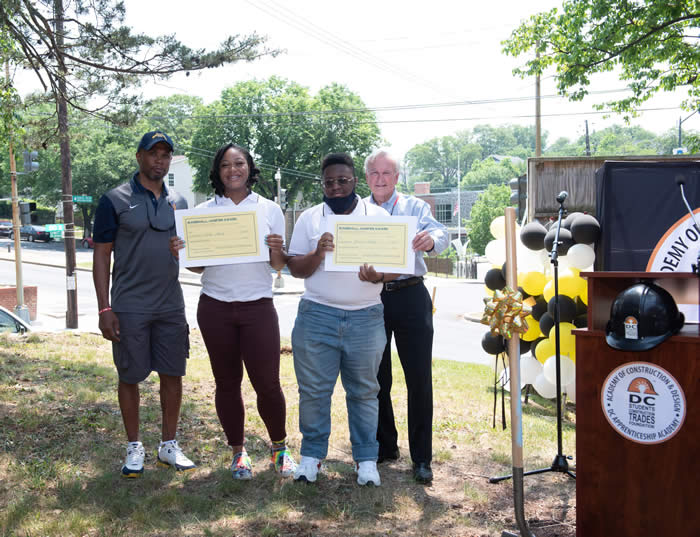 Other winners that day included Bernard Mackey from Phelps Architecture, Construction and Engineering (ACE) High School, who also collected a $300 Janifer Outstanding Student Award. He plans to study illustration art at Rocky Mountain College of Art & Design. Meanwhile, Sidon Abraham Woldeabzghi from Francis L. Cardozo Education Campus took second place and a $1,000 award for the Dreyfuss Scholarship, and plans to attend Marymount University and study information technology. Meanwhile, Angel Mendoza of Roosevelt High School won the $100 Step Up Award, given to a student who has participated in every internship session throughout the school year and proved a diligent communicator, according to Emille Robinson, program coordinator for the ACAD Builds internship program. Mendoza plans to attend the University of the District of Columbia Community College.
Forging New Futures
As a founding member of the Foundation and DCSCTF board chair emeritus, John McMahon has long championed bringing together community, business and faith-based leaders to address the chronically high unemployment rate in the District and help students become job-ready and gainfully employed. Out of this effort emerged the Academy, which has been honoring continuing and graduating students of ACAD for 15 years. "The purpose of the Academy was for students to obtain and succeed in jobs in the construction industry," notes Karriem.
These awards continue to support and build on those goals. "The success of the Foundation programs over the years has been overwhelming," asserts Foundation Board President Mark Drury, who also serves as vice president of Business Development for Shapiro & Duncan. In a nod to the enrichment provided through the Academy, he continues: "It's all about students figuring out what they want to do in life, identifying where their skills and abilities are, and then seeing practical ways they can apply them."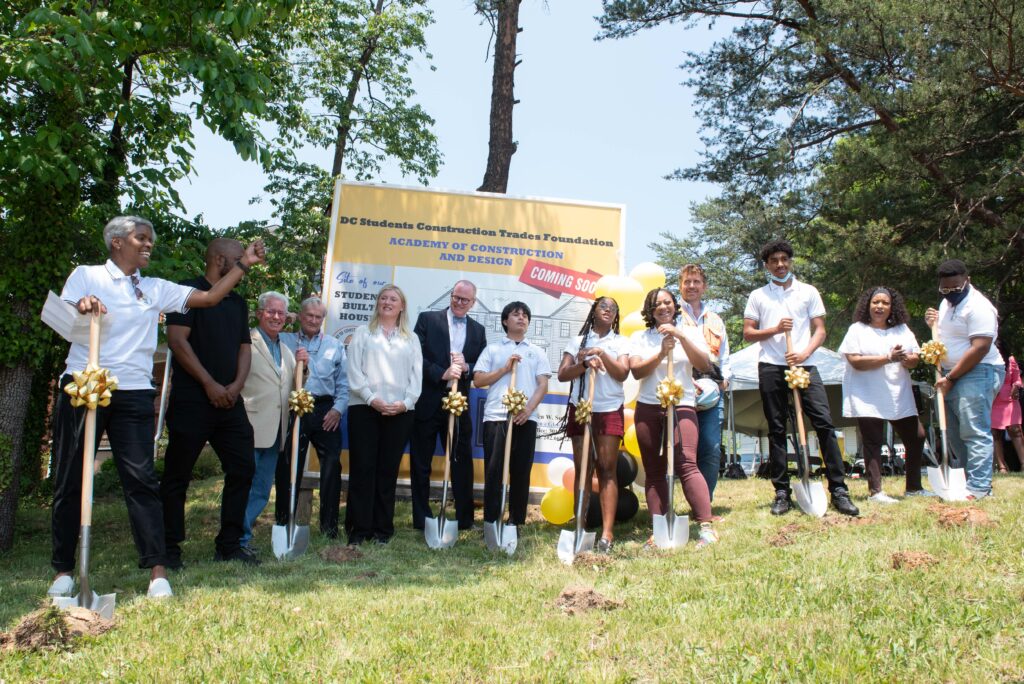 With another celebration down, the Foundation remains focused on continued growth of its programs to engage youth and encourage participation in CTE. Case in point: May 26 also marked the groundbreaking for the Academy's second student-built house, a roughly 3,000 square-foot, single-family home site in Ward 7 (the first house constructed as part of the "Build A House, Build A Future" program, was unveiled in December 2012 in Northwest, D.C.).
Regardless of the paths chosen, those who have participated in the Academy undoubtedly know its impact. "It's all about building experience for yourself," says Asbury. And for those trying to decide which internship is the best fit, she points to the Academy and ACAD Builds. Her final words: "Just go ahead and do it."