From students flexing their networking skills during a National Apprenticeship Week job fair to examining  African-American lives transformed after incarceration this year's JOBS Coalition Pathways newsletter dove into the issues at the core of its coverage: workforce development, career and technical education, and recidivism as they impact District residents. Here, a look back through excerpts of the top stories of 2019:
---
JANUARY/FEBRUARY 2019
Through the Academy of Construction and Design and collaborations with organizations like Associated Builders and Contractors, students learned valuable lessons about networking: make eye contact, extend a firm handshake, share professional goals and follow up with a business card. Young men and women enrolled in the CTE program at IDEA Public Charter School had an opportunity to tap into these life skills as participants of a career fair for National Apprenticeship Week. As part of that event, students gained face-time with construction and other building industry recruiters, who in turn introduced them to opportunities across the trades.
Meanwhile, back at the M.C. Dean exhibit booth, recruiter William Lilley is witnessing first-hand the impact of mentoring. "It's amazing to see how many of these young people already have a plan and are just looking for ideas, advice and help more so than anything else," he says. For those taking the initiative, Lilley is sharing information about the company's apprenticeship program, which he calls the foundation for becoming an electrician. Other students that may be interested in pursuing engineering can benefit from M.C. Dean's internship programs, options for those attending college but returning home for summer breaks.
Table Talking Points
Informational handouts are spread across the tables, with company representatives at the ready to answer questions. At Miller & Long, the emphasis is on the variety of summer internship and apprenticeship programs available, depending on the individual's career objective. If entering the workforce directly is the goal, the company's apprenticeship programs provide "a good, paid opportunity that's hands-on with class sessions," according to Amy Bernoske, an estimator at Miller & Long. She says having a presence at the event is important for spreading the word to young people about the opportunities in construction.
Nearby at the Ruppert Landscape booth, Human Resources Specialist Kate McCabe is firing off the different career paths and divisions available within the company. As upper-level students stop by the table, she discusses the various specialty areas for internships, ranging from landscape installation to management. The internship program is one way to "rub elbows" with some of the leaders in the company to learn more about what each branch or division does, she explains. McCabe also touches on some of the very limited hiring opportunities for those in the 18- to 21-year-old age group, attributed to safety concerns related to this industry.
While laying out this information, she quickly asserts how "super impressed" she has been with the students' abilities to discuss career pathways and values for employment, as well as maintaining eye contact and approachability. "I go to college fairs and don't see stuff like this on a regular basis," McCabe says. — JOBS Coalition Pathways, READY, SET … NETWORK! ACAD Students Put Best Foot Forward During Job Fair Kicking Off National Apprenticeship Week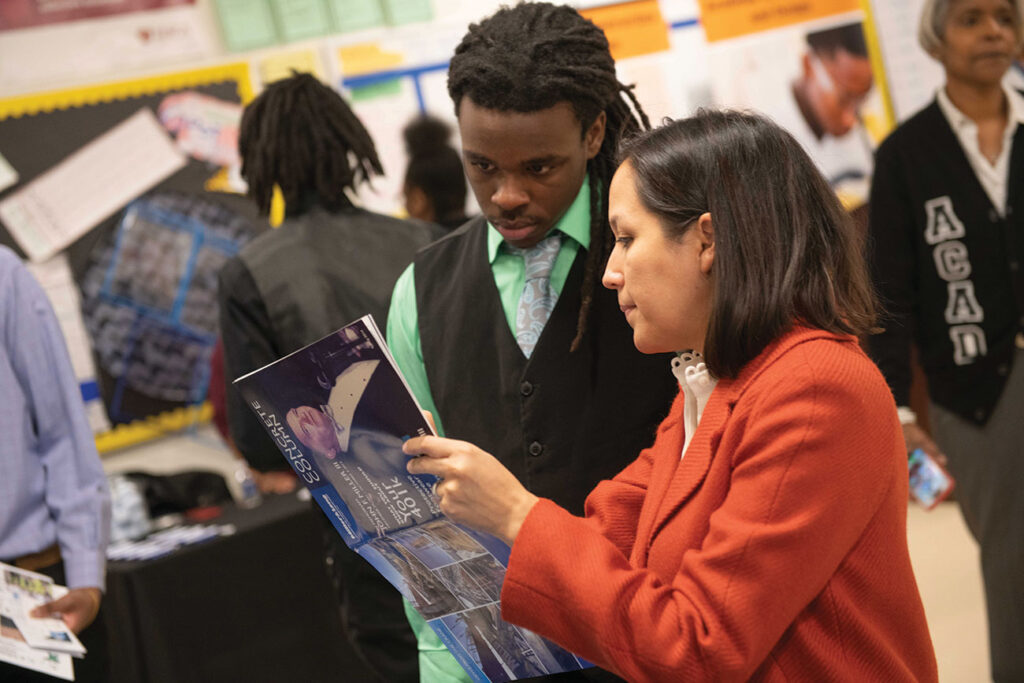 ---
MARCH/APRIL 2019
The 13th year of the Annual Meet the Future Luncheon proved lucky for select students of the Academy of Construction and Design, who would be celebrated for their academic and personal successes in the program and classroom. The accomplishments of each class have been lauded by renowned guest speakers over the years, who also took the opportunity to impart life lessons from their own individual experiences.
Jim Vance: 2008 + 2015
Celebrated journalist Jim Vance told stories of his youth, ones that many Academy students may have been surprised to hear.
For one, his dream as a young man was not to go on to college but to follow in the footsteps of his grandfather, who worked as a plumber. Vance got a taste of that trade during the summers and on weekends, he recalled, an experience that he "loved."
Ultimately, he attended Cheyney University in Pennsylvania and retained respect for those working in the field of skilled trades. "They were good men and my family — they were strong, honest, disciplined [and] honorable," he recalled in his 2008 speech. Other quotable insights the late journalist shared with students that day:
"What counts is not whether you've been slapped down, or even how often you've been slapped down, but whether you get back up."
"Ain't nobody gonna give you nothing, and ain't nobody supposed to."
"Be careful of the company that you keep."
"Everyone makes mistakes — but don't make the same ones twice."
"Believe in yourself and appreciate your value."
By the time the local news anchor returned to the Meet the Future Luncheon in 2015, he had even more golden nuggets for the newly-minted grads. He advised them to take on the work that is given without complaint. And when others demand more, strive to impress. "Honor yourself by the work that you do," he said that year. — JOBS Coalition Pathways, THE BEST OF MEET THE FUTURE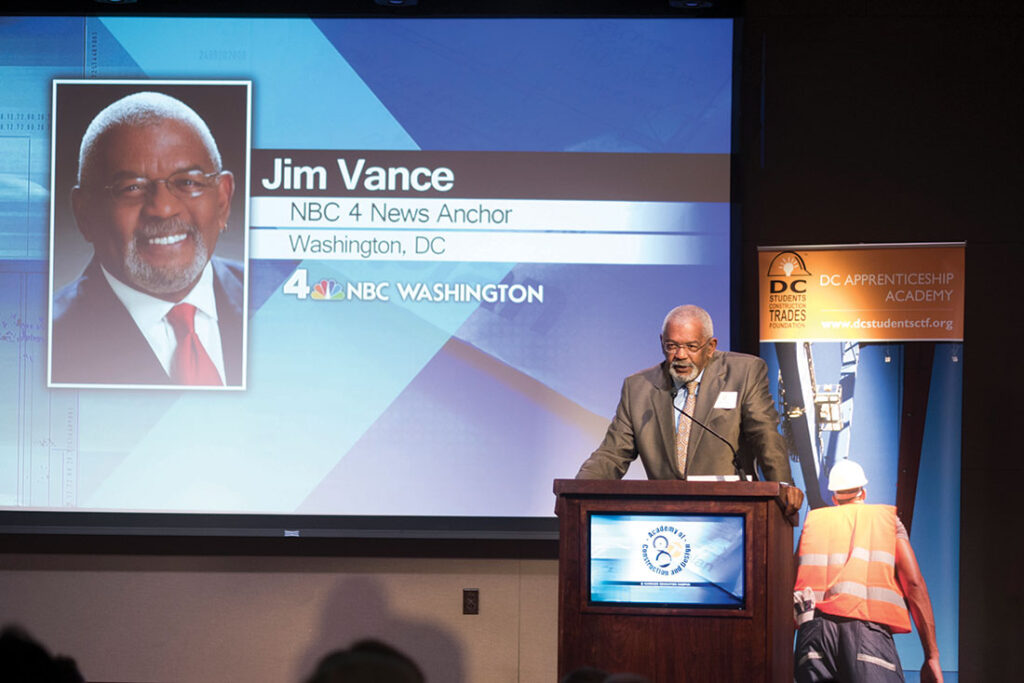 ---
MAY/JUNE 2019
Some Academy of Construction and Design graduates will head off to college while others will jump into the workforce, leaning on the skilled trades training they received to give them a head start in the real world. At the 2019 Meet the Future Luncheon, all life paths were honored through prizes, scholarships and special acknowledgements.
Kyeon Ford has been busy while a student in the Academy of Construction and Design (ACAD). While learning the in-and-outs of the carpentry trade, he's helped build birdhouses, benches, and impressively, two tiny homes. For the 17-year-old, taking classroom knowledge and investing it into the real world has paid off personally and academically — he's gearing up to start a new job with Fort Myer Construction with a $4,000 Norman Dreyfuss Scholarship to kickstart his post-high school life.
"The Academy provided me with skills not only in construction but also communication and life skills — I feel that it just helped me all around and it was great," said Ford, who's wrapping up an internship with NASA in information technology before starting at Fort Myer as a quality control technician trainee in the asphalt plant lab. There, he'll spend days creating and testing new asphalt.
The recent grad has already set his sights on a long-term goal of owning a construction company, a nod to the influence of the Academy training program housed at IDEA Public Charter School in Northeast D.C.
While Ford took the top honor for the Norman Dreyfuss Scholarship, he wasn't alone in receiving accolades. Fellow ACAD student De'Andre Williams snagged a $2,000 Dreyfuss scholarship during the event, hosted by the D.C. Students Construction Trades Foundation.
Lauded as the "turnaround kid," Williams, 18, thought the odds were against him — not so. "I felt like it was a one in a million chance I would get called," admitted the graduate, who focused on carpentry at the Academy. "So the fact that I did was very exciting."
Now, he's preparing to be a quality control technician assistant at Fort Myer Construction, a company that piqued his interest while visiting its asphalt plant lab. Williams shared that the Academy was pivotal in preparing him for his first career step and shaping him into a leader. "I was pushed into that position. The reason I come prepared all the time is because I used to not do it — I was taught that," he explained. — JOBS Coalition Pathways, MEET THE FUTURE 2019 The Academy of Construction and Design: A Dreamcatcher for New Grads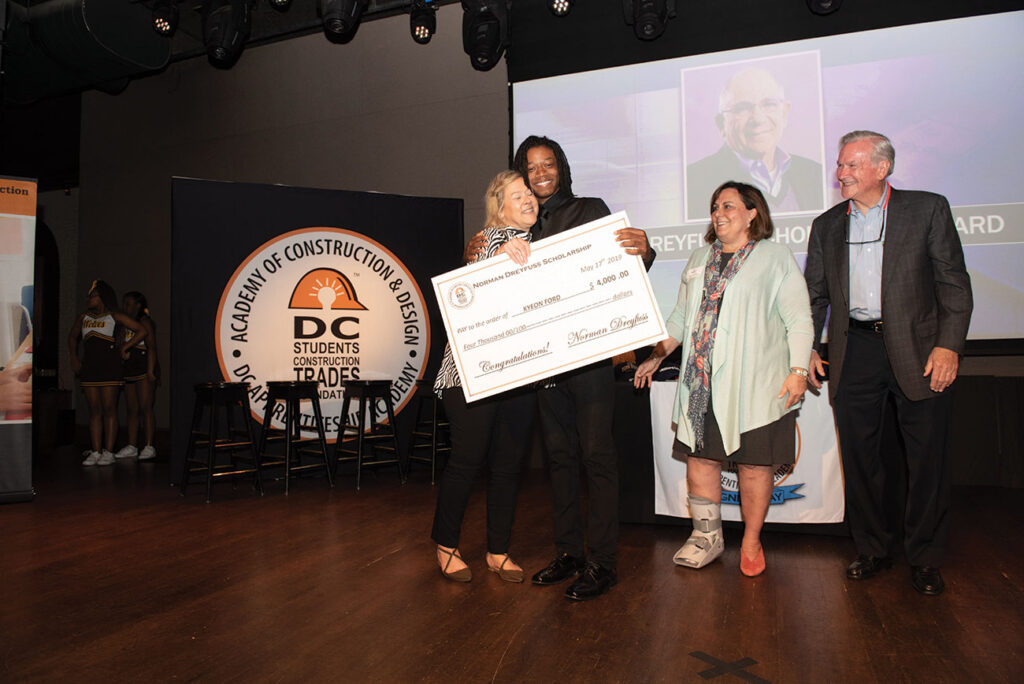 ---
JULY/AUGUST 2019
Five men completed four years of apprenticeship training to become graduates of the D.C. Apprenticeship Academy's Class of 2019. Despite having divergent paths to the program, in the end, each reached a shared goal of earning a journeyman's license and becoming an electrician.
Respect the Trade
[Glenn McCutchen] discovered the D.C. Apprenticeship Academy after multiple stints in construction. At the time, he didn't have a D.C. electrical license, which made job advancement difficult. Eventually, work slowed and he found himself at an employment office near Minnesota Avenue and Benning Road in Northeast. It would be the place where he'd first learn about the employer-sponsored program.
After being hired by M.C. Dean, McCutchen grabbed the opportunity to enroll in the weekly apprenticeship class while juggling a full-time job that took him across the city to work on street and traffic lights — sometimes at unexpected hours. "I might go out anytime day or night to make sure the pole is secure," he shared. Plus, he had to make time to study.
He persevered amid challenges like learning the nuances of working with electricity (his responsibilities included calculating the voltage necessary in an environment with fluctuating temperatures). And he credited Academy instructors for helping pull him through, calling them the most rewarding part of the program. Now, McCutchen is eyeing the next goal: to become a general contractor and pursue real estate development.
Meanwhile, former apprentice Antonio Dudley worked for an engineer technician company and was unemployed for three years before being hired and sponsored into the program. Graduate [Josias Funes] Magano, however, learned of the program after starting with M.C. Dean. He described the experience as "remarkable" and has gained a newfound respect for the trade. "When I worked with my uncles, I didn't know why they were so big on safety until I was in the apprenticeship program and at work," Magano explained, noting each instructor's emphasis on safety. "It is very important that you follow all safety rules first and foremost, so no one gets injured." — JOBS Coalition Pathways, MISSION ACCOMPLISHED D.C. Apprenticeship Academy Class of 2019 Earns Industry Credentials, Career Jump-Starters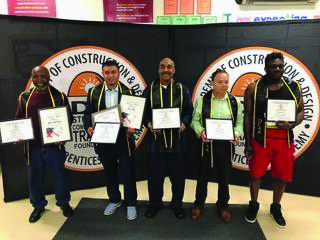 ---
SEPTEMBER/OCTOBER 2019
The issues surrounding mass incarceration continue to be at the forefront of today's political dialogue, with thought leaders like CNN political commentator Van Jones and lawmaker Rep. Danny K. Davis (D-Ill.) advocating for change across a criminal justice system that disproportionately affects African Americans. At this year's Congressional Black Caucus Foundation's 49th Annual Legislative Conference, Davis presented a high impact panel that included Jones plus criminal justice advocate Kemba Smith and chef Jeff Henderson. Together, they discussed efforts to break the revolving door of incarceration and shared stories of successful reentry into the community after prison.
Then came a life-saving moment. "I was blessed with a federal indictment in 1987," Henderson said. It was during this time that he discovered two things: books that taught him about black intellectuals, and a passion for cooking.
"I began to see the world different," he recalled.
Henderson started a side hustle in prison, a catering company fueled by his work as head inmate cook. With stolen items from the kitchen — from red onions to extra chicken — he created top ramen concoctions back on the cellblock. He also honed his public speaking skills in Toastmasters. Henderson ultimately transferred these business traits to a new endeavor after being released. "I had a dream to become a chef," he said. And he did just that, becoming the first African-American executive chef of a multi-million dollar restaurant at Caesars Palace and the Bellagio in Las Vegas.
"I mastered getting employed as a convicted felon," Henderson said.
While building upon his own culinary success, he strategically hired other formerly incarcerated individuals. "I clean them up and give them the do-over because I speak the language and I've walked in their shoes. I have a prison GED but never been to college," he explained. "Second chance employment is important."
An Empowered Voice
Meanwhile, the name Kemba Smith is to many synonymous with the harsh mandatory minimums accompanying first-time, nonviolent drug offenders. As a college student at Hampton University, Smith fell in love with a drug dealer who was later murdered. And although she didn't "handle, use or sell the drugs that were involved," her relationship with him led to a 24 1⁄2-year sentence in federal prison. "I turned myself in while seven months pregnant and gave birth to my son while incarcerated," she said.
Throughout the more than six years in prison before her sentence was commuted by President Clinton in 2000, her parents were a source of steadfast support that included caring for her son. "A lot of people in the system are not that fortunate to have family members who can take their children," she said. — JOBS Coalition Pathways, LIVES REINVENTED: Congressman Danny K. Davis CBC Session Examines Stories of Reentry