Ty'reek Wylie didn't hesitate to praise the benefits of career and technical education (CTE) training during the National Apprenticeship Week job fair at Phelps Architecture, Construction and Engineering High School (ACE), where he's a senior. When asked about his afternoon of networking, he responded enthusiastically: "This experience presents a variety of job opportunities that I might not have been exposed to. It expands my horizons because I wasn't aware of a lot of these programs — it's been a gratifying experience."
Wylie was one of more than 70 students from Phelps ACE and the Academy of Construction and Design (ACAD) at IDEA Public Charter School who attended this year's National Apprenticeship Week mentoring and networking career fair aimed at advancing youth apprenticeship.The Nov. 13 event, sponsored by the D.C. Students Construction Trades Foundation (DCSCTF), included employers and training partners from M.C. Dean, A. Wash and Associates, the D.C. Apprenticeship Academy, Donohoe Construction, Miller & Long Concrete Construction, Ruppert Landscape, Shapiro & Duncan, the Department of Employment Services' (DOES) Office of Apprenticeship Information and Training, the District Wharf project and the District Department of Transportation's Urban Forestry Division, among others.
"Lots of students are interested in finding out about opportunities for their future," said Randall Shannon, workforce development specialist at DOES, who hailed the event as "terrific."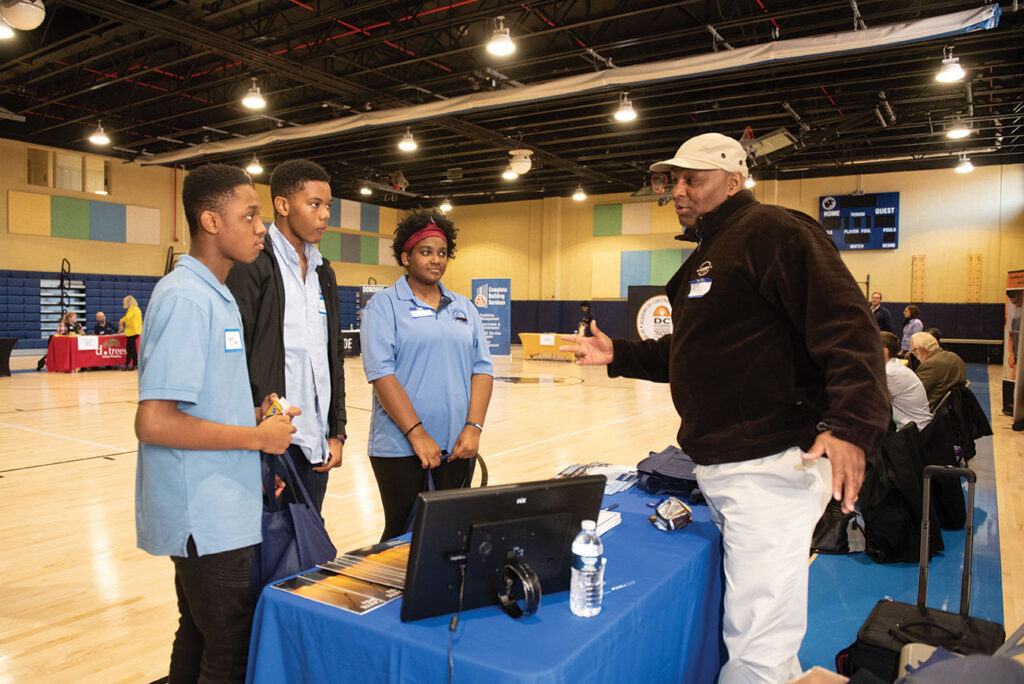 Doorways to Bright Futures
It's 1:29 p.m. when the first group of about 15 young men and women sporting Phelps signature blue gear adorned with the school's mascot — a black panther — enter the gymnasium. Minutes later, a cluster of IDEA students wearing their own school colors — maroon or red, gold and gray — filter in. They initially stick closely to their cliques, checking in at the front desk and picking up copies of "Passport to My Future," a booklet identifying each student's information alongside post-graduation plans, career fair tips like requesting a business card, and a listing of companies visited that afternoon. Slowly, however, the groups disperse and branch out across the room, with students stopping by employer tables to network and ask questions.
"What do y'all want to know?" asked Kenny Glover, a human resource specialist with Miller & Long Concrete Construction, when Phelps students approached.
"Everything!" responded one young man enthusiastically.
"What types of trades y'all like?" Glover continued.
"Architecture and engineering," they answered.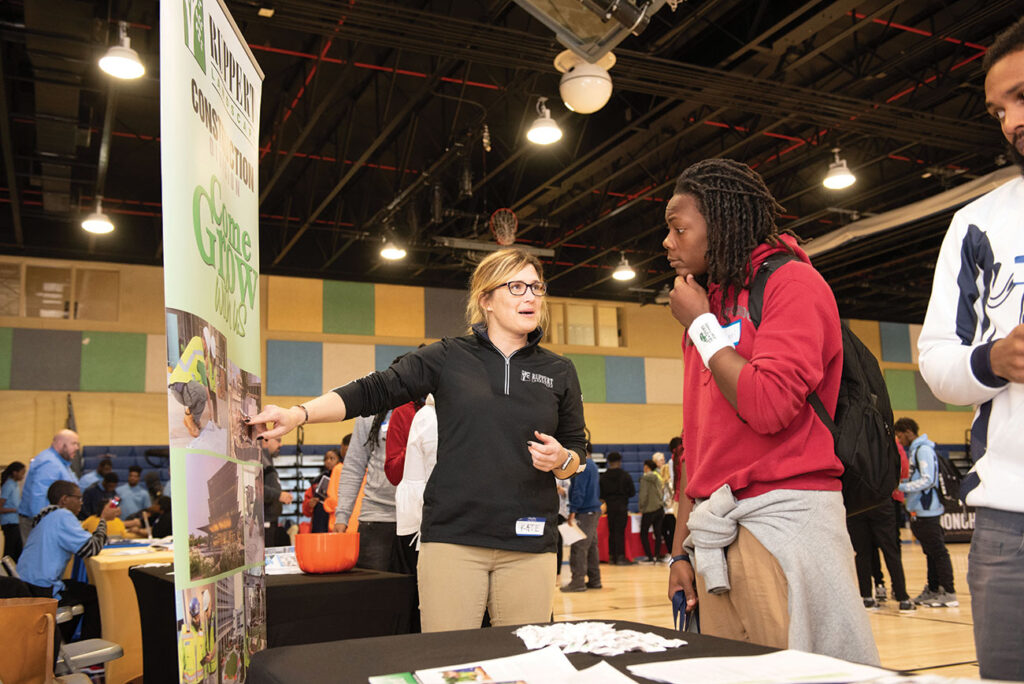 Many of the youth in attendance are already pursuing training in skilled trades like carpentry or electrical at their respective schools. That was the case for Wylie, who had specialized in the electrical trade his last three years and earned certification from NCCER, the National Center for Construction Education and Research. He's now aiming to attend college and major in political science or pre-law before attending law school. His ultimate goal is to become a corporate attorney and entrepreneur — opening a laundromat. Even then, he said, CTE training will be an ongoing source of support. "It gives me options if this law endeavor doesn't work out. I could always become an electrician," he said. "I can always go into another trade — home security or some other interesting things. I am certified now, so I will always have something to fall back on."
IDEA hosted the 2018 National Apprenticeship Week kickoff event. By expanding and bringing the two schools (IDEA and Phelps) together for 2019, the event raised the bar — convening a more diverse group of students and a greater number of opportunities through participating employers that garnered a visit from newly-appointed Secretary of Labor Eugene Scalia (see related story, pg. 3). Wylie admitted being surprised to see a childhood friend, Andrea Ulmer, in attendance from IDEA. The pair grew up in elementary and middle school together, he said. Chatting with her at the fair proved an eye-opener. "I didn't realize other schools had the same type of opportunities as Phelps," he told JOBS Coalition Pathways. "It lets you know there is competition everywhere — even in high school."
For 17-year-old Ulmer, the technical education provided in ACAD is not only "fun" but also a skill-builder that could pay off with a job or financial help for school. For example, each year the DCSCTF hosts its annual Meet the Future Luncheon, where students compete for scholarships and awards to help propel their future education or other life goals, whether college or construction career. As a young woman learning carpentry in the program, Ulmer quickly pointed out that her female peers should give the trades a chance: "You shouldn't judge it if you never tried it."
A Go-Getter
Heaven Cuthvertson stood out among the students meeting-and-greeting the employers on-site. While only 14, the Phelps freshman is already thinking about her future. She spent more than 30 minutes at the Ruppert Landscape table talking intensely with the company's representative, who she said explained how personnel training works there.
"I'm trying to figure out what I want to do when I get older. I'm trying to learn the types of things to do with stocking and delivery, and with family-owned businesses, how do they conduct themselves," shared Cuthvertson, whose school activities include JROTC and CTE training in electrical, a trade in which she's focused on gaining her license. "I really liked Ruppert Landscape." She continued, "I'm just here for the experience and getting new information. This event was very helpful because it's got me thinking about landscaping."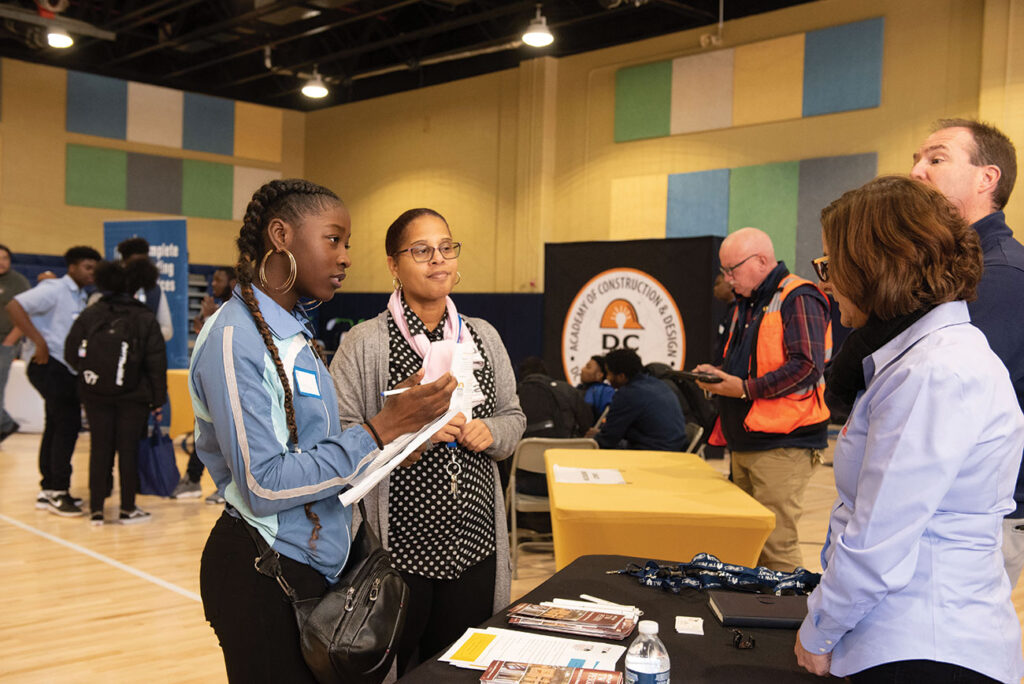 Student goals varied — from getting a summer internship to logging community service hours — but all came seeking knowledge and opportunity.
Roughly 30 students visited the Donohoe table during the fair, according to Sarah Friedman, talent acquisitions specialist at Donohoe Construction. She said students covered the basics, asking questions like: What do we do? What do we offer? And, where are our projects located?
"Our typical internship program is our summer internship program and that is really more geared towards college students. That is a very robust internship program, which I've actually described to some of the students. That is really where we target juniors and rising seniors to participate in our internship program," Friedman said of the company, whose projects are in the District and the surrounding metro area.
With high schoolers, however, there are limitations. "Being a construction company, we have to be mindful of age and safety," she said. But Friedman did share that opportunities do exist for individuals choosing an alternative to higher education. "I was telling them that we have many very successful people who work for us that have not gone to college and they make a very good living, and that's really important to know, that they have options."
Build a (House) Boat
ACAD students have tackled numerous projects over the years, including helping to build a single-family home and constructing a tiny house, a smaller scale Minim house, as well as picnic tables with benches. Next up: a houseboat. This unique project will be a joint effort between ACAD and Phelps ACE students. "We are working very closely with both the DCSCTF and now with Phelps school on [this] project," said Elinor Bacon, president of E.R. Bacon Development, a partner company on the District Wharf project. "They will be building a houseboat that will be moored at the Wharf when it's finished. This is being funded primarily through a program that we're administering. Our development is on urban renewal land and so it was the District's land and they chose us to develop." Discussing the project's timetable, Bacon said the budget, design and some technical issues are underway with classroom work slated to start in January 2020. "That will probably go through the summer and then they will start building," she said. "We expect it to be done in time for our grand opening in Phase 2 in 2022."
By then, Wylie plans to be well into his college career. But he has solid advice for those coming after him pursuing skilled trades training through these programs and working on innovative projects in the pipeline. "Having a trade under your belt, you're always guaranteed a job. That is the gift that CTE provides — and it's free," Wylie said as the fair wound down. "People pay for trade schools and we're getting this for free at such a young age. We're cultivating these skills to make them useful later in life. It's a blessing in disguise."