This past summer, Ama Akoto woke up each morning knowing the task ahead: get dressed and be ready to work as a team leader for the ACAD BUILDS Internship (ABI), the signature internship initiative of the Academy of Construction of Design. It's an experience she credits for strengthening her personal and academic development, while building her leadership and organization skills in the process. "The ACAD BUILDS program and the administrators of the program assisted me in developing a productive working routine," says Akoto, a senior at McKinley Technology High School in Northeast Washington, D.C. "Especially because of COVID-19, I was struggling with balancing the distraction of being home and the requirements of my job. This internship did wonders for my long-term virtual learning productivity."
As the coronavirus pandemic gripped the nation, schools and education programs across the country adjusted to a new way of learning. Among them, the Academy of Construction and Design, which was readying the latest class of interns from high schools citywide for its summer internship program focusing on skilled trades. The Academy responded to this challenging environment by moving the internship program to 100 percent virtual learning. "We're proving that the program doesn't have to be in one school to be successful," says Carol Randolph, the Academy's co-founder and former chief operating officer of the D.C. Students Construction Trades Foundation. The six-week program kicked off June 22 with a roster of 21 students.
Through the weeks, a diverse group of juniors and seniors from six high schools in neighborhoods across the District learned business writing etiquette as well as met virtually with construction industry professionals, including architects and engineers. Interns from IDEA Public Charter School, Columbia Heights Educational Campus, plus Phelps Architecture, Construction and Engineering, McKinley Technology, Dunbar and H.D. Woodson STEM high schools also tapped into their creativity by using 3-D software to design houseboats as part of their final capstone projects. Broken into three teams, each was presented with a unique scenario and client, from a woman chef in her first restaurant job to a young couple with a school-aged child. The teams also answered key questions like: What's your vision for how the houseboat looks? How will it be finished on the inside and outside spaces? What sustainable design elements will you include?
For her peers, Akoto says the internship opportunity opens new pathways into exploring topics that wouldn't typically be introduced in school. For example, she says ACAD BUILDS offers lessons in email writing and thank you letters, while also providing a direct connection to the world of construction and design. "The impact of this program has been monumental," says Akoto.
And the proof is in the numbers, according to Shelly Karriem, director of the Academy of Construction and Design. She says the student absentee rate remained low at 22 percent, a "phenomenal" accomplishment considering the many challenges of keeping students engaged in virtual learning. "One young man's father was in the hospital with bone cancer and another student's mother had COVID-19, so he had to move out of the house," shares Karriem.
A Foundation for Success
Building on the success of the summer, the two-year old internship program is continuing into the 2020-2021 academic school year, only now it includes students from eight schools with the additions of Calvin Coolidge and Theodore Roosevelt high schools. "Through distance learning, we were able to expand our reach and prove that learning can be creative, flexible and engaging with the right tools and teachers," Randolph says.
However, it hasn't been a solo endeavor. When the program launched in 2018, community investment partners (see JOBS Coalition Pathways, Jan/Feb 2019) United Bank, Wells Fargo, the SunTrust Foundation, and the Richard E. and Nancy P. Marriott Foundation awarded more than $250,000 in grants to support skilled trades training for District students, which included funding for ABI projects. To date, participants have completed two tiny houses with future, post-pandemic plans to build a structure at the D.C. Wharf as well as two single-family homes on lots in Northeast, Washington, D.C. "It's laying a strong foundation for success of the Academy and the students enrolled in its programs," says Randolph.
Karriem adds that the internship program's goal remains the same as it did on day one: "To ensure that our students have options and can be successful in whatever path they take post-high school."
The career and technical education academy is just one of the flagship programs under oversight of the D.C. Students Construction Trades Foundation that has pivoted to online classes in the wake of the pandemic. Another is the D.C. Apprenticeship Academy (DCAA), which offers apprenticeship training and technical education for registered apprentices in the construction trades.
Continuing Education In Tough Times
DCAA has shifted to a hybrid approach, with the classroom component of the apprenticeship academy moving 100 percent online and in-person sessions limited to performing hands-on activities and taking exams. According to Beth Moore Shenton, director of Foundation programs for the D.C. Students Construction Trades Foundation, hands-on activities include the required performance tests to receive National Center for Construction Education and Research (NCCER) certification, during which apprentices use the same tools, materials and methods that are utilized on the job.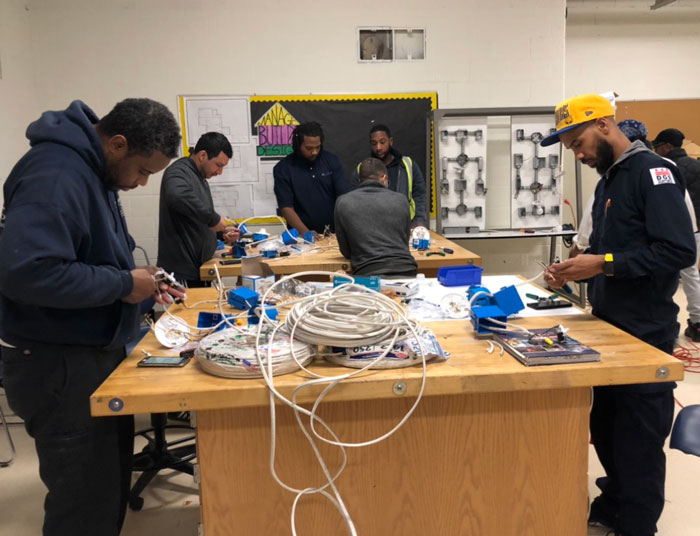 "In person sessions are limited in size and follow all CDC guidelines including wearing masks, social distancing, sanitizing before and after sessions, and will include health screenings to ensure all who enter for in-person sessions are symptom free," explains Shenton, who notes this year's apprenticeship academy has more than 50 participants from companies including M.C. Dean. "We're grateful to our apprenticeship employers for placing their trust in us to serve their needs," she says, adding that she and the DCAA team — including program coordinator Lesley Harris — are encouraged by how well the apprentices are adjusting to distance learning.
Together, these programs are making sure that in the most challenging of times students at every level — whether in high school or apprentices in the workforce — have the support and continued training they need to advance in the skilled trades, if they choose.
Says Randolph: "These programs are laying a strong foundation post-pandemic while building hope for the future."