Following a tour of the classrooms, training labs and tiny house project at the Academy of Construction and Design (ACAD), a U.S. Department of Education official gave a nod to the career and technical education program, which he praised for its potential to be a model program.
"We are looking for models in other parts of the country, and I think this is one," said James Manning, acting undersecretary at the U.S. Department of Education, during a roundtable discussion held at IDEA Public Charter School in Northeast Washington, D.C.
It's a prospect welcomed by the D.C. Students Construction Trades Foundation, which opened the Academy's doors in 2005 to provide District students with access to, and training in, technical specialties like carpentry and electrical. ACAD officially moved to a charter school environment in 2015.
A key part of the program is businesses within the construction industry serving as training partners to teach leadership development and career and trades skills building, while mentoring students on tiny house construction and other projects. Also part of the program are sponsors and donors, like the trade organization Associated Builders and Contractors, which participated in the roundtable.
Rod Woodson, adviser to the D.C. Students Construction Trades Foundation, embraced the opportunity for the Foundation to be presented as a model on a national level, and encouraged those at the public policymaking level to promote these types of partnerships on a broader scale. "The lesson here is what it holds for the rest of the country," said Woodson. "Take this example and encourage businesses around the country to be engaged in this – these are the ones that will make it really work."
In response, Manning said he would "love to see what you have" and encouraged having that conversation.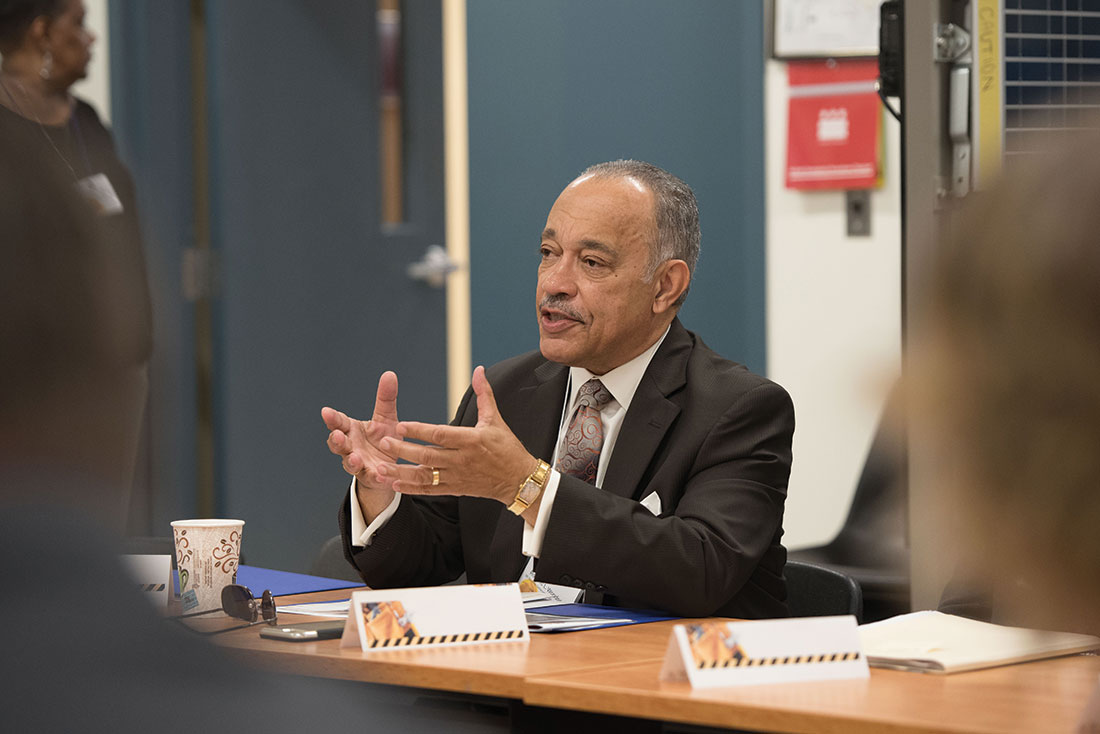 A 'Site' to See
On May 26, senior officials with the U.S. Departments of Labor and Education joined school administrators, ACAD leadership and students in a discussion of workforce development and apprenticeships, career and technical education, and alternative pathways for young people to enter the workforce or postsecondary education. But ahead of a detailed overview of the Academy program that included presentations by current and past students, agency officials participated in a site visit of the Academy of Construction and Design.
Academy students Kyeon Ford and Makiya Johnson led the tour, visiting classrooms and IDEA's back lot, where there is a small garden of fruits and vegetables, and a greenhouse. Nearby, is the so-called Minim house, a small-scale house being built by students enrolled in ACAD construction classes. "Construction II is currently working on the Minim house, and we made cistern bases so we can water our plants for the greenhouse," said Ford. Also on display: student-built planters and picnic tables.
The highlight for visitors, however, was the Minim house. Manning and other officials volunteered to don hard hats and get an up-close and personal look at the tiny structure. Kim Ford, deputy assistant secretary for management and planning with the Department of Education's Office of Career, Technical and Adult Education was so impressed by the project that when she finished the tour, she exclaimed: "Love it, love it!"
"The biggest takeaway is that this is one example of what the school is doing, the knowledge and skills the students are developing here and knowing they can come to high school, get a high school diploma and learn a trade, and then decide after that if a trade is what they want to continue or if they want to go off to college," added Manning.
Back inside, the roundtable continued with a dialogue about the program's design, why such a program is important and should be supported, and a question-and-answer session. John Ladd, administrator of the Department of Labor's Office of Apprenticeship, acknowledged that the construction industry can be a hard sell. So, he asked how the program is marketed to parents.
"It's a tough sell sometimes because this industry is still known to a lot of our parents as blue collar," said Shelly Karriem, director of the Academy of Construction and Design. "It's really sitting down [with parents] and explaining this option and how beneficial it can be. It's not just your son or daughter swinging a hammer. We're giving them options."
She continued, "Some government officials still are having a hard time seeing this. We've had doors closed in our face a million times … it's like, 'Time up.' And then they move on." It's been a "long journey," according to Woodson, but the program isn't thwarted by challenges because both the Academy and the Foundation recognize that CTE is a "real opportunity" for the future of young people.
Stellar (Student) Examples
Treymane Chatman is a graduate of the Academy, and is employed by Foundation Board member GCS Inc. He is one of the Academy's success stories. The recently certified carpenter had an opportunity to speak with Manning during the tour, sharing how ACAD prepared him for the transition from the Academy to working in the trades – three days after high school graduation.
"I was really prepared," Chatman said. "Starting off in a company, you're not going to be driving nails right away. I jumped on-site … digging a hole. Now I'm installing glass, framing walls – the whole 9 yards."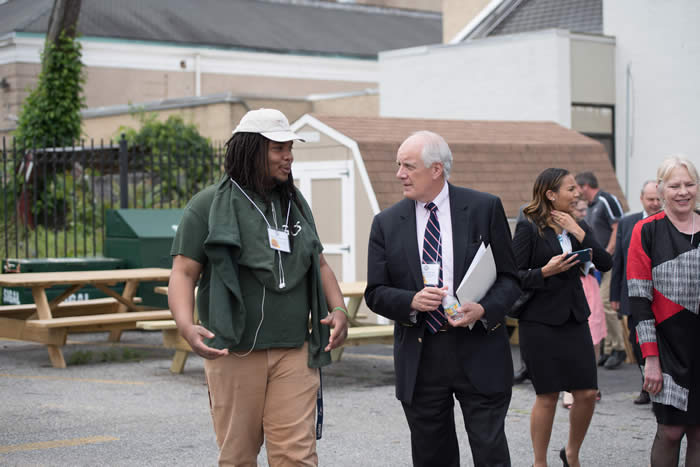 Chatman urged currently enrolled students to take advantage of all the training they are receiving in the Academy. Makiya Johnson, for one, is doing just that. The 10th grader is looking forward to enrolling in college to become a pediatrician or veterinarian. She said the program is helping fuel those goals, especially when it comes to learning networking skills that she can take with her into the real world.
Meanwhile, sophomore Kyeon Ford aspires to attend MIT or University of California at Berkeley to pursue computer hardware engineering. He plans to bring his training full circle by becoming a construction company owner.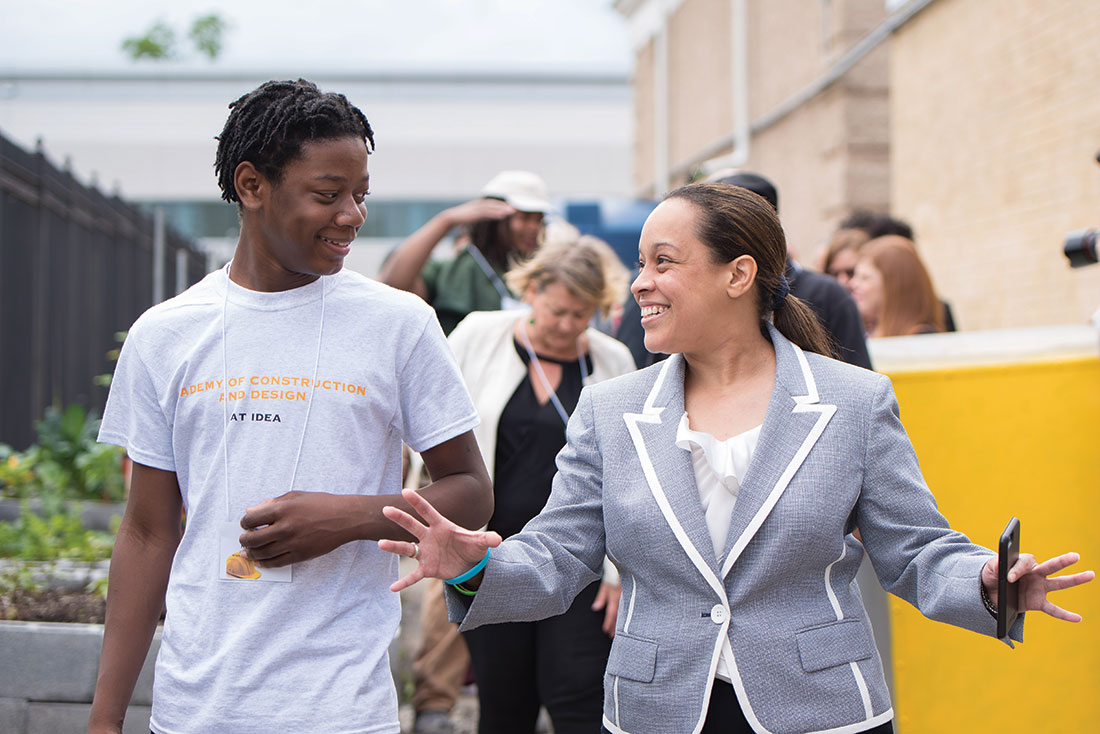 Ultimately, senior officials gained insights to help move the conversation forward about unique programs like the Academy of Construction and Design. For Manning, the visit proved a learning opportunity. "What we saw here was some best practices," Manning told JOBS Coalition Pathways after the event, "and how the construction community has rallied around the school. at's something that I'm sure can be replicated other places in the country, and I would love to be part of seeing that happen."