Makiya Johnson is a busy student. As a junior at the Academy of Construction and Design at IDEA Public Charter School, she traveled to Jamaica this year to help build a school. Before that, she helped construct a micro house and led Department of Education and city officials on a tour of the Academy and its many projects. And now, she's packaged up that experience in hopes of getting an internship.
On this day, she's talking with recruiters from M.C. Dean and Shapiro & Duncan that are looking to hire summer interns and new graduates for employment in the construction trades. Johnson, for one, is hopeful.

"At Shapiro & Duncan, right now I could be an intern with them. He said apply and say I was at the [ACAD] job fair," said Johnson after an informal interview with the mechanical contractor. "For M.C. Dean, I have to be a big kid."
She laughs.
"They accept you when you graduate out of high school, so I'm still a baby," continued Johnson, 16.
Just shy of summer break, the Academy of Construction and Design on June 6 held a job fair to introduce students—including current Academy scholars and alumni of the training program—to the opportunities in electrical, carpentry and other specialty trades.
"I just believe students should be exposed to a number of different industries because you never know when a light bulb is going to go off," stressed Shelly Karriem, director of the Academy of Construction and Design. "It just makes sense to bring these employers and partners together so they can talk to our students about their companies because our kids are their workforce."
Making the Connection
Other employers in attendance included Miller & Long Concrete Construction and Ruppert Landscape, with representatives discussing a variety of internships and training programs.
At the M.C. Dean booth, human resource generalist Erin May chatted with just over a handful of students. She shared information about the company's electrical, securities and telecommunications apprenticeship program for those looking to jumpstart their careers right out of high school. Plus, there's an offering of summer internships for students interested in pursuing computer sciences and electrical or mechanical engineering. Meanwhile, a separate technical internship provides four years of training—a mix of working on site and directly with engineers—while students pursue post-secondary education.
"Hopefully, by the fourth year, we can offer them a full-time position if they will accept it," said May.
Nearby, Jesus Yactayo, with Shapiro & Duncan, talked up career development opportunities like apprenticeship training, in which the company sponsors registered apprentices through a rigorous four-year program and pays for all related specialized instruction. At the end of the program, each graduate receives a journeyman's license. Shapiro & Duncan also offers financial education assistance, he said. "I think education is important. There are a lot of opportunities out there for those individuals looking for career advancements," he said.
For Yactayo, there are three key traits that he's looking for when interacting with current and former Academy students: attitude, aptitude and ambition. He explained it this way: "Attitude is someone who has the right personality and is eager and willing to learn. Aptitude is someone who is going to go to any job site for Shapiro & Duncan and respect employees, as well as follow supervisors' and managers' direction. And someone who is ambitious is always looking for success."
According to Yactayo, some students needed more prepping (for example, better eye contact and more confident body language). Karriem noted that the Academy's new internship program, ACAD Builds, seeks to address some of these challenges.
Still, Yactayo praised those who came ready to make that connection with employers. "I spoke with four or five students and would say two of them are definitely ready to be hired," he told JOBS Coalition Pathways. "I really wanted to talk more than 15 or 20 minutes."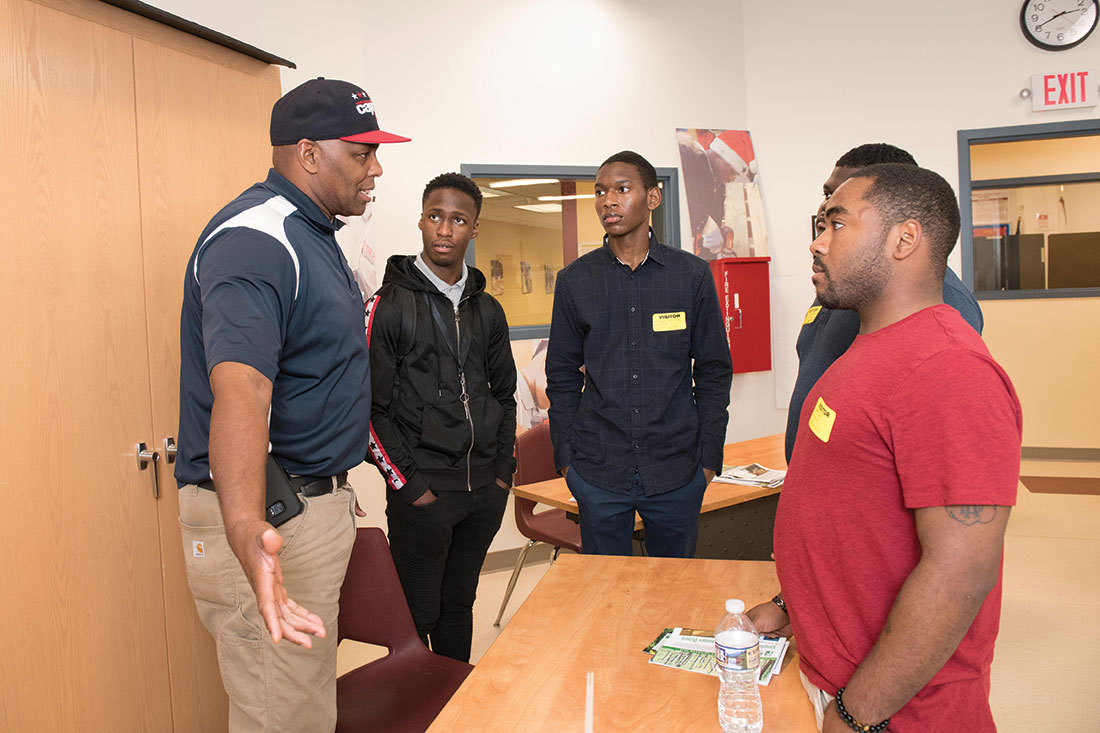 Let Me Introduce Myself
One student who appears to be leveling up is Wayne Powell. Although not enrolled in the Academy, he said that he couldn't turn down the chance to have more life options. When speaking with employers, Powell said he introduced himself and shared what he had to offer the job. And what might that be? "I have my certification in welding," said the 18-year-old senior, who handed out copies of his resume.
Powell completed a six-month program at the Southeast Welding Academy while balancing life as a high school student. He attended the welding program after school. And with a 1-year old daughter to provide for, he's looking ahead. That to-do list includes completing more certifications, and he continued without hesitation: "I want to get with Shapiro & Duncan."