It proved a year of firsts for the Academy of Construction & Design and its students, with the inaugural year at IDEA Public Charter School completed and the launch of a new community-based program aimed at helping a neighbor by cleaning yard debris. The Meet the Future luncheon and awards ceremony expanded to applaud not only seniors, but freshmen students who would be the Academy's Class of 2019. And along the way, JOBS Coalition Pathways highlighted the accomplishments of registered apprentices, evolution of career and technical education for African Americans, and best practices in ex-offender reentry programs with snapshots of initiatives focusing on the black man. These are the stories shared in the pages of this year's newsletter. Here, a look back through excerpts of the top stories of 2016:
JANUARY/FEBRUARY 2016
With a snip of a ribbon, community, school and city government leadership officially opened the doors of the Academy of Construction & Design at IDEA Public Charter School in Northeast. D.C. Council member Yvette Alexander (D-Ward 7) and Scott Pearson, executive director of the D.C. Public Charter School Board, were among those applauding the addition to the Ward 7 academic landscape. The 10,000-square-foot space at IDEA would introduce students to career and technical education training in traditional skilled trades like carpentry and electrical, as well as the newest addition – architectural design, already part of IDEA's curriculum. As students advance in the program, they combine the classroom training with math and science studies – that is ultimately applied to real world, hands-on projects.
Anthony McGill, enrolled in the Introduction to ACAD class, is still deciding what area of the trades he will pursue. In the meantime, he's enthusiastic about the hands-on training the program will provide.
"We get to work hands-on, that's the best part," said McGill without hesitation. Although his first love is football, he chose to enroll in the program as a safety net that could give him a jumpstart in work experience after high school.
Another of McGill's goals: to work on the microhouse, which on this day is parked in the school's back lot.
"We're gonna put it together and build it with all my peers. That's very exciting," said McGill, 15. "I'm just looking forward to how it's gonna look when it's finished."
"That's who we're after, a kid that age to get their head in the game," explained John McMahon, president of the D.C. Students Construction Trades Foundation. Working together with IDEA and its staff – both of which have been "all welcoming" of the Academy into its academic fold – brings together complementary disciplines that are mutually beneficial, particularly for the students. – JOBS Coalition Pathways, TRADING SPACES: Move to IDEA PCS Breathes New Life Into Academy of Construction & Design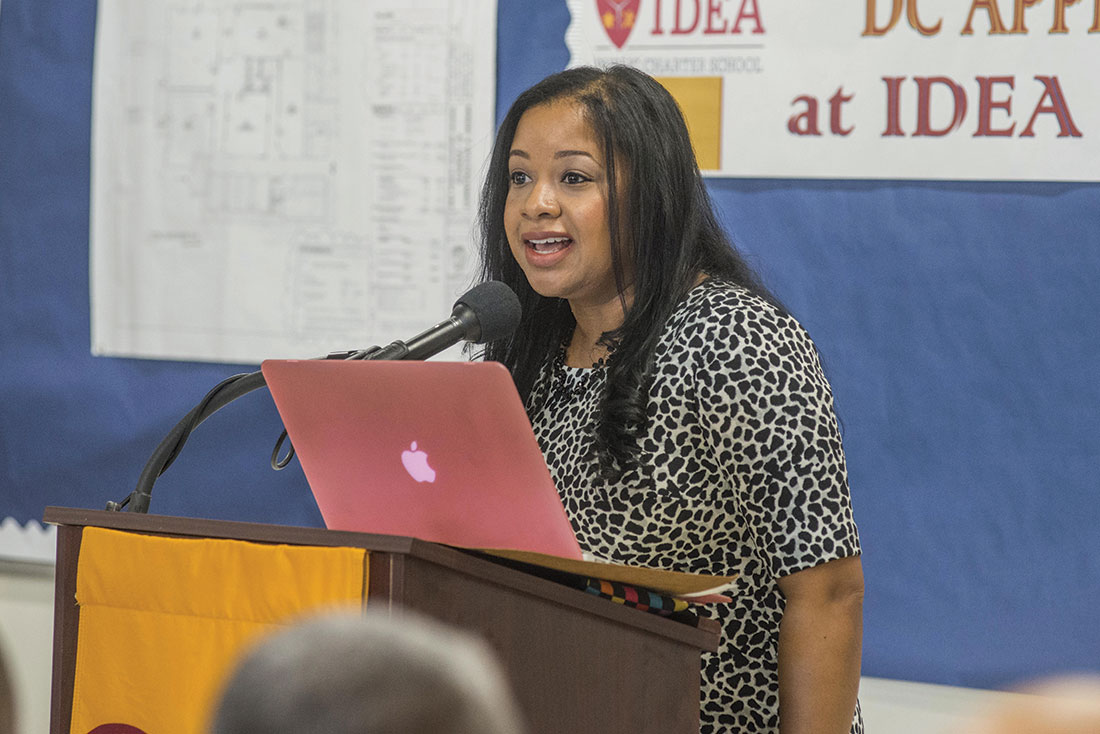 MARCH/APRIL 2016
Breaking stereotypes proved a key challenge to IDEA PCS leadership when it came to integrating skilled trades into the school's career and technical education. At the time, IDEA Principal Lanette Bacchus talked benefits to core academics, building up its "bare bones" CTE program, and encouraging parents to consider options outside the college pathway.
Talking of a "new day" for students, the community and school, as historically, skilled trades have faced negative stereotypes, pushback from parents and sometimes an uphill battle within D.C. Public Schools:
Bacchus: I do think it's a new day. I totally agree about construction – and all of the trades – having that negative connotation, primarily because they're looked at as being blue-collar jobs. And what schools and education have pushed is: "We have to go to college." They don't recognize there are other skills that students can possess and be professional. [T]here is value in working hard and being part of rebuilding the community. My vision for our students is to be able to do that within their own communities.
It is a new day for educating our parents on what [skilled trades] means by sending memos out, meeting with them during orientation and talking about what it means to have a career in technical education. It is not what you [know], the implied meaning of it.
It means that your children can have a career. If they choose to, they can go and get technical training or they can still go to college. And on top of that, they mine new skills that they're building along the way, helping to support what they're already doing in their core academic programming. Our students are now going back and talking to their parents too, and saying: "This is what we're really doing and I really love it!"
When I was initially met with opposition when placing students in classes that they may not have chosen because they didn't want to do this, they came back and said, "Don't take me out, I love this class." It's a paradigm shift for our students and our parents. – JOBS Coalition Pathways, IDEA PRINCIPAL BACCHUS TALKS INTEGRATING CTE, OVERCOMING STEREOTYPES
MAY/JUNE 2016
All classes on deck! at was the message of the 2016 Meet the Future Luncheon, celebrating both freshmen and the senior class of the Academy of Construction & Design. During the 10th annual event, students were celebrated for their academic accomplishments and future aspirations to become entrepreneurs, global changemakers and leaders among their peers. Congratulations and encouragement came in the form of honors including the Norman Dreyfuss Scholarship and Sigal Scholars Awards.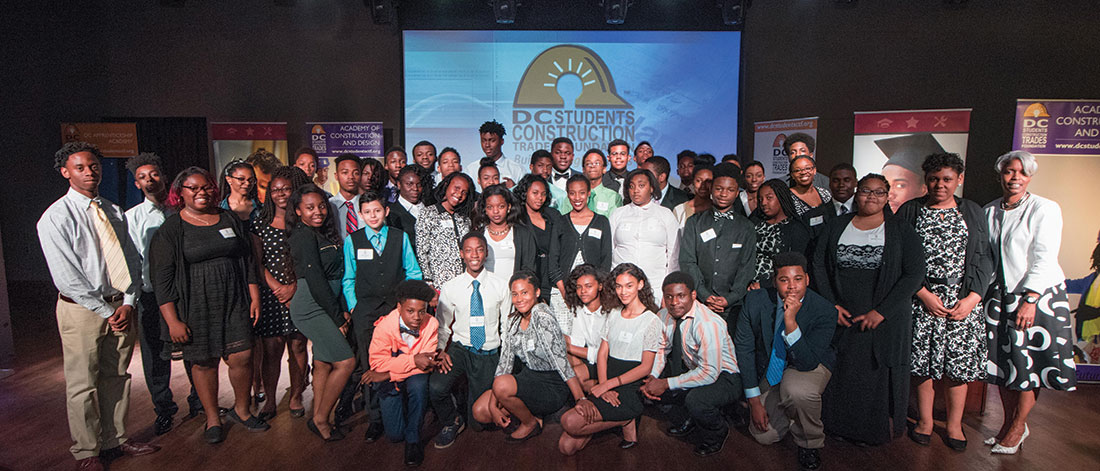 Ready, Set, Goal!
This year's first-place winner of the Norman Dreyfuss Scholarship award – accompanied by a $3,000 scholarship – is Dimitri Cheuko, whose next step after graduation is to attend the University of the District of Columbia and study business management, with an emphasis on accounting. Dimitri, 20, said his long-term goal is to strengthen the foreign trade relationship between the United States and his native country, Cameroon, and build its domestic trade infrastructure. To make the economic and job employability situation better there, he hopes to do work that can influence fiscal policy, lead to the building of more banks, and improve the country's gross domestic product. That would be important, he said, for improving the socioeconomic status of family living there as well.
Meanwhile, 19-year-old runner-up Stephanie Parker received a $2,000 Norman Dreyfuss Scholarship. After accepting the award, she told JOBS Coalition Pathways that the scholarship will help pay for classes and books as she pursues studies in mortuary science at Piedmont Technical College – Saluda County Campus in South Carolina. "I believe [the Academy] pushed me to where I got today," Parker said with a big smile, and dressed in her JROTC uniform.
Talented Sixth
The Sigal Scholars Awards, endowed through the Sigal Family Foundation in 2013, honor outstanding Academy students in the ninth, 10th and 11th grades who will be returning to start their specialized skilled trades training during the 2016-2017 academic school year. – JOBS Coalition Pathways, MEET THE FUTURE 2016 HONORS ALL CLASSES: Students Aim for Entrepreneurship, Becoming Global Changemakers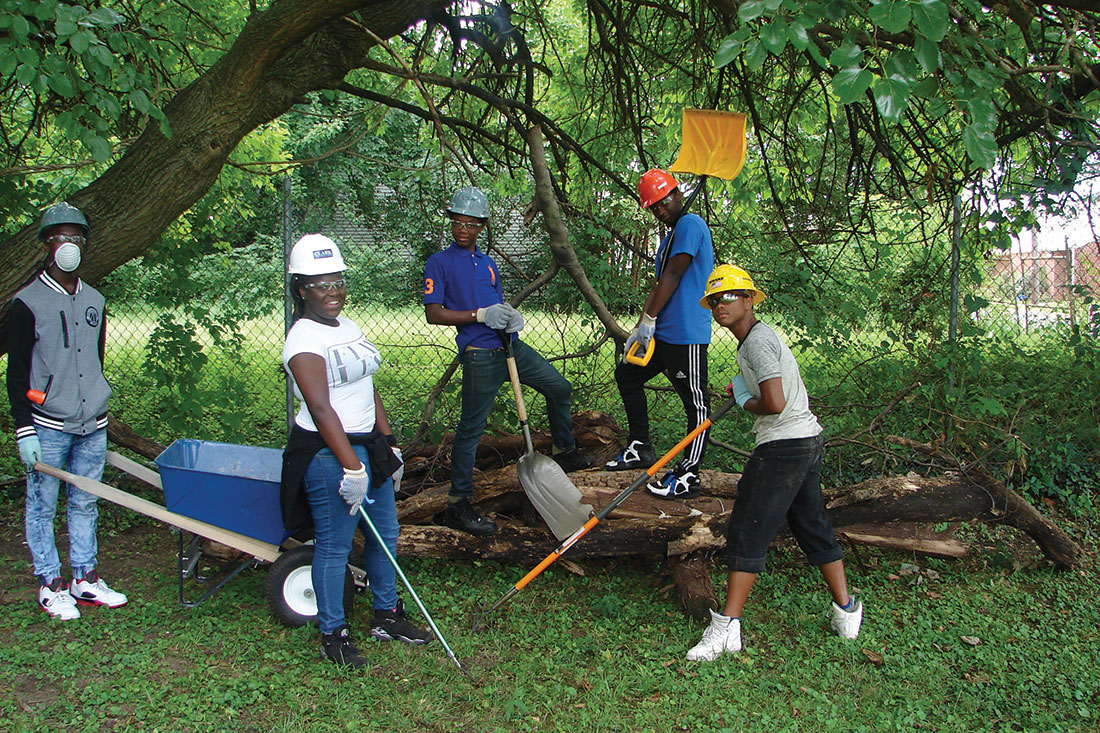 JULY/AUGUST 2016
From students of the ACAD Summer Academy "earning and learning" while helping a Deanwood neighborhood resident through community service to saluting the latest grads of the D.C. Apprenticeship Academy, this summer edition of the newsletter took a glimpse at how people of diverse ages are committed to improving their lives and those of others.
On this July day, 10th-graders are cleaning up the yard of Deanwood community resident Rose Warren, chosen as the program's first "Adopt-a-Neighbor" recipient.
"It makes me feel good to see young ones willing to help instead of getting into trouble," said Warren, 90, who has lived in the neighborhood for 52 years. "I really appreciate them coming and cleaning, because without them helping, it wouldn't get [done]."
She praised the program for teaching students responsibility, something about which they are equally proud. While admitting the hours are long, the work challenging, and the days hot, student Kyeon Ford said he "feels good" about helping Warren.
"It gives me that good-deed-of-the-week feeling," said Ford, as he took off his gloves for a short water break. – JOBS Coalition Pathways, HELP THY NEIGHBOR: Students Earn & Learn at ACAD Summer Academy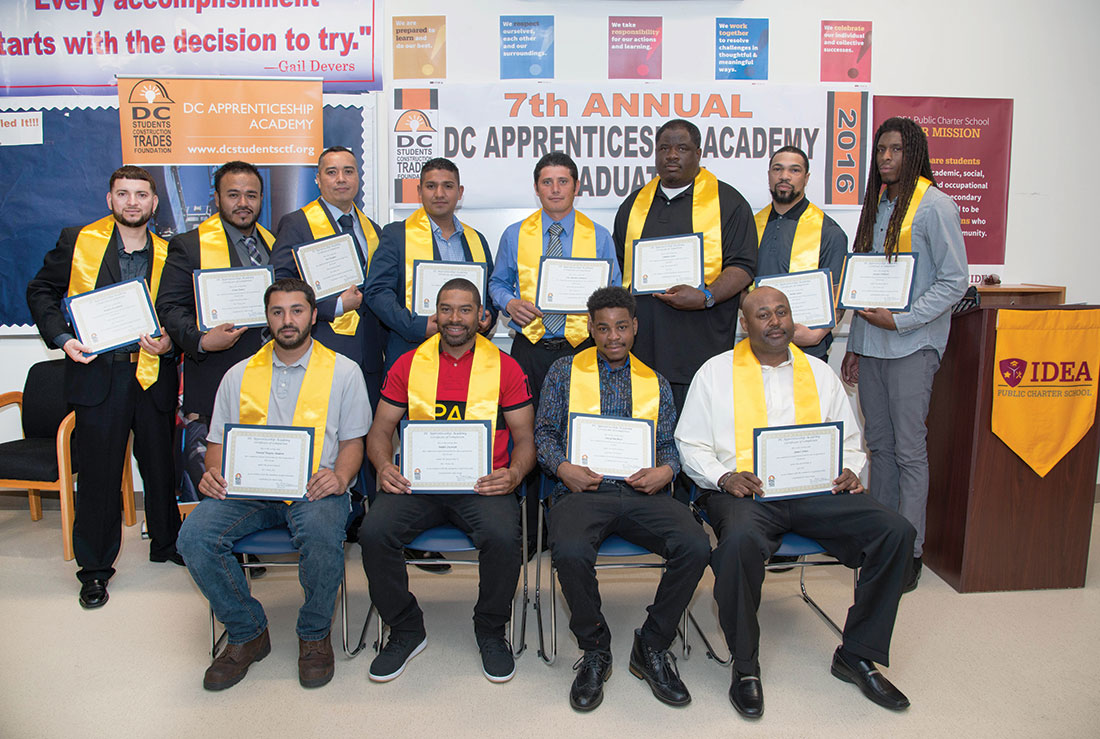 Lucky Seven
Sixty-three apprentices have successfully completed apprenticeship-related instruction since the first graduation in 2010. Seven years later, the D.C. Apprenticeship Academy continues to build on its success.
This latest graduating class spans three trades: electrical, carpentry and roofing. Students completing instruction in the first two skills participated in a four-year program, with the latter being a three-year program. The electrical apprentices are now eligible for a license in D.C. with the credentials presented at graduation.
Graduate Andre Antonio Licorish, 36, works with M.C. Dean, and decided to pursue the electrical track so he could one day open his own business. While admitting the four-year program was a struggle (taking a pay cut and waking up at 4 a.m. to arrive on the jobsite by 5:30 a.m.), he said the end accomplishment made it worthwhile. "To see how far you can push yourself to get to another level, it is a good feeling of success. And, you can use that as an example for whomever is coming behind you," he told JOBS Coalition Pathways after the ceremony. – JOBS Coalition Pathways, 'WE SALUTE YOU': DC Apprenticeship Academy Celebrates Class of 2016
SEPTEMBER/OCTOBER 2016
Criminal justice reform continued to be a top-tier issue for Rep. Danny Davis (D-Ill.) during the Congressional Black Caucus Foundation's 46th Annual Legislative Conference in Washington, D.C. This year, Davis' panel focused on the reentry programs and initiatives at the federal, state and citywide levels that are helping fathers and other returning citizens – especially those from black communities – transition after incarceration. The panel examined employability, family welfare and education matters related to the formerly incarcerated. Meanwhile, a separate issue panel convened by the Augustus F. Hawkins Foundation looked at employment opportunities through career and technical education, or CTE, and apprenticeships.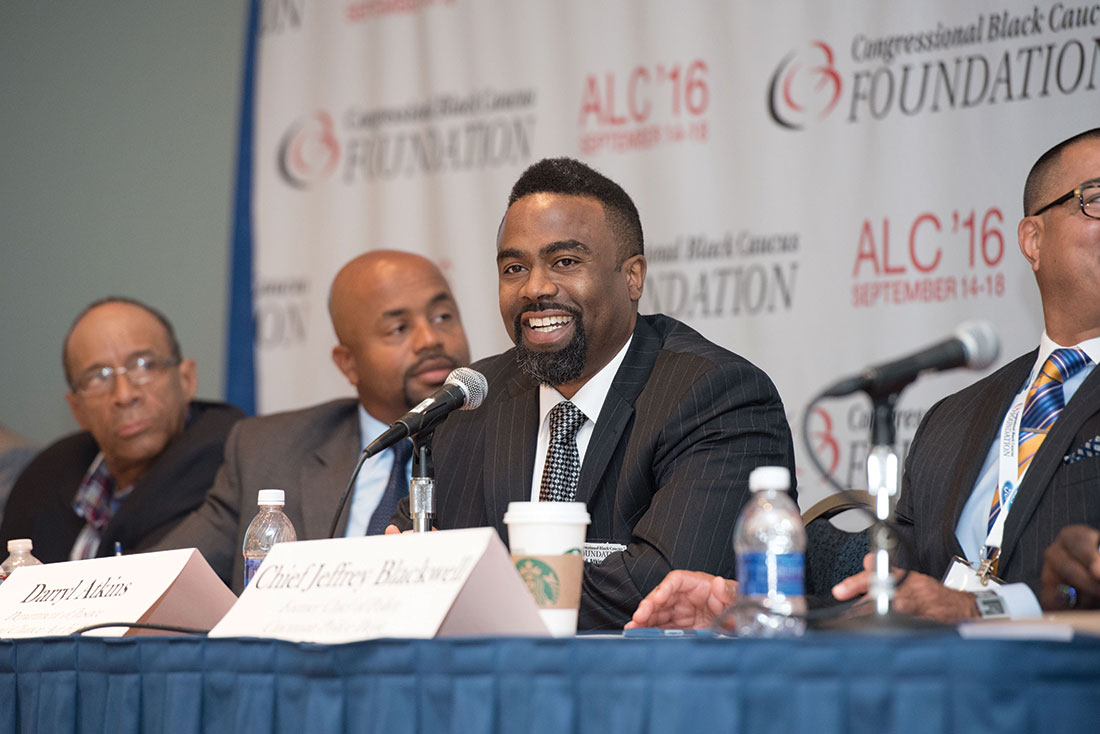 Framework of Family
Daryl Atkinson knows both sides of the coin. As the Second Chance fellow for the Department of Justice, Atkinson said the DOJ's work around reentry falls into three categories: policy, grantmaking programs and "bully pulpit," a position of authority from which to advocate or influence public issues. But before delving into the agency's initiatives, he stressed the importance of building the discussion around the "overarching framework of family."
"How should we think about our people returning home? Because that's what they are, they are people," said Atkinson, who smacked down common identifiers like ex-offenders, felons and convicts. "They are members of our community, they are members of our family."
The dialogue resonated with Atkinson for another reason, too. In 1996, he was convicted of a first time nonviolent drug crime and sentenced to 10 years in prison. Atkinson said he served a mandatory 40 months on that sentence before being released in 1999. On Nov. 4 of that year, his parents rented a Lincoln Town Car and picked him up from a maximum-security prison where "60 percent of the population had life without parole."
Years later, he would ask why they rented such a fancy car on the day of his release. The simple answer: "To show you that period in life didn't completely define you, and we have a set of expectations for you now that you've returned home." With that family culture of support, Atkinson has gone on to earn a series of academic degrees (from associate to Juris Doctor), is licensed to practice law in Minnesota and North Carolina, and has been honored by the White House as a "Champion of Change" in removing barriers for people with criminal records.
"The only thing that separated me from them is that I had that loving support system and an environment where I could succeed," he told the audience.
The Bureau of Justice Assistance has issued more than "700 grants totaling over half a billion dollars" to reentry service providers nationwide for transitional services like housing, job training, food and shelter, said Atkinson.
'Engagement Over Enforcement'
Federal agencies aren't alone in working to close the opportunity gap. In Cincinnati, Ohio, Jeffrey Blackwell implemented reentry initiatives that he said positively impacted the community. The former Cincinnati police chief stressed community engagement over locking up people. "I believe in engagement over enforcement, and lifting up communities," said Blackwell, later adding, "Policing needs a tune- up – I'm just being nice, the engine's blown and it needs to be replaced." – JOBS Coalition Pathways, EX-OFFENDER REENTRY PROGRAMS FOCUS ON FATHERHOOD, FAMILY AND COMMUNITY
Oftentimes a discussion of apprenticeship programs focuses on training in areas such as carpentry or electrical, among the skilled trades under the umbrella of career and technical education. But that is changing. With advancements in technology, industry experts point to a rebranding of CTE to include science, technology, engineering and math education, or STEM.
Lisa Ransom, chairwoman and CEO of the Augustus F. Hawkins Foundation, said that broadening one's perspective can lead to financial gains – especially important for African-American women striving to shrink the gender pay equity gap. She cited the often-quoted – and sometimes questioned – "78 cents" a woman makes on the dollar paid to men. That figure, Ransom stressed, doesn't reflect the earnings of women of color: "For black women, the salary is 60 cents for every dollar and for Latina women it's 54 [cents]."
"When you have an opportunity to engage in a nontraditional occupation where the salary rates are higher," explained Ransom, "you're making more money to take care of your family and build your economic security." – JOBS Coalition Pathways, CTE, APPRENTICESHIPS: Game-changers for Communities