Glenn McCutchen knows an opportunity when he sees one. For eight years, he worked for a small, family-owned electrical contractor, taking on a series of construction projects including a scale job with contractually guaranteed wages at Walter Reed that paid two times what he'd been earning. But everything changed when a new project manager came on board and McCutchen had to make a choice.
"The project manager told me if I didn't go to school then they didn't have to give me the higher salary," he recalled, noting that the electrician title is elusive without specialty training. "That's the thing about the trade, unless you got a license, you don't really get paid."
That experience ultimately led him on a road of discovery to M.C. Dean, and in turn, the D.C. Apprenticeship Academy. Now after an intensive four years of apprenticeship training, he's earned his journeyman's license in the District. "I'm an electrician," he said.
On June 5, McCutchen became one of five graduates from the D.C. Apprenticeship Academy, a program offering apprenticeship training and technical education for registered apprentices in the construction trades. He and his fellow classmates — all sponsored by the electrical engineering and technology services company M.C. Dean — successfully completed 2,000 hours of on-the-job training and a minimum 144 hours of related instruction each year to reach their goal of attaining industry-recognized credentials. Black, gold-trimmed stoles draped around their shoulders marked their accomplishment.
"This is a good program," said McCutchen without hesitation.
Beth Moore, director of Foundation programs for the D.C. Students Construction Trades Foundation, couldn't agree more. She said the goal of apprenticeship is to retain graduates in the employ of the sponsoring company. "Successful apprentices have more options as they grow in their career," she said.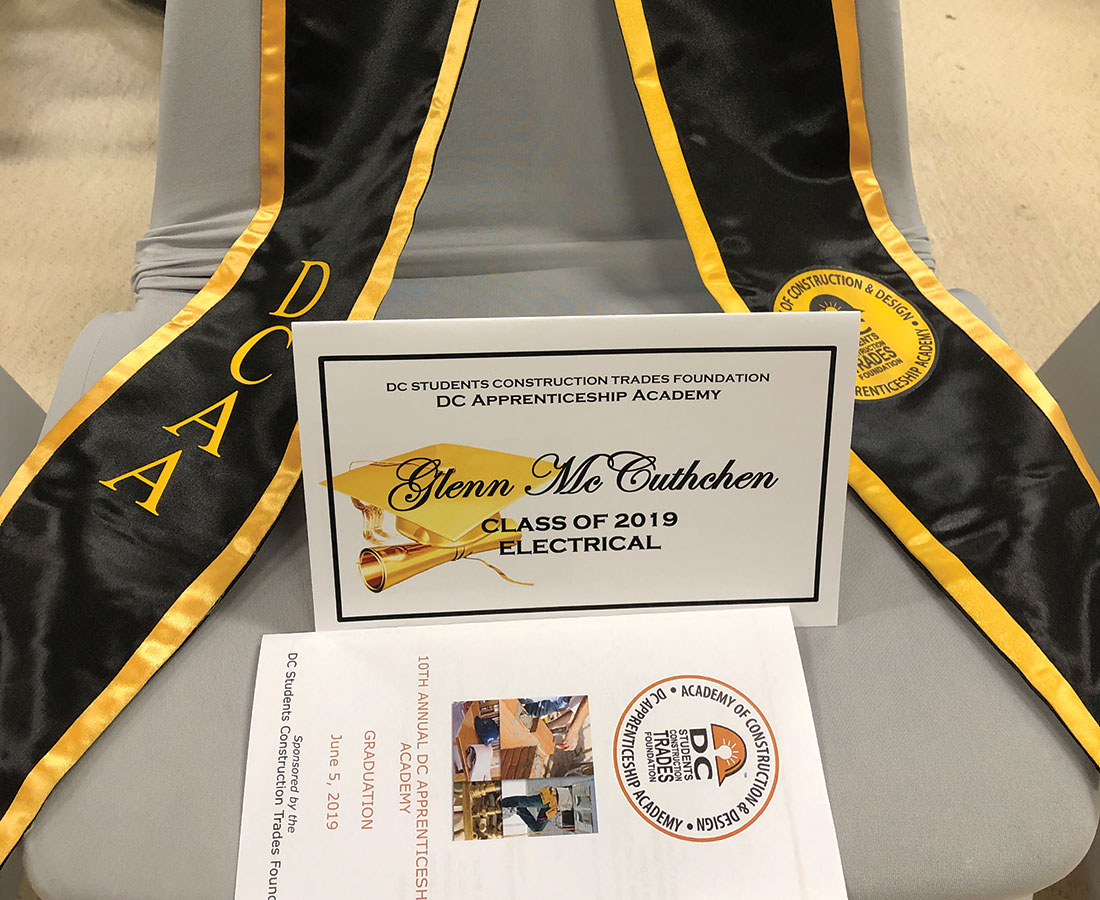 A Decade of Diligence
In celebrating the Class of 2019, the D.C. Students Construction Trades Foundation honored the hard work of the graduates at its 10th annual graduation ceremony, held at IDEA Public Charter School in Northeast. There, family and friends turned out in support alongside program instructors and staff. "I'm proud each year to release my graduates to the electrical community with increased experienced knowledge for their companies and increased income for them and their families," said Lesley Harris, program coordinator for the D.C. Apprenticeship Academy, in opening remarks.
The ceremony showcased each graduate's efforts — from the worksite to the classroom. While all earned industry credentials making them immediately eligible for the D.C. journeyman electrician license, some received special recognition for in-class achievements. McCutchen and Josias Funes Magano received certifcates for highest GPA, with Magano also garnering accolades for perfect attendance.
"I was very excited, honored and proud of myself," said Magano in hindsight. "I didn't know that I had the highest GPA or perfect attendance. I was very proud because my wife and kids were at graduation and I set the example and explained to them that you can do and succeed at anything that you set your mind to."
Indeed for many, family is a guiding star to their accomplishment. "Apprenticeship is very important for individuals to advance their careers while still being able to earn incomes to support their families," said Harris. "Our program is different from college or other educational programs because of that advantage."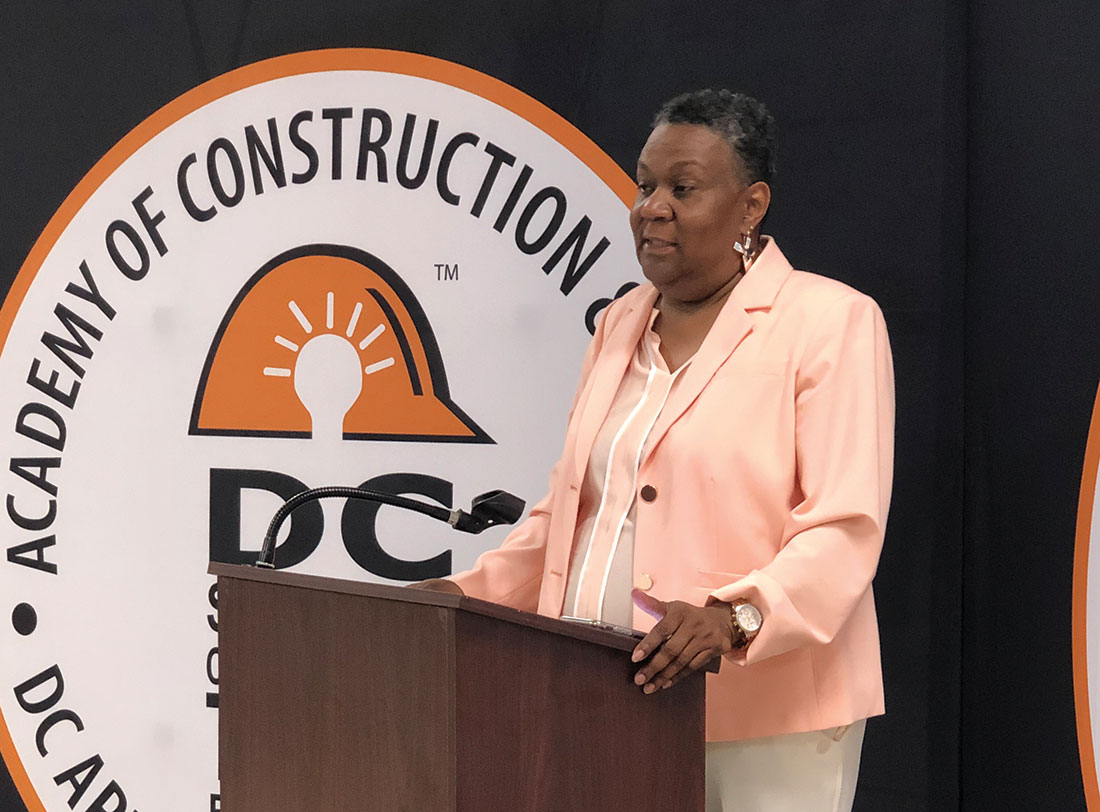 Respect the Trade
The story behind each man's journey to the training program is unique, to which D.C.-reared McCutchen can readily attest. He discovered the D.C. Apprenticeship Academy after multiple stints in construction. At the time, he didn't have a D.C. electrical license, which made job advancement difficult. Eventually, work slowed and he found himself at an employment office near Minnesota Avenue and Benning Road in Northeast. It would be the place where he'd first learn about the employer-sponsored program.
After being hired by M.C. Dean, McCutchen grabbed the opportunity to enroll in the weekly apprenticeship class while juggling a full-time job that took him across the city to work on street and traffic lights — sometimes at unexpected hours. "I might go out anytime day or night to make sure the pole is secure," he shared. Plus, he had to make time to study.
He persevered amid challenges like learning the nuances of working with electricity (his responsibilities included calculating the voltage necessary in an environment with fluctuating temperatures). And he credited Academy instructors for helping pull him through, calling them the most rewarding part of the program. Now, McCutchen is eyeing the next goal: to become a general contractor and pursue real estate development.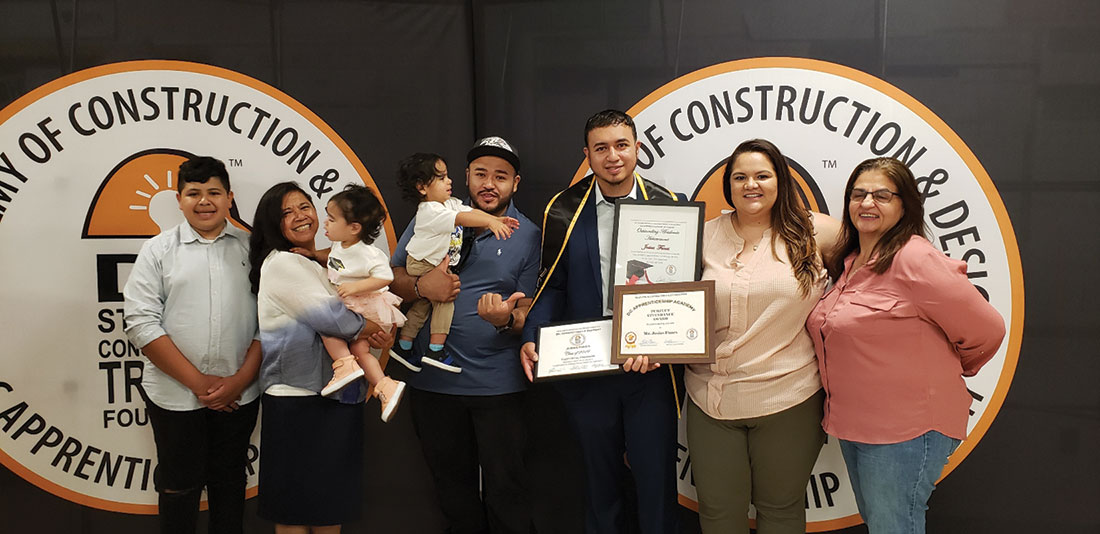 Meanwhile, former apprentice Antonio Dudley worked for an engineer technician company and was unemployed for three years before being hired and sponsored into the program. Graduate Magano, however, learned of the program after starting with M.C. Dean. He described the experience as "remarkable" and has gained a newfound respect for the trade.
"When I worked with my uncles, I didn't know why they were so big on safety until I was in the apprenticeship program and at work," Magano explained, noting each instructor's emphasis on safety. "It is very important that you follow all safety rules rst and foremost, so no one gets injured."
And the most challenging part of the program? Traveling between work and class, according to Magano. Still, it was well worth it. "I enjoyed class," he said, "and the Apprenticeship Academy helped me grow in a lot of areas, like how to work with people and how to master my electrical license."