Kyeon Ford has been busy while a student in the Academy of Construction and Design (ACAD). While learning the in-and-outs of the carpentry trade, he's helped build birdhouses, benches, and impressively, two tiny homes. For the 17-year-old, taking classroom knowledge and investing it into the real world has paid off personally and academically — he's gearing up to start a new job with Fort Myer Construction with a $4,000 Norman Dreyfuss Scholarship to kickstart his post-high school life.
The Academy provided me with skills not only in construction but also communication and life skills — I feel that it just helped me all around and it was great," said Ford, who's wrapping up an internship with NASA in information technology before starting at Fort Myer as a quality control technician trainee in the asphalt plant lab. There, he'll spend days creating and testing new asphalt.
The recent grad has already set his sights on a long-term goal of owning a construction company, a nod to the influence of the Academy training program housed at IDEA Public Charter School in Northeast D.C. On May 17, Ford was among the students recognized during the 13th Annual Meet the Future Luncheon for their hard work at the Academy.
While Ford took the top honor for the Norman Dreyfuss Scholarship, he wasn't alone in receiving accolades. Fellow ACAD student De'Andre Williams snagged a $2,000 Dreyfuss scholarship during the event, hosted by the D.C. Students Construction Trades Foundation.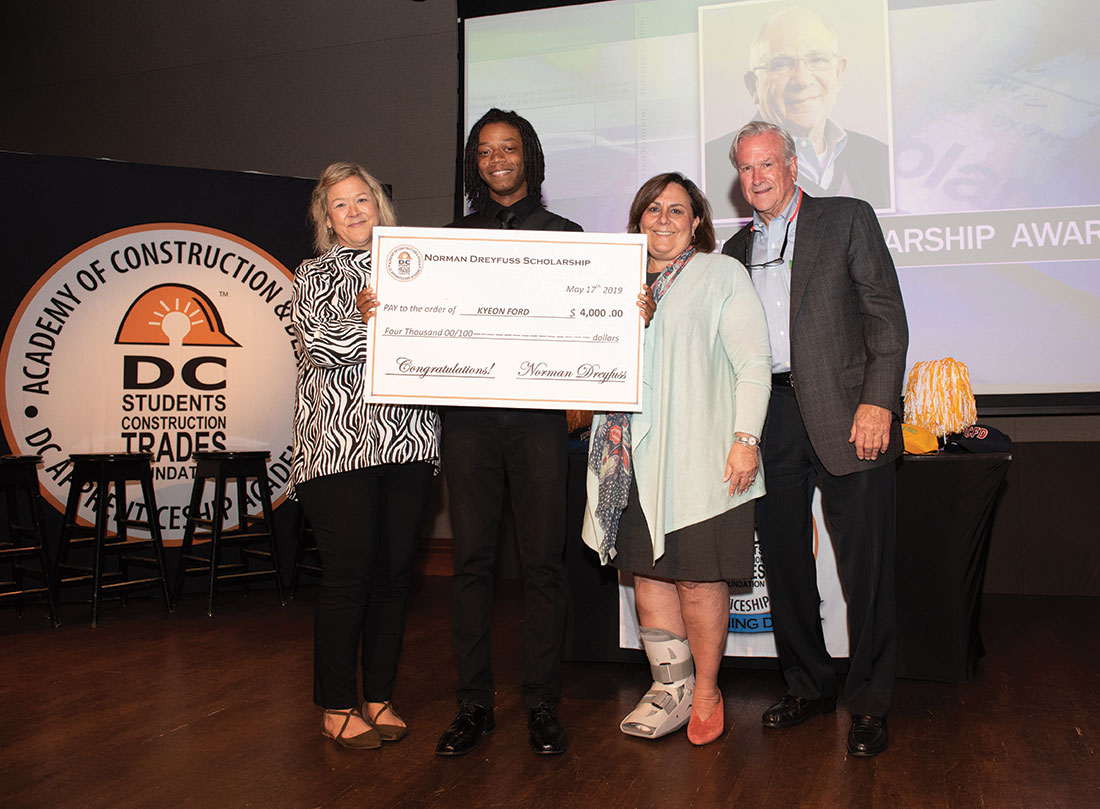 A Day for Applause
Academic achievement and skilled trades careers took center stage at this year's Meet the Future event with the inaugural "Signing Day Ceremony," during which special guest and former NFLer Fred Smoot helped mark a celebration that Academy co-founder Carol Randolph described as innovative in its recognition of seniors.
"Today is the first of what we hope will be many signing day celebrations, where graduating seniors share the paths they will be taking — college, work or a combination of the two," said Randolph, who served as event moderator. "And we get a chance to applaud their major steps."
True, each graduate's personal path differs. But they are joined in reaching for success. For grads and up-and-comers in the Academy, the prizes and scholarships aim to give a leg up in life. The Dreyfuss Scholarship Awards is among the ones making a difference, providing financial support while helping to build confidence. Named after the COO and executive vice president of the IDI Group Companies, these awards "help students bridge the divide between graduation and college or career," said Shelly Karriem, director of the Academy of Construction and Design at IDEA, ahead of announcing the winners. "He [Norman Dreyfuss] has contributed more than $146,000 and 23 students have been recipients of his generous award." Students have used the money for everything from helping pay college tuition to buying trades-related work supplies.
Lauded as the "turnaround kid," Williams, 18, thought the odds were against him — not so. "I felt like it was a one in a million chance I would get called," admitted the graduate, who focused on carpentry at the Academy. "So the fact that I did was very exciting."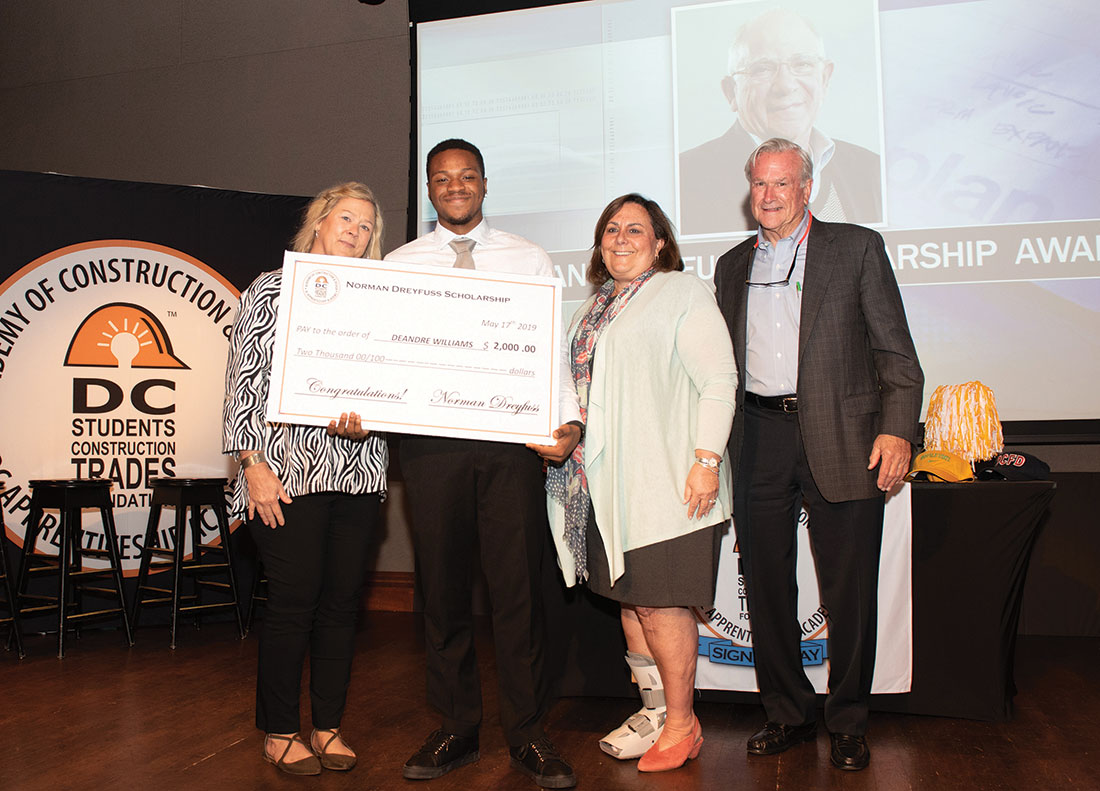 Now, he's preparing to be a quality control technician assistant at Fort Myer Construction, a company that piqued his interest while visiting its asphalt plant lab.
Williams shared that the Academy was pivotal in preparing him for his first career step and shaping him into a leader. "I was pushed into that position. The reason I come prepared all the time is because I used to not do it — I was taught that," he explained. It's a characteristic that earned him his moniker.
Introducing …
The Sigal Family Foundation also awarded more than $3,000 to ACAD students in grades nine through 12 as part of its Sigal Scholar Awards, endowed in 2013. As Sigal Scholars, "outstanding" Academy students are recognized for "character, quiet competence, good citizenship, a competitive spirit and the drive to meet every challenge," according to Beth Moore, director of Foundation Programs for the D.C. Students Construction Trades Foundation.
First year Academy winners DaNay Barnes, Antoinette Boone, Nicholas Bullock and Markel Robinson received $150 awards. The second year Sigal Scholars, honors bestowed with $200 awards, included Dianshe Robinson and Calandra Queen; while third year winners Michael Artemus and Christian Phillips took home $250 awards. Rounding out the winner's circle for students who spent three or more years in the program were James Gant, Alisa Gibbs and Tyron Gross, all $500 awardees, alongside Director's Choice Award recipient Makiya Johnson, also awarded $500.
"We're trying to provide opportunities and options for our young people," John McMahon, founder and president of the D.C. Students Construction Trades Foundation, said of the awardees.
Gibbs, 18, also picked up the Outstanding Marshall Janifer Outstanding Student Award named in memory of a longtime Academy carpentry teacher. Presented onstage with the Janifer family, the $250 award honors an ACAD student with a high GPA, lowest absences and highest participation in Academy programs. Ahead of taking the stage, Gibbs was praised not only for her academic aptitude but also for always being a prompt and respectful young woman who stays on task.
She now plans to take what she's learned and apply it to the field of nursing, which she'll study at Norfolk State University in the fall. "The Academy helped me with structure — if I have a task, then I have a certain amount of time to do it. There is a lot of hands-on work," she said, just like in nursing.
Gibbs shared that she'll put the award money towards her college education. "For books and tuition because college is not free," she said with a chuckle, adding that her family is "really happy."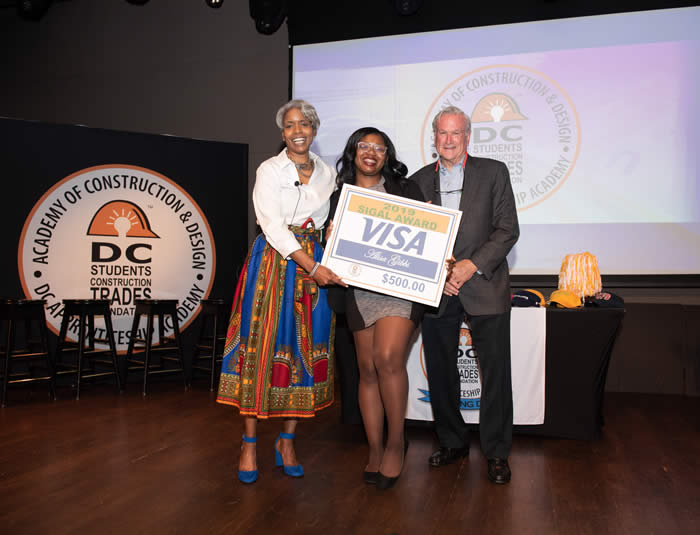 Celebrate Good Times
Some ACAD grads are pursuing college, others careers. But all are celebrated.
While Meet the Future has always acknowledged those going into industry careers, the latest ceremony upped the industry- and student-centric focus. Sidestepping a keynote speaker, the event instead highlighted the companies providing trades and construction jobs to Academy graduates, and the students embracing those opportunities. This school year, employer engagement sessions emphasizing jobs and one-on-one time with students made the difference, said Karriem, and that hard work culminated in the 2019 signing day and ceremony. "It made the industry partners understand they are a key component of what we do, and the students felt good that employers are making a fuss over them," she added.
"Let's do it!"
With those words, Smoot officially kicked off the NFL Draft-style signing ceremony. He ticked off each student's name, following up with the company or college of choice and a mini bio.
"This is the greatest moment ever," Smoot declared as the first pick snaked his way to the stage.
With every announcement erupted another wave of claps and cheers. Sometimes, overly zealous family members or friends gave shout outs — the name cutting through the applause.
Overall, six young men received letters of intent from Fort Myer Construction, Miller & Long Concrete Construction, and Shapiro & Duncan — dubbed the career and technical education MVPs. Eight students will be pursuing higher education, while one is joining the Fire EMS Cadet program.
The impact of that day and the training program is undeniable, especially to those who've experienced both firsthand. Graduate Ford said he hopes other students will give the program a chance regardless of their future aspirations. For him, ACAD has helped build emotional integrity while Williams called it the best place to be to chase your dreams.
Gibbs agreed, praising the program for opening unknown career doorways and crediting it for her own personal growth. Of being one of the few young women in the program, she said, "I feel so happy and strong, like I can do anything."