Graduating from the D.C. Apprenticship Academy has a different meaning to each student. For one electrical apprentice, completing the training program means embarking on a new professional journey. And for another, the accomplishment is a pathway of opportunity for him and his family. Still, no matter the outlook, the Academy is changing lives.
It feels good after four years," says Troy Polinsky with a laugh. As one of the eight electrical trades grads from the D.C. Apprenticeship Academy's Class of 2018, Polinsky is looking forward to grabbing the next golden ring: a journeyman's license in the District. "It's exciting," he says of the experience. The D.C. Apprenticeship Academy offers apprenticeship training and related instruction for registered apprentices working in the construction trades. On June 6, graduates alongside family, friends, registered apprenticeship sponsors, Academy staff and other supporters gathered at IDEA Public Charter School in Northeast Washington, D.C. for the ninth annual graduation ceremony. Draped in golden stoles with 2018 over one shoulder and the acronym DCAA on the other, the students patiently sat in the front rows of a skilled training classroom as they waited to receive their certifcates of completion.
Moments before officially presenting the graduates, Lesley Harris shared a few words. As the program coordinator for the D.C. Apprenticeship Academy, Harris has worked with multiple classes, but says this one is a standout. "I'm a little sad today because this is actually the best class," she says. "Each one of you guys I really care about and I am so proud and excited for you. You worked hard for this and showed you could be great."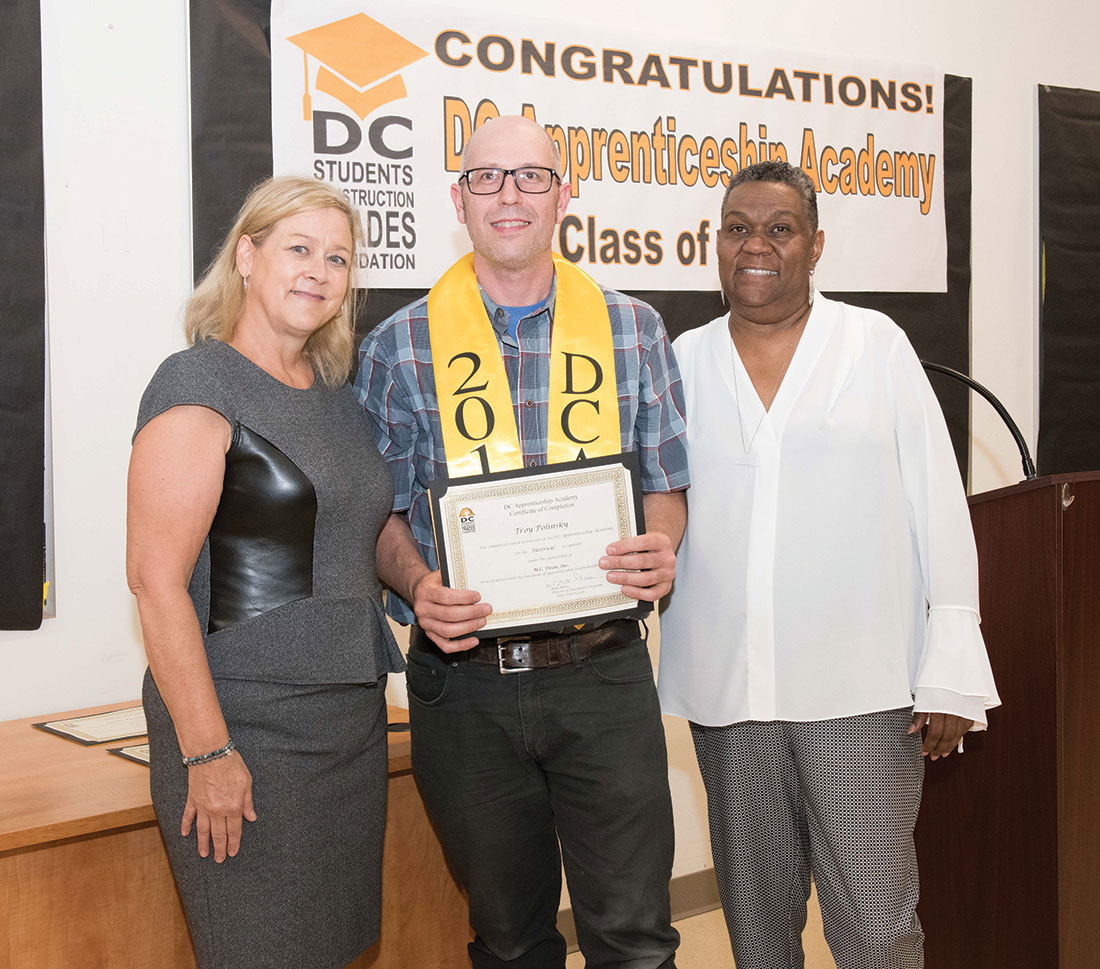 Every Man Has a Story
Polinsky readily admits that the training program is a "big challenge" because each registered apprentice is balancing a full-time job that starts early in the morning, with late afternoon classes starting at 4:30 p.m. He makes an hours-long commute from Manassas, Virginia to the District after a 10-hour workday.
"On school days, I have to leave a couple hours early to get [to class] in traffic," says Polinsky, who works for M.C. Dean and leaves home each morning around 4 o'clock. "It's a long day." But it's been worth it. "I started a new career doing this," he adds.
Polinsky says he graduated with a B.A. in accounting and worked for years at Chicago firms doing financial management and office administration. After moving to the District for family reasons, he decided to try something new. Ultimately, he landed with M.C. Dean, discovered the apprenticeship program and four years later, "Here we are!"
While pointing out there are plenty of learning opportunities ahead, Polinsky notes that the highlight of this journey has been the connections made with a diverse group of fellow apprentices. "The best part has been really getting to know all the guys I went to class with, who have all different sorts of backgrounds," he says.
Meanwhile, Fort Totten resident Anton Dyson says the biggest challenge he faced in the training program was remembering—and then applying— what he learned in class on the job. But he pushed through, spending his workdays bending pipe and running wire, installing light fixtures and other electrical-related work.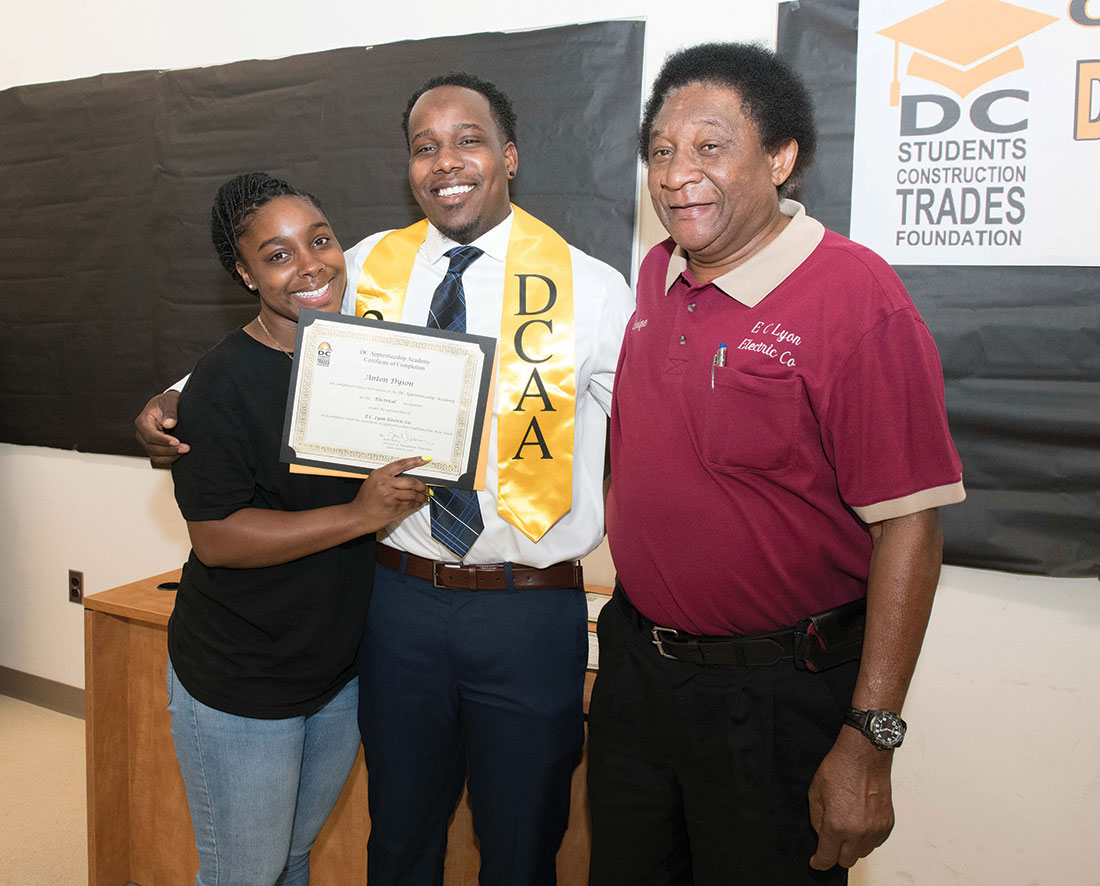 Like for his peers, mornings start before dawn. Dyson gets up as early as 5:30 a.m. to be on the job for employer E.C. Lyon Electric Co. by 7 a.m.
Although immersed in a skilled trade during his time in the Academy, Dyson shares that his interest in this field grew from watching his uncle, also an electrician. "He kind of pushed me into it," admits Dyson, whose uncle cheered him on during the ceremony.
"The electrical work fascinated me. It took a lot of thinking and craftsmanship to do," Dyson recalls. Now as he joins the latest graduating class, Dyson says a "big weight is off my shoulders"—and his family is by his side.
"When I was going through this journey, it was stressful," Dyson remembers. "I was going through this alone and thinking, 'I don't think anyone understands how dificult it is.' " But on this day, his family turned out to support him.
"That they actually came here to support me means a lot," he acknowledges.
Ultimately, Dyson says being part of the D.C. Apprenticeship Academy is a life-changing experience for him as well as his family. "Learning this stuff is something no one can take away from me and I can continue to build on forever," he says. "It's definitely a blessing."