Collaboration with Davis Construction, Comstock Marks Innovative Design
The "J-Team" knows concrete. For this 10-man crew with Miller & Long Concrete Construction, the bottom line is always to get the job "done right" and to get it done "to perfection," says Mike Vargas, senior labor foreman for Miller & Long. The mornings can start as early as 5 a.m. before getting down to business – from setting the concrete placing boom to carrying out the pours and eventually removing the formwork, or molds for shaping concrete, and framing. The ringleader is Senior Superintendent Jay Schnarrs, the inspiration for the team's moniker. And the man behind him is Vargas, who works alongside a selective lineup of eight skilled craftsmen with years of history behind them.
At the intersection of Wiehle Avenue and Reston Station Boulevard sits the architecturally unexpected – and the J-Team's latest project. It's a sleek structure of blue-black glass and steely gray concrete framework that climbs 16 floors above a platform slab. Geometric "tree" columns branch out at the north end of the building and giant "X" columns crisscross the east- and west-facing exteriors, design elements in stark contrast to the surrounding brick office buildings. It's a massive project, during which Miller & Long poured 18,000 cubic yards of concrete (enough to fill 1,800 concrete mixer trucks).
This is the new Reston Station Office Building 1 Tower, a collaborative project between real estate developer Comstock Partners, general contractor Davis Construction, and Miller & Long Concrete Construction, which has participated in all phases of development of Reston Station, starting with a multi-level, below-ground garage in summer 2011. The Reston Station project is a mix of office, residential, retail and parking – with future plans for a hotel and additional office space, according to Davis Construction.
"The best projects are always ones where the contractors and subcontractors, design team and general contractor, and the owner all know what their mission is, and they work very hard in the beginning to make sure the project – all things – are thought through on everybody's behalf," says John McMahon, chairman of Miller & Long Concrete Construction.
McMahon heralded the building for its unique characteristics: angles, crosses and tree columns that make up the exoskeleton. "Part of the structure becomes the façade," he explains, noting that other Reston structures don't visually "express themselves the way this one does."
The tower slopes outward, expanding its footprint at each floor to more than 300,000 square feet overall. The sixth floor
hovers over the base "cantilever-style," supported by tree columns – a nod to the engineering. The innovative design tested – and brought out the best in – Vargas and the team.
"It was something new, and I loved the challenge and I tackled it. I'm real happy with myself and my crew," says Vargas, explaining that the design was both a highlight and challenge because they were creating the skeletal scaffolding for the concrete forms six floors up from street level. "Because my guys who are up at this elevation, they were the ones hanging off these formworks."
Architect Helmut Jahn, of the architectural firm JAHN, is the director of design for the office tower and known for works internationally. Philip Castillo, a partner at JAHN and principal architect for this project, says JAHN originally interviewed with Comstock Partners to design the residential building, but that award went to another firm. He says Comstock then asked if JAHN were interested in the office building (yes, they were), and "commissioned us to be the architects."
"We went through the concept design process quickly," says Castillo from his office in Chicago, and that process took "about a couple months" in 2012.
It's a vision that came to life through customized formwork and computer modeling, according to those working closely with the project.
"To have a Helmut Jahn building in Reston, Virginia is a very unusual thing – and this devel- oper was bold to do it," says Jim Davis, president of Davis Construction. "It's a building that people will look at for many, many years as really being a cutting-edge building and bringing great architecture to Reston."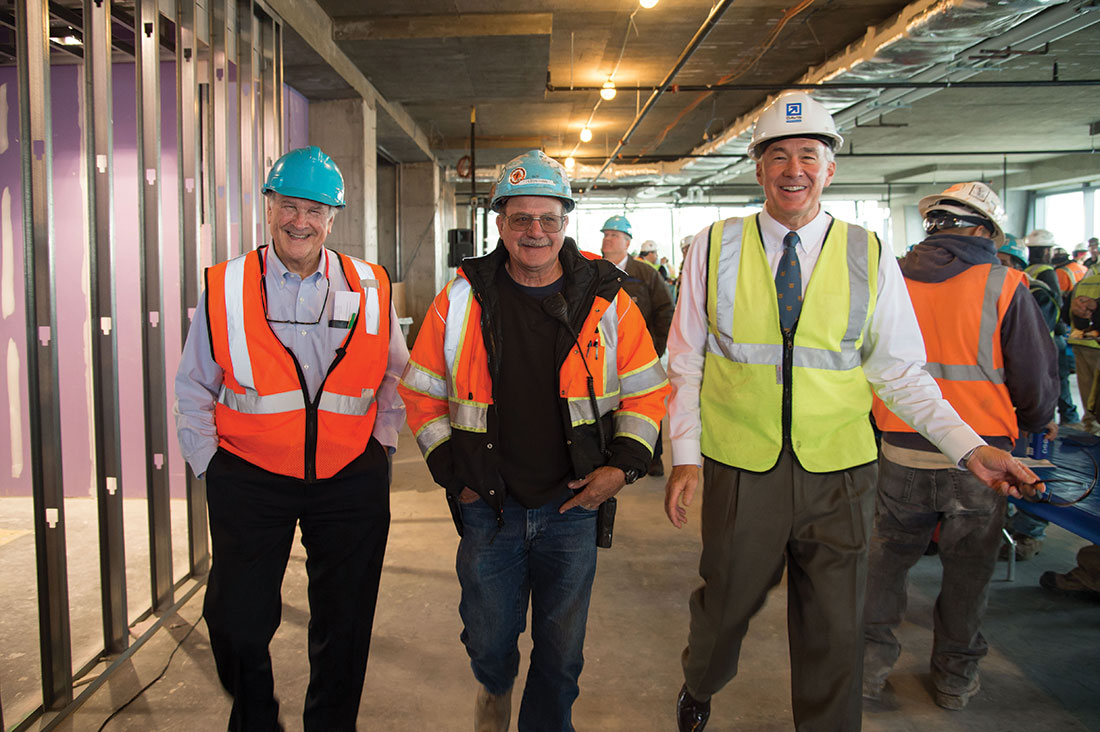 A Nod to Craftmanship
It's almost noon on a Wednesday morning in November, and pockets of construction workers gather on the third floor in the yet-to-be completed Reston Station office tower, nicknamed OB1. The concrete surroundings and open space keep the air chilled as some 150 skilled laborers, including carpenters, concrete masons and plumbers, mix and mingle with project stakeholders for a celebratory "Topping Out" party. On this day, the focus is to acknowledge the work that has been done, gift the crews with a "thank you" lunch, and signal the last big concrete pour: the rooftop.
"Craftmanship and pride – I felt like those were the two underlying themes that guided us," says Josh Majerowicz, superintendent for Davis Construction, standing before the crowd. "Our work speaks for us when we're not around, and I think this building will say great things about us."
Next, Schnarrs steps forward to personally recognize those craftsmen working OB1, riffing off names and titles: Engineering. Carpenter foreman. Carpenters. Rubber finishers. e pouring crew. And the vibrator man, whose job is to make sure there are no air pockets or im- perfections in the concrete, key to securing the stability of the building.
A voice breaks through the rundown: "Come on up so we can see you!"
There are whistles in agreement, and Schnarrs continues.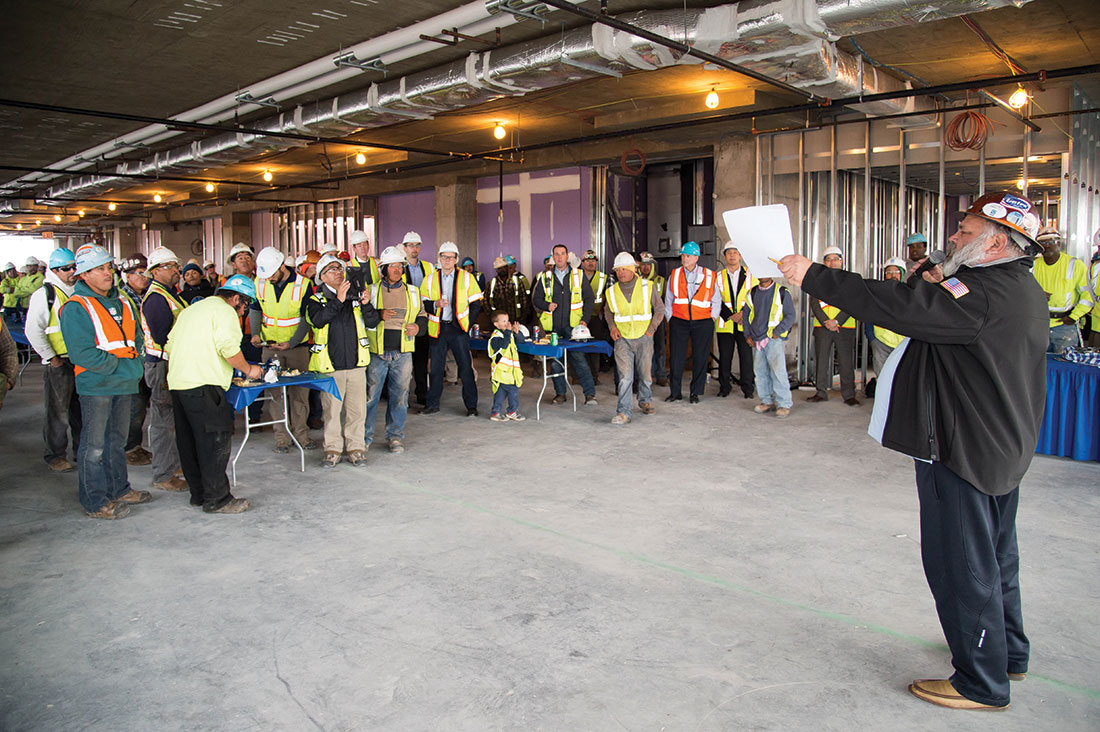 By all accounts, this job took on a heightened level of precision. Unlike regular jobs that could be patched and rubbed to smooth out the concrete, says Vargas, this one was poured in place. "So as I poured it, I had to make sure my guys were on top of the vibrators, making sure all the points were being hit right, making sure I wasn't having any honeycombs or any imperfections in the concrete because it was cast in place," he explains.
And dropping tons of concrete into these specialized molds – some 60 feet tall – is no easy task. "When you pour tons of concrete and vibrate it, it wants to burst," says McMahon. "The form cannot move at all."
Countdown to Completion
With its divergent angles and trapezoid shape, the office tower is the hallmark of Reston Station. So far, it's on schedule for completion on July 25, according to Davis Construction Project Manager Kevin West. Started in January 2016, the office building is built over a parking garage that runs seven stories deep.
"It has 27 football fields of concrete below grade," says Davis, adding that Fairfax County has been a key partner as well.
"This is a public-private partnership with Fairfax County and they were required to build 2,300 parking spaces for the Silver Line Metro."
Davis proudly points out: " is is the biggest underground parking garage east of the Mississippi."
Davis Construction and Miller & Long have worked hand-in-hand since the beginning.
"As the garage podium slab was completed previously, Miller & Long was the first major trade to start the tower, and [we] mobilized at approximately the same time as Davis Construction," asserts Tony Horos, project manager at Miller & Long, reflecting on an earlier phase in the project.
"It's a huge success for Fairfax, huge success for residents here because now they've got the Metro, and now for companies having these great construction jobs," adds Davis.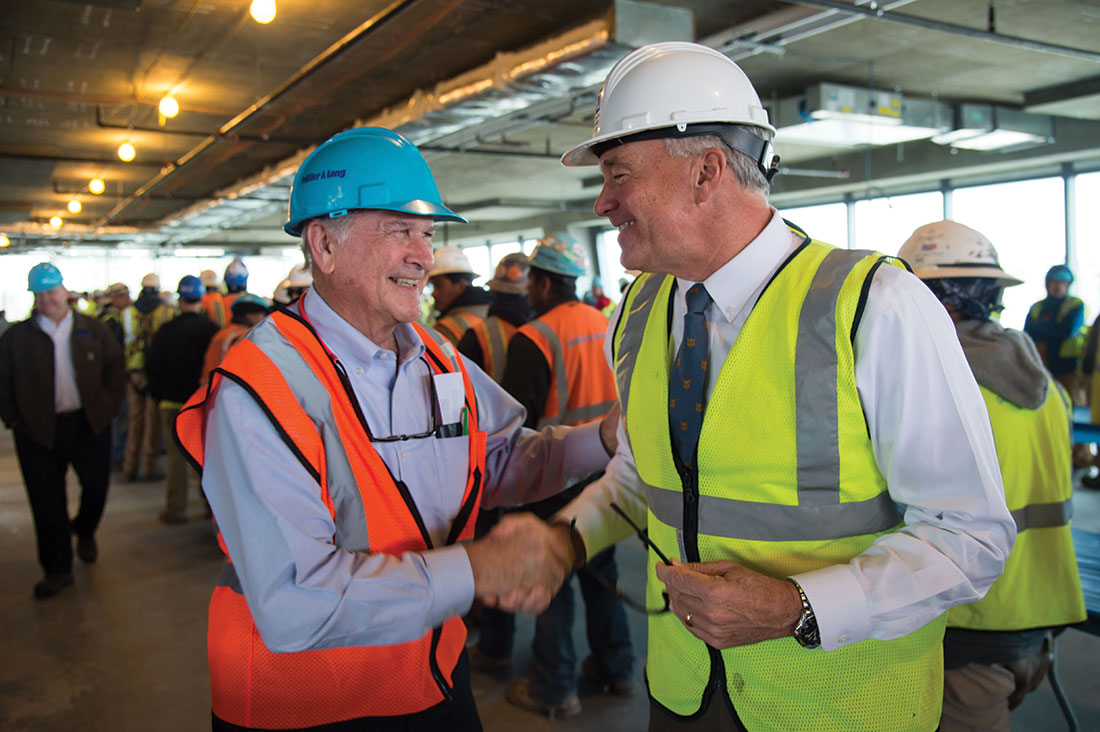 With roughly six months to projected completion date of the tower, the finish line is in sight. Miller & Long has poured the last of its structural concrete and expects to wrap up on-site within the next couple of weeks. Its tower crane will stay as work is finalized on the window settings. But once disassembled, the Miller & Long imprint will remain.
The lasting impression to passersby is one of architectural beauty, where the eyes are immediately drawn to the slopes and X's of the concrete, says Britt Hurlock, senior vice president of construction for Miller & Long Concrete Construction. He describes these as unique traits that make this project "special."
Concludes Hurlock: "The final product that Miller & Long has produced with that con- crete … it's going to leave a legacy of beauty for 100 years to come."