As representatives from M.C. Dean discuss opportunities for high school students, 18-year-old A-CAD Builds intern Demilo Outing walks over and hands out his business card. Ernie Gray, a superintendent at the company pauses, surprised and impressed by the young man's ingenuity.
It's the first one I've ever gotten," says Gray, a general superintendent for the critical services division at M.C. Dean in the Mid-Atlantic area. "I've gotten resumes and spoken to a lot of students in a number of settings, but this is the first young man who's handed me his business card."
"It shows he's serious about what he's doing and what his career is going to be," Gray continues.
For Outing, that's just the impression he wanted.
Outing was one of 13 Academy of Construction and Design students attending a Nov. 14 job fair at IDEA Public Charter School as part of National Apprenticeship Week. The job fair is part of the Academy's effort "to cast the net a little wider" when it comes to preparing students for postsecondary readiness, according to Shelly Karriem, director of the Academy of Construction and Design, or ACAD. It's a critical step towards filling what industry observers cite as a construction workforce shortage. By getting students face-time with companies covering all skilled trades, students are gaining exposure to opportunities they may not have known existed, says Karriem, and in return, companies are building diverse workforces. It's a "win-win situation," she says.
Having participated in home remodeling projects since middle school, transitioning to ACAD upon entering high school proved a natural fit for Outing. There, he received a chance to sharpen his career and technical education skills and participate in the newly launched paid internship program, known as A-CAD Builds.
The senior shares that networking at the job fair started with introducing himself to company recruiters. Then, followed up with business cards — making him a standout. "I want to become an electrician. I've already located the trade school I want to go to, but I have to wait until I get my high school diploma," says Outing, whose second choice is carpentry. With a focus on becoming an electrician, Outing was eager to learn about the skilled trades opportunities from both M.C. Dean and Miller & Long Concrete Construction, also present at the fair. He credits ACAD with prepping him for success on this day. Not only did the staff assist in the business card design but also helped with interview etiquette, from introductions to business attire.
The Mentor Effect
The building industry professionals and other organizations in attendance quickly pointed out the benefits of mentoring young people in their pursuit of skilled trades careers. For numerous students, volunteer mentors from Associated Builders and Contractors (ABC) have provided steadfast support in workforce preparation, particularly for junior and senior scholars in the Academy.
Tia Perry, director of business development and partnership at ABC, says students are provided guidance in resume writing, interviewing techniques and time management, and even participate in job shadowing. Such outreach is especially important because many students will not pursue college after high school graduation, so they need to be ready for alternative career paths, she says.
"Time is of the essence. They have to find a job in June," Perry stresses.
A volunteer since 2015, she adds, "ABC is really extremely passionate about giving back to the community and really trying to make a difference in these kids' [lives]."
Meanwhile, back at the M.C. Dean exhibit booth, recruiter William Lilley is witnessing first-hand the impact of mentoring. "It's amazing to see how many of these young people already have a plan and are just looking for ideas, advice and help more so than anything else," he says.
For those taking the initiative, Lilley is sharing information about the company's apprenticeship program, which he calls the foundation for becoming an electrician. Other students that may be interested in pursuing engineering can benefit from M.C. Dean's internship programs, options for those attending college but returning home for summer breaks.
Lilley gave a nod to the hands-on experience many students have in controlled environments. However, he encouraged greater training as these young people seek out internships and apprenticeships. He "definitely" would like to see some training — whether provided by the employer or the Academy — to get the kids prepared for that "rocky start if they've never been in a commercial environment."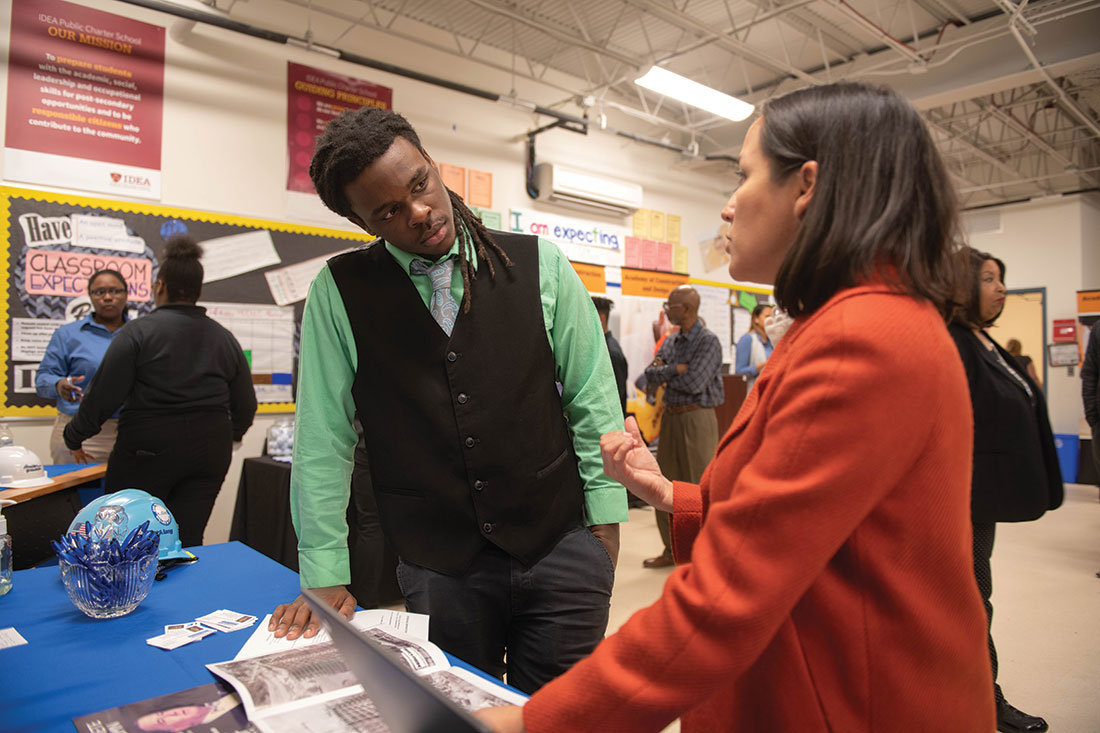 Table Talking Points
Informational handouts are spread across the tables, with company representatives at the ready to answer questions. At Miller & Long, the emphasis is on the variety of summer internship and apprenticeship programs available, depending on the individual's career objective. If entering the workforce directly is the goal, the company's apprenticeship programs provide "a good, paid opportunity that's hands-on with class sessions," according to Amy Bernoske, an estimator at Miller & Long.
She says having a presence at the event is important for spreading the word to young people about the opportunities in construction.
Nearby at the Ruppert Landscape booth, Human Resources Specialist Kate McCabe is firing off the different career paths and divisions available within the company. As upper-level students stop by the table, she discusses the various specialty areas for internships, ranging from landscape installation to management. The internship program is one way to "rub elbows" with some of the leaders in the company to learn more about what each branch or division does, she explains. McCabe also touches on some of the very limited hiring opportunities for those in the 18- to 21-year-old age group, attributed to safety concerns related to this industry.
While laying out this information, she quickly asserts how "super impressed" she has been with the students' abilities to discuss career pathways and values for employment, as well as maintaining eye contact and approachability. "I go to college fairs and don't see stuff like this on a regular basis," McCabe says.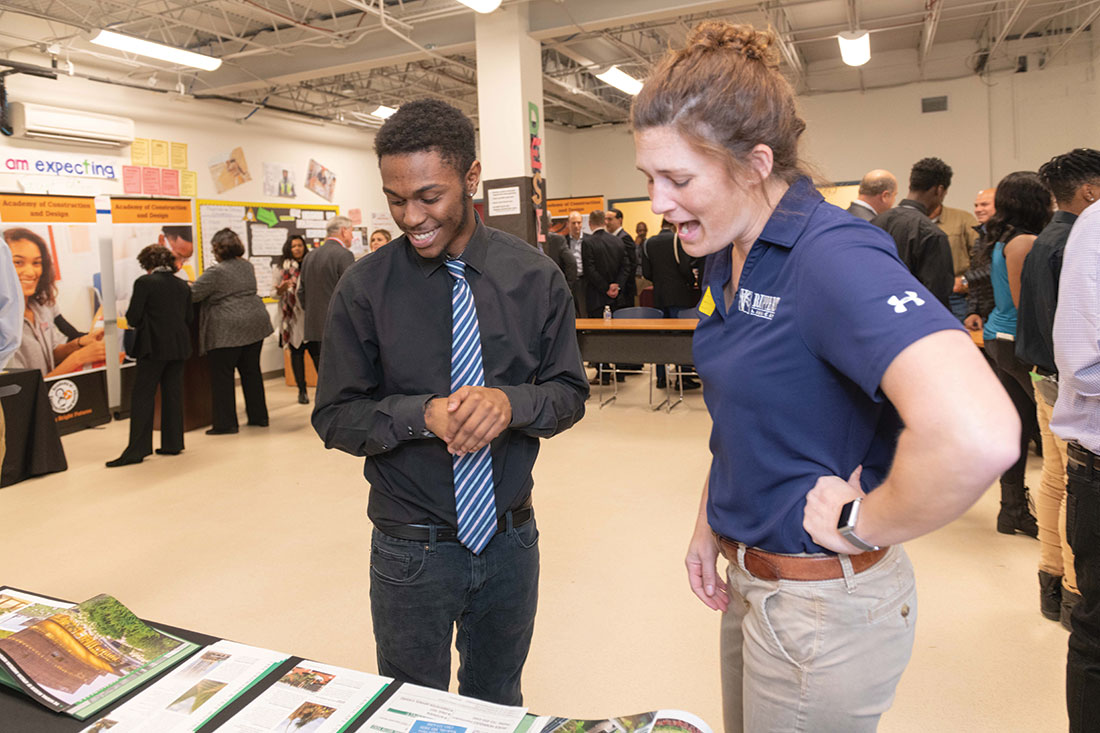 As the job fair winds down, a cluster of ACAD students gather in a corner of the room, laughing and talking about the afternoon. Karlton Carroll, 17, is among the young men who made the rounds looking for internships. Prepped for the event by his mom (he credits her for helping craft his resume and waking him up early to get dressed), he's excited about the day's accomplishments and the outlook for his future in the construction industry.
During the networking, he learned what companies like Miller & Long and Ruppert Landscape have to offer. "I like their fieldwork," says Carroll, who plans to attend college and major in computer technology and software. He praises the Academy for teaching much-needed skills so he could obtain certifications in areas such as carpentry and construction.
But he also applauds the support of his classmates, who lifted him up and kept him on a positive path in the face of personal and academic challenges. Says Carroll assuredly, "A lot of friends made sure I was on track to be a sharper student. They made sure I was good."