For senior Richard Boller, success is gained through the power of three: hard work, careful planning and a dedication to education. In embracing these strategies, he has pushed through life's challenges to become a 2018 graduate of the Academy of Construction and Design (ACAD).
Because of the environment that I'm growing up in, I know how hard I have to work. As someone coming out of a neighborhood in Southeast D.C., it has not always been easy for me," said Boller, sharing that he worked hard to improve his grades and inner circle of friends in high school.
On May 4, that commitment paid off. Surrounded by his peers and construction industry leaders at the 12th Annual Meet the Future Luncheon, Boller became the top winner of the Norman Dreyfuss Scholarship, bestowed with a $5,000 award that he enthusiastically proclaimed will be used to help fund his college education at Virginia State University: "VSU, Class of 2022!" There, he plans to major in political science and minor in criminal justice before pursuing a law degree.
While Boller nabbed the highest award of the day, he was not alone. More than half a dozen students across classes were recognized for their scholastic achievements and commitment to ACAD at this year's Meet the Future Luncheon, hosted by the D.C. Students Construction Trades Foundation (DCSCTF).
The Next 'Superheroes'
In a nod to blockbuster films "Black Panther" and the latest installment of "The Avengers," the ceremony honored the "superhero" students who have pushed through challenges to excel academically in the Academy of Construction and Design at IDEA Public Charter School. "The true superheroes of today are the students," proclaimed Carol Randolph, an Academy co-founder, in opening remarks.
In a video montage, ACAD students easily outlined the traits—from honesty to compassion in service to others—that made each of them champions of good. "The first quality of a hero is courage," according to senior Deja Wilson. "You overcome fear and confront any challenge."
Meanwhile, fellow senior Aaron Perkins said a hero has "a strong conviction, strong beliefs" and is "ready for the task at hand." But for most superheroes, there are pillars of support. For Academy students, there are parents, teachers and staff, former ACAD graduates, plus construction industry leadership, including the DCSCTF board members and executive council, among others, whose "commitment, support and resources continue to help our students succeed," Randolph added.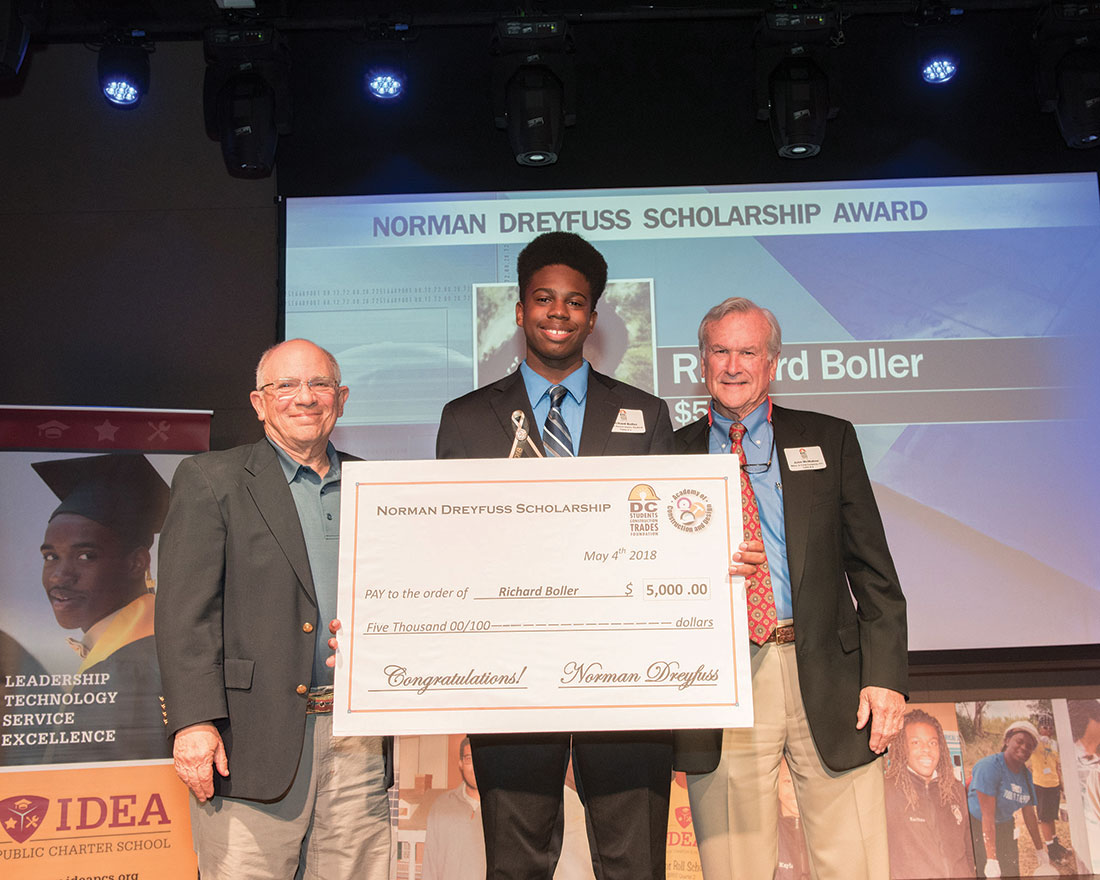 Building Unique Partnerships
Together with IDEA Public Charter School, the Foundation is engaged in a unique partnership that builds academic excellence and technical know-how, while encouraging the entrepreneurial spirit, according to Todd Stokes, the luncheon's chair and a managing partner at the accounting firm of Baker Tilly Virchow Krause LLP.
"ACAD allows students to do things that they might not have thought they could do at their age," said Stokes, referencing the career and technical education program that enables young people to transfer the CTE skills learned in the classroom to the real world—from constructing a micro-house to most recently building a school in Jamaica.
"It was easy for me to jump in because we already knew the basics like how to hammer," ACAD student Makiya Johnson recalled of the Jamaica trip in a separate video. "We just needed to know what task was at hand and then we could get right to it."
Stokes said these are the types of learning experiences that instill confidence and provide a head start on building career goals. "Industry leaders are behind Academy students 100 percent, helping them explore the many career choices and opportunities that are open to bright, motivated students who want to succeed," added Stokes, also a member of the Foundation's executive council.
That student confidence was on full display during the private donor reception before the luncheon, where students mixed and mingled while exchanging business cards with industry leaders. With some Academy students looking for summer internships and others looking for permanent jobs after graduation, the reception offered a taste of the real-world dynamics that help job seekers get a foot in the door.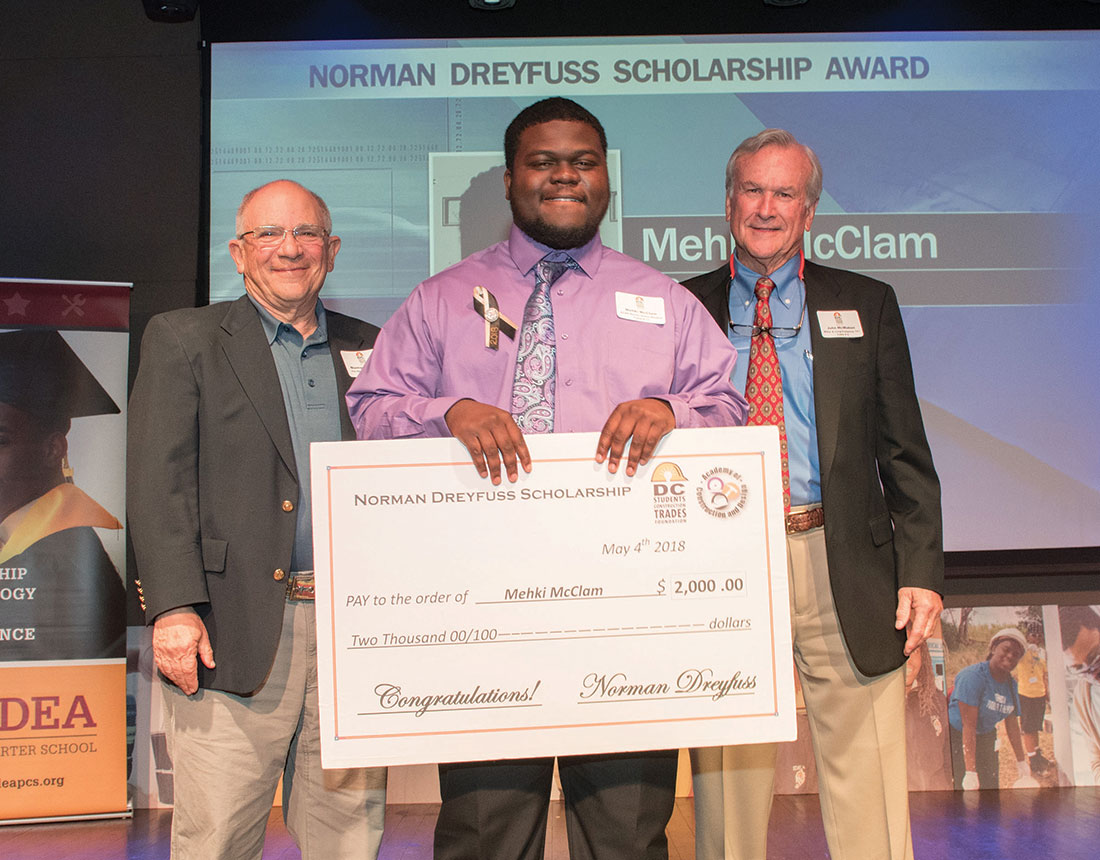 "This is a pivotal year as we continue to expand innovative training programs in the Academy of Construction and Design to help more students citywide not only gain confidence, but also the skills and expertise to become tomorrow's industry superheroes," said Paula Ralph, COO of the D.C. Students Construction Trades Foundation.
And the Award Goes To …
Endowed 10 years ago, the Norman Dreyfuss Scholarship Awards are named after the COO and executive vice president of the IDI Group Companies. Next year, Norman Dreyfuss said, "we will have $100,000 in the endowment."
Mehki McClam, 18, won a $2,000 scholarship as the runner up. In winning, the honor roll scholar joins a distinctive list of ACAD graduates. "Since 2009, 800 Academy graduates have been awarded over $54,000 from the Dreyfuss Scholarship fund," said Beth Moore, program director for the D.C. Students Construction Trades Foundation.
McClam—who focused on carpentry during his Academy years—is the first to admit that he didn't expect to be a winner when writing his essay, a key part of the application. He shared that he was simply writing a letter to himself about what he needed to do to succeed. It's a strategy that's earned results. McClam said his next step is to become certified and bonded in his trade before heading to college to study general management or business administration.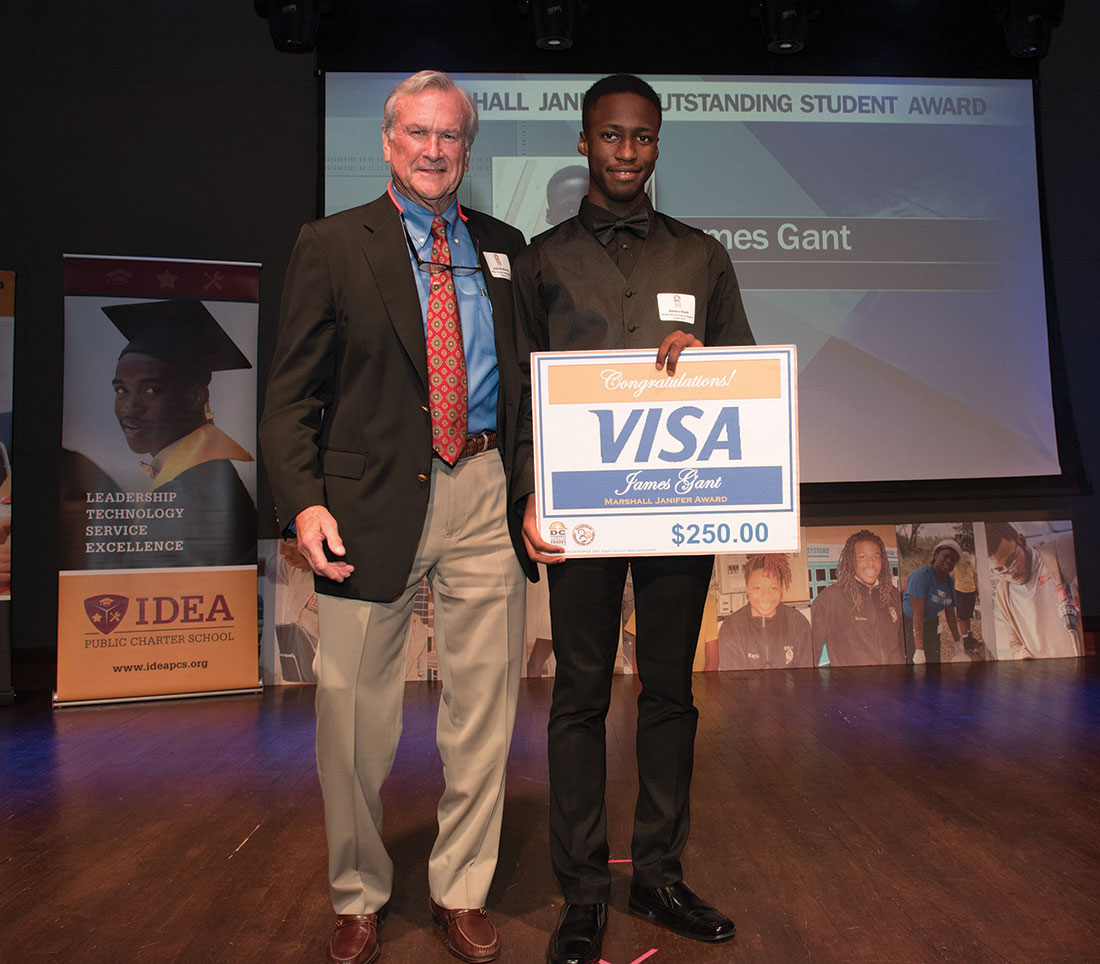 The Fantastic Four
Students across classes were also honored as Sigal Scholars by the Sigal Family Foundation, endowed in 2013. The Sigal Scholar Awards recognize "outstanding Academy students in grades nine through 12 who exhibit character, quiet competence, good citizenship, a competitive spirit and the drive to meet every challenge," according to Shelly Karriem, director of the Academy of Construction and Design.
Alongside GCS SIGAL leadership Gerry Sigal, founder and chairman, and Michael Sigal, president, Karriem recognized the 2018 Sigal Scholar Award winners as: freshmen Jy'Air Thigpen and Aviyana Green, who were awarded a $125 and $250 gift card, respectively; and juniors Malaysia Johnson and Tyron Gross, each awarded a $250 gift card.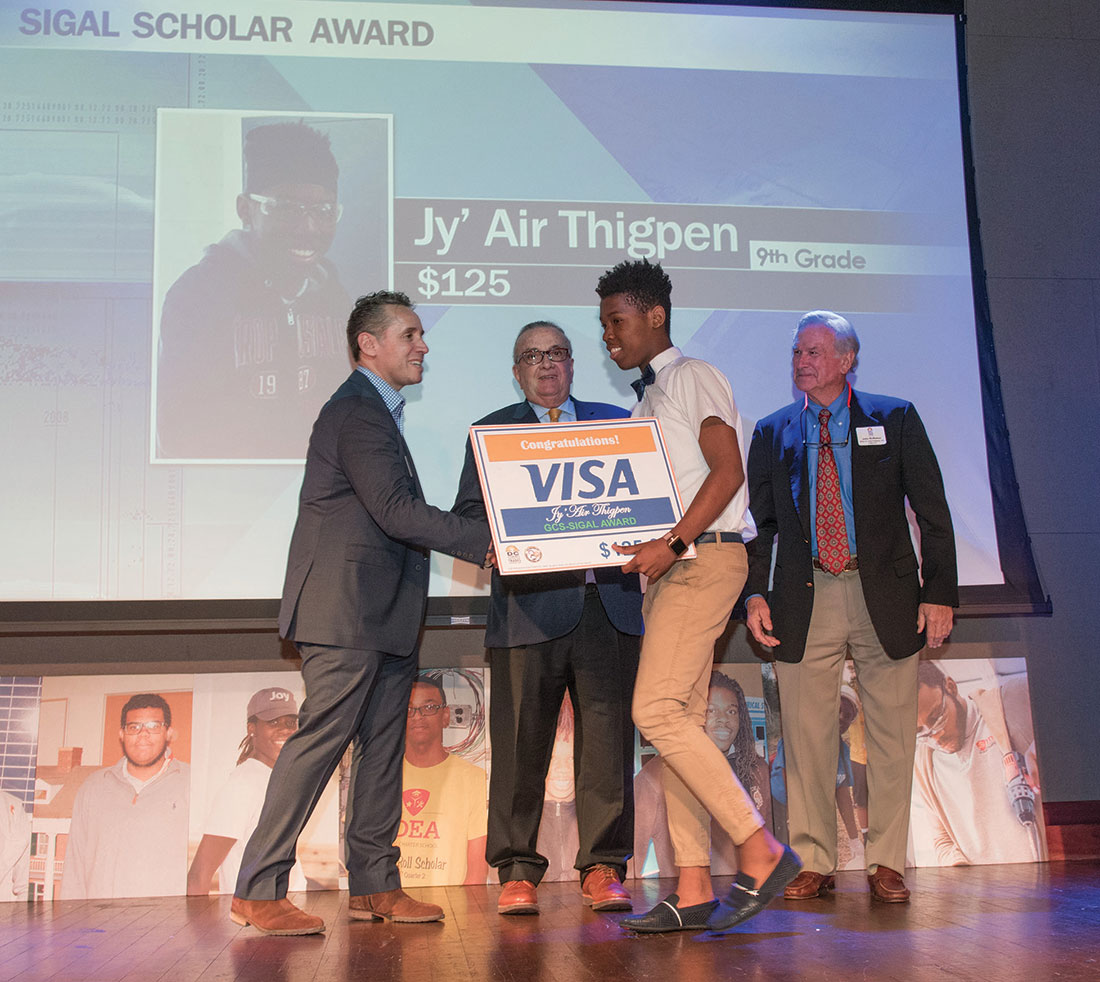 Meanwhile, a special award in the memory of longtime carpentry instructor Marshall Janifer went to a student with the lowest absences and highest participation in ACAD programs. The 2018 Marshall Janifer Outstanding Student Award recipient was James Gant, who Karriem heralded as "Mr. Dependable."
"If you ask him to show up at 9:00, he's gonna be there at 8:30. When you give him a task, he's gonna do exactly what you ask him to do," she shared of the young man who received the award, bestowed with a $250 gift card.
Twelve years after the start of Meet the Future, D.C. Students Construction Trades Foundation President and Co-founder John McMahon is optimistic about the future of the ACAD program. "There's a lot going on behind the scenes that is going to allow us to expand the program to other schools in other parts of the city," McMahon told JOBS Coalition Pathways after the ceremony.
In the meantime, he remains inspired by the "young, bright kids" learning new skills and knowledge from the program—and that each one can then move onward, forging a pathway to success. Said McMahon: " The most rewarding thing is when somebody who has graduated from the school three years earlier returns as a young adult with a big hug and smile, and a successful career in place."