When Treymane Chatman graduated in 2014 from a specialty skilled trades program at Cardozo Senior High School, he had a plan. With the help of a $3,000 scholarship, he would take the skills gained in high school out into the real world. Chatman got a job at GCS Inc., spending his days carrying out carpentry duties like rough framing, finishing work, and installing cabinets and countertops. But he wanted something more – and signed up for the D.C. Apprenticeship Academy.
After fast-tracking through the program in three years, Chatman achieved his goal. "I am a certified carpenter at the age of 21," he said proudly after the June 7 graduation ceremony, held at IDEA Public Charter School in Northeast Washington, D.C.
As a graduate of the D.C. Apprenticeship Academy's Class of 2017, Chatman became one of only two in his chosen trade to finish the program. He completed 576 hours of specialized training while holding down a full- time job, working his way up from a registered apprentice carpenter.
The D.C. Apprenticeship Academy offers apprenticeship training or related instruction for registered apprentices working in the construction trades, and is normally a four-year program. But Chatman's employer, general contractor GCS Inc., simultaneously runs an in-house training program, says Beth Moore, director of Foundation Programs for the D.C. Students Construction Trades Foundation, "so its instructor Jack Copeland was able to dual track Treymane to complete the curriculum for years three and four concurrently."
Chatman is one of nine graduates across carpentry and electrical trades to make up the latest class. By completing the apprenticeship training program, each electrical student receives the credential to be eligible for a journeyman's license in the District. And each carpentry student is recognized as certified in his trade.
For Chatman, the journey wasn't without a few bumps in the road. "The biggest challenge was staying inspired," he admitted.
Apprenticeship Academy classes were held in the evenings, so apprentices had to go to class after pulling a full day's work, which for some started before daybreak.
But looking towards the future kept Chatman motivated: "Then you start thinking about the end achievement and being certified and having your trade under your belt, and you say, 'Forget it, I'm gonna just do it.' "
Together, he and fellow graduate Patrick Woods, who also works at GCS Inc., helped keep each other on task. "We were battling," said Chatman of their "nice little friendly competition" to finish first in tests and the program. "It kinda has us going all out."
He continued, "If you can get a guy like me fresh out of high school to learn a trade and get right on it, why not, right?"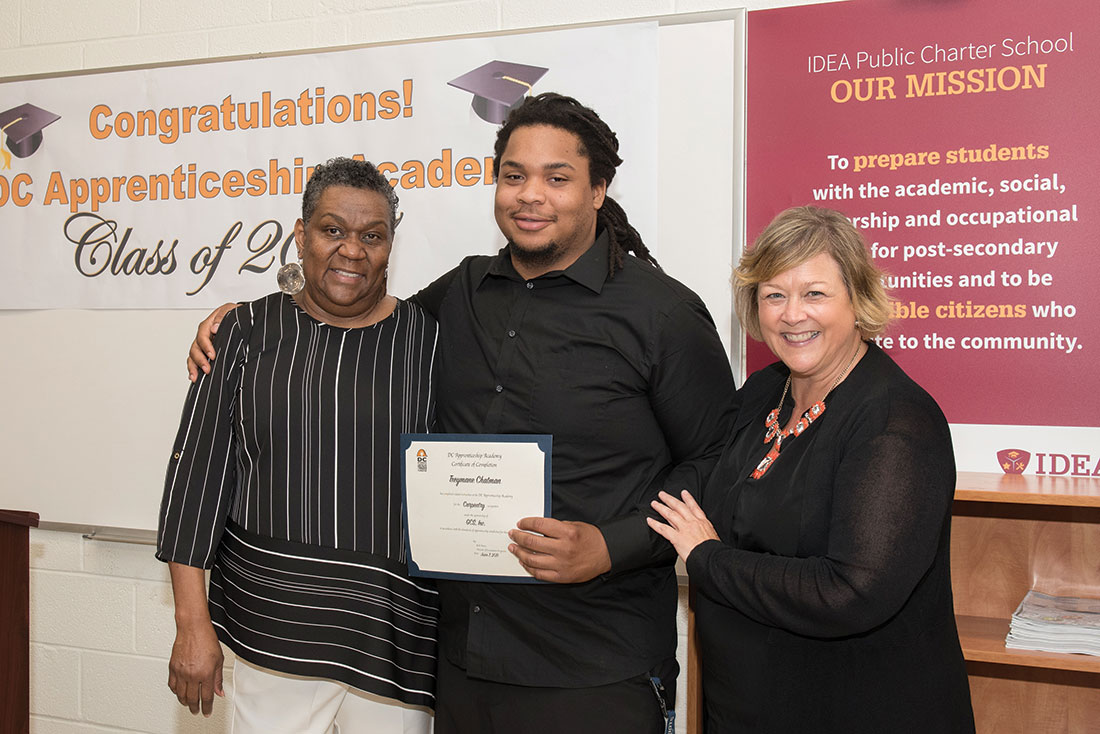 In This Together
Before the introduction of the graduates, Valerie Ladson, an Apprenticeship Academy instructor and master electrician, provided the keynote address. In her remarks, she heralded the benefits of hard work.
"By working hard, being on time, and doing your skill set properly, you can make a lot of money and then you can start your own company if you desire to do that," she told JOBS Coalition Pathways after the ceremony. "The type of skills[these graduates] have are in high demand."
With program enrollees facing challenges like child-care issues and transportation problems from Metro line shutdowns, Ladson always remained steadfast in communicating with students. "I'll work with you," she said, with the understanding that class attendance is a priority. "Just show up, because you need to learn as much as you can."
It's advice that stuck.
For Abouy Bilkuei, the electrical credential earned at the Apprenticeship Academy brought him one step closer to helping his home country of South Sudan. After graduating in 2007 from the Academy of Construction and Design (ACAD) at Cardozo Senior High School, he started working for M.C. Dean, which sponsored his electrical apprenticeship.
From learning basic construction site safety to more advanced skills, like terminating an electrical panel, Bilkuei aspires to use that knowledge to help others. He plans to one day open his own company and bring other young people like himself to this country to learn what he's learned in the skilled trades. Bilkuei hopes the relationships he has built and maintained through the years will help him open doors and reach that goal.
With some areas of South Sudan "stuck" without power, he wants to give back: "For the love of my country."
As for next life steps, Bilkuei aims to get his journeyman's license. He also would like to enroll in college – either the University of the District of Columbia or the University of Maryland – and earn a degree in electrical engineering.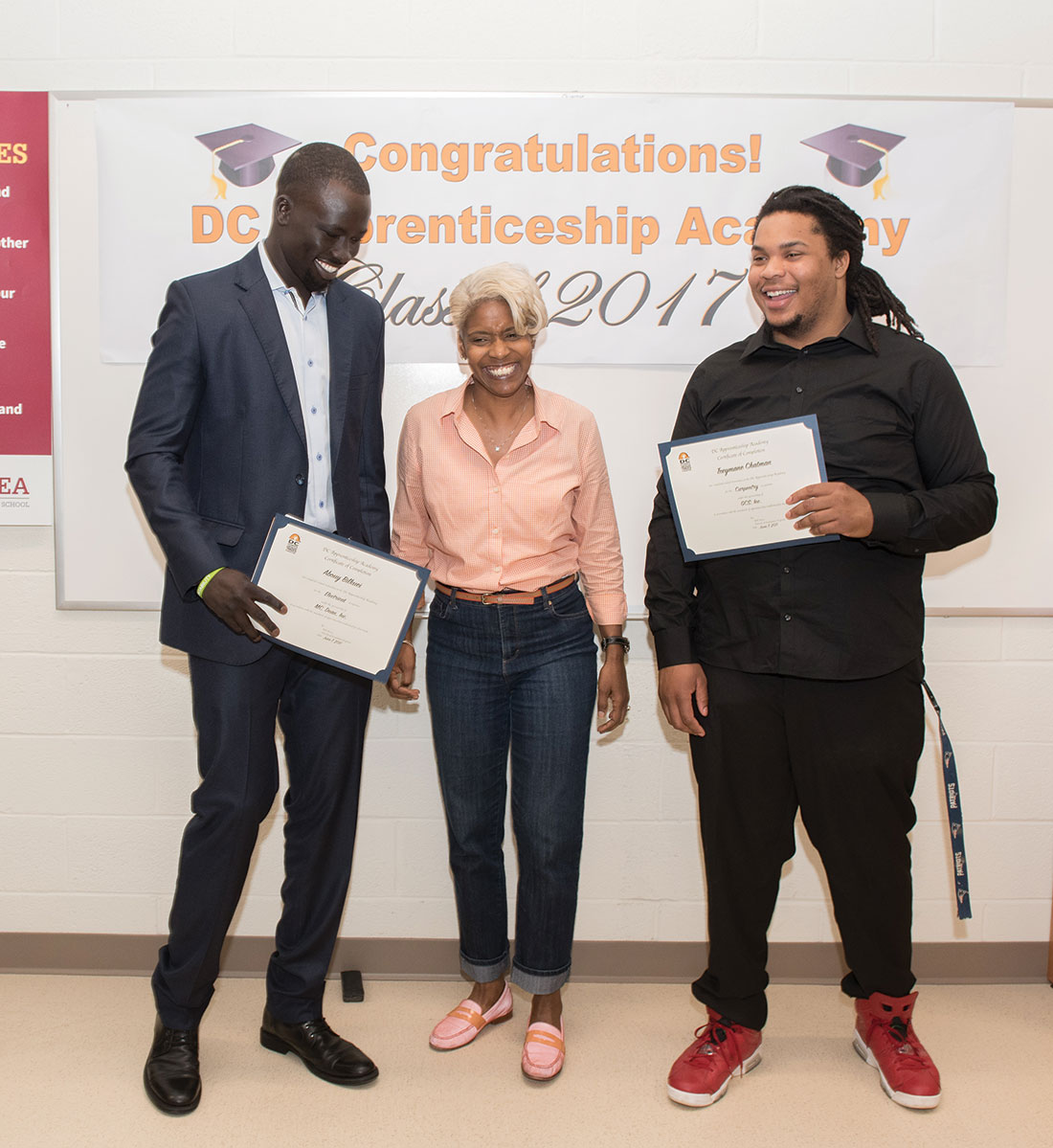 Roll Call
From the front of the room, Lesley Harris called off the names of the graduates one-by-one. As the program coordinator of the D.C. Apprenticeship Academy, she knows their stories. "I am proud of you guys," she said from the lectern.
After each name, the audience of family and friends erupted in celebratory applause – punctuated with the occasional whistle. Moore then stepped up to the mic to give special instructions to the electrical graduates in the room.
She advised them not to break the signed seals on the back of their special packets, which are to be taken to the licensure office, the D.C. Board of Industrial Trades. "D.C. passed a law a few years ago that means that students who successfully complete this program in electrical can go get their journeyman's license without taking the exam," said Moore.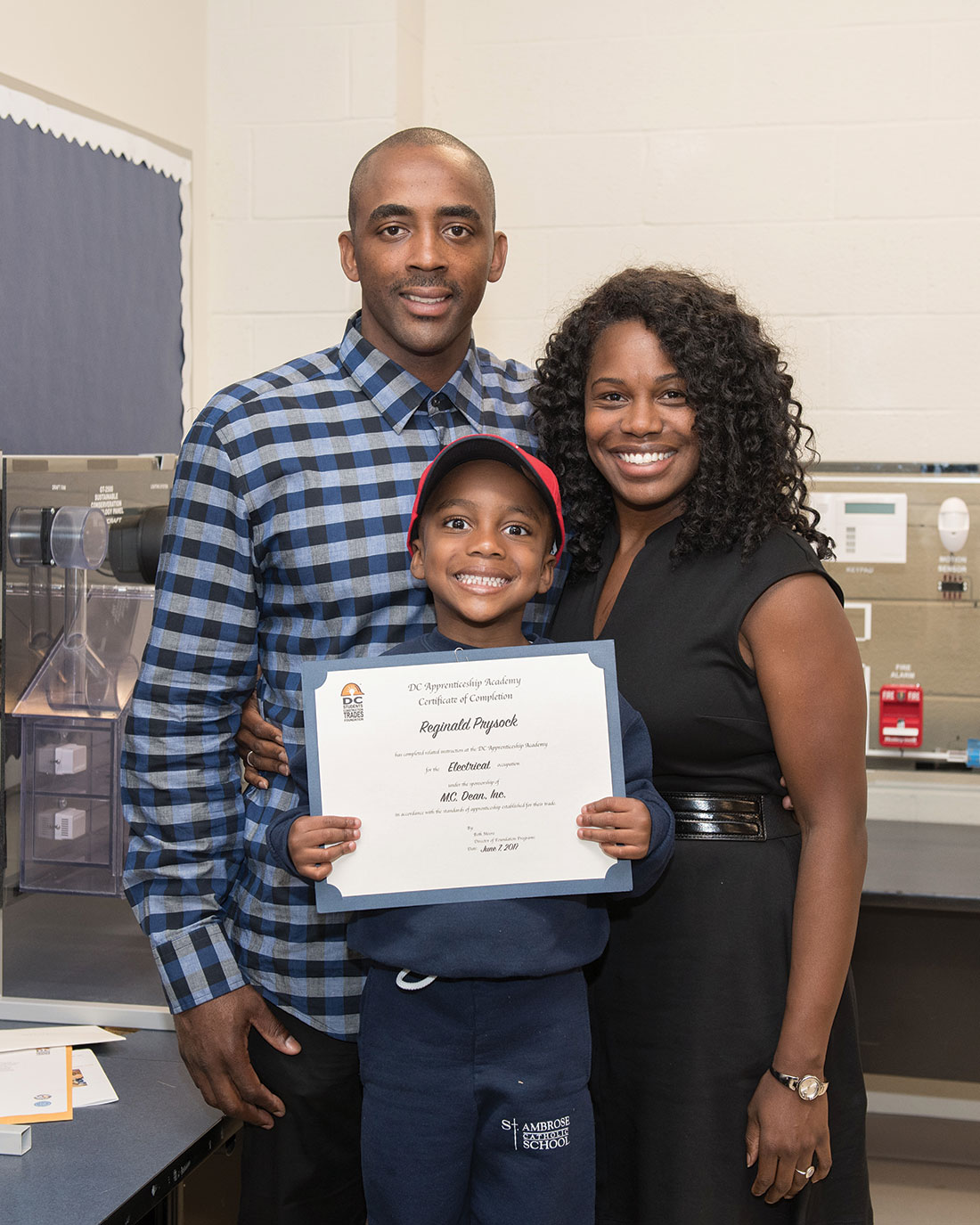 Family First
Family. That was an overarching factor behind Reginald Prysock's enrollment in the program after learning about it from a friend.
The newly-minted electrical graduate said the education and skills would enable him to provide for his family.
Plus, he noted, "You can't do anything without electricity."
Now with a certificate of completion in hand, Prysock is setting his sights on taking the master's electrician test. But he still remembers the hurdles. The 15-hour days that started when he woke up at 3:45 in the morning. A strenuous workday that began at 5 a.m., and ended so that he could fight traffic to get to evening classes on time. Next, sitting in the classroom and reading for hours until going home and finally getting to bed at 10 o'clock at night. Then, starting all over again the following morning. Graduation day, however, has made the challenges worthwhile.
And not just for Prysock, but for all the men who make up this diverse class of graduates. "If we can all learn together," said Prysock, "we can all work together."
Looking over the roster of graduates, Moore, too, is proud. These are men who have followed divergent paths to get to this day, but share in one trait: diligence. "Four years of their apprenticeship training also includes four years of full-time employment," which they also balanced with family life, said Moore, adding "it was great" to see two former ACAD students – Chatman and Bilkuei – follow their pathways all the way through apprenticeship.
As for Chatman, he plans to stay with GCS. And in a couple of years, he is eyeing re-enrollment in the D.C. Apprenticeship Academy to pursue HVAC, plumbing or electrical. Taking a cue from the keynote address, his goal is to take what he's learned and just "keep going." It's an aspiration that his fellow graduates can embrace as well.