Students of the Academy of Construction and Design gathered along the perimeter of the architecture and drafting classroom in IDEA Public Charter School. Nearby, leadership of the D.C. Students Construction Trades Foundation (DCSCTF) held court with banking and philanthropic leaders. Soon, these worlds would intertwine as community investment partners awarded more than $250,000 in grants to the Foundation to support skilled trades training for District of Columbia students.
The grants — announced Nov. 14 during kickoff of National Apprenticeship Week — include funding for career and technical education training for high school students participating in what is called A-CAD Builds, a pilot internship training initiative. Under this program, Academy students completed multiple projects including the renovation and build-out of a pastor's office housed at IDEA, and two tiny house projects featured in the city government's Vacant to Vibrant demonstration site in Ward 7.
"Today, we are welcoming new community investment partners who are committed to helping these interns build financial well-being for themselves and for their families," said Paula Ralph, COO of the D.C. Students Construction Trades Foundation, at the start of the event.
This series of funding marks a leap forward in expanding paid internship opportunities and hands-on building experiences for young people, according to DCSCTF. "It's exciting to be here with all these young people as we look to them to build our future — brick-by-brick, stick-by- stick," said Foundation Board President John McMahon while standing alongside the board's vice president, Steve Donohoe, during the event.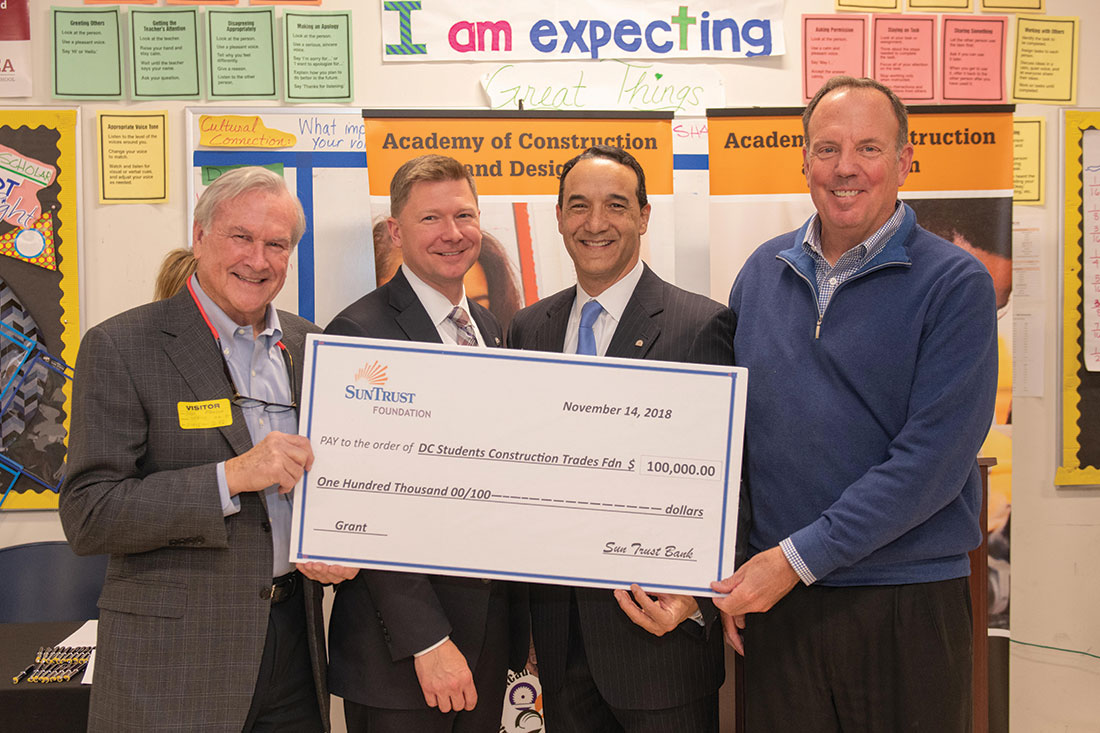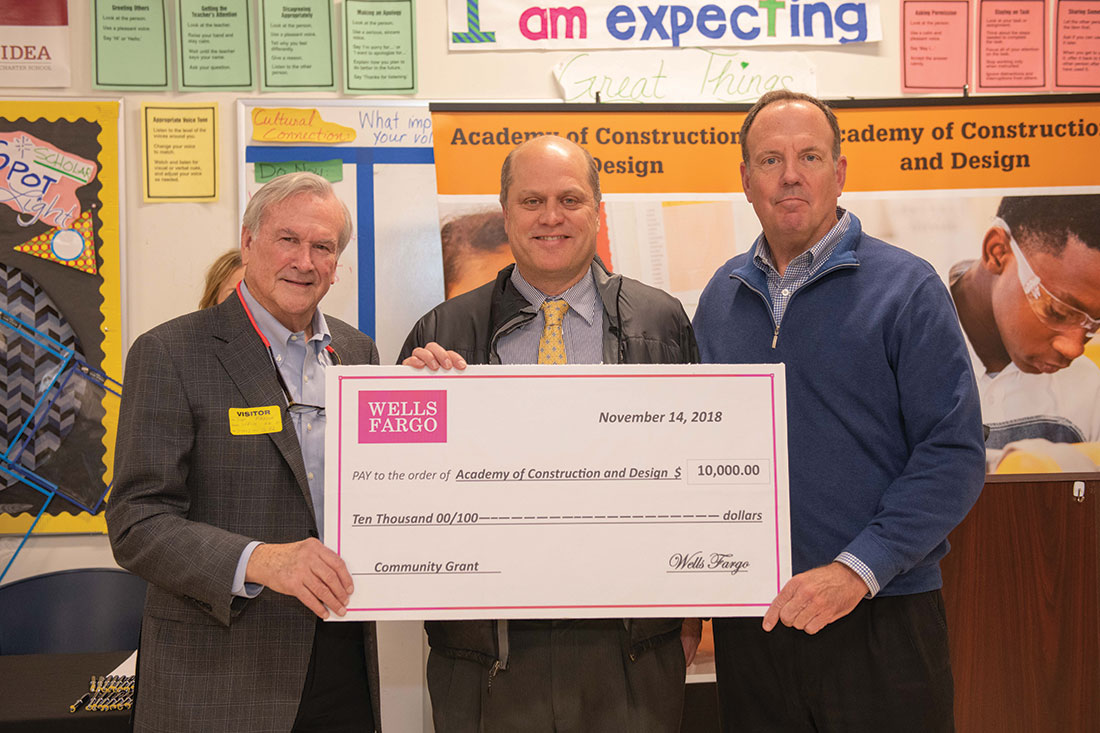 Investing in Bright Futures
The banking community readily made a "huge commitment" dedicated to funding paid internships that teach youth life and building skills, while benefiting the community at large. "It will really be the seeds of success," McMahon said.
Among the banks giving back to the community are United Bank, which has invested $125,000 over five years, and Wells Fargo, which awarded a $10,000 grant. "I came last year to see the work done here and was very impressed … and excited that it will lead to jobs when you [students] get out of here," said Kevin T. Hall, vice president of community lending and investment for Wells Fargo, during the check presentation.
Additionally, the SunTrust Foundation has granted $100,000 to DCSCTF. This funding aims to help more high school students "gain financial confidence" that will put them on a pathway to positive employment, higher education, diverse careers and entrepreneurship in the building industry, according to a joint news release from the DCSCTF and SunTrust Foundation.
"There is no better place to begin the journey of financial well-being than with our youth," said Stan Little, president of the SunTrust Foundation in the release. "We're proud to assist today's students, who are already achieving great things such as building homes for others, and we look forward to reinforcing the nancial foundation they build for themselves."
During the ceremony, Ralph also acknowledged the Richard E. and Nancy P. Marriott Foundation for its education grant, which when combined with the other grants, translates into this $250,000-plus initiative to build bright futures. Ultimately, the funds will be utilized for soft skills training, mentoring, job shadowing and work-based learning experiences for eligible construction and design interns participating on homebuilding sites in communities east of the Anacostia River, the release added.
Ralph also noted in-kind donations of nearly $20,000 in power tools and equipment for advanced carpentry labs in the Academy. "That gift was made possible by the leaders at Miller & Long," she shared.
While industry tools and equipment manufacturers quickly stepped up to fulfill the wish list, McMahon said their dedication would ultimately reach beyond the classroom. "It speaks to how many people in private industry understand how important skilled trades are," he told the crowd. "It's what builds cities."