The road from apprenticeship offers many possibilities, from licensed trade professional to college student, and beyond. That's the message gleaned from the banner displayed on the wall outside the Academy of Construction and Design (ACAD). It's the first hint to the opportunities awaiting youth and adults attending the National Apprenticeship Week Open House and Industry Networking event at IDEA Public Charter School in Northeast Washington, DC.
Sponsored by the D.C. Students Construction Trades Foundation, the Nov. 15 event included exhibitors from Miller & Long, Catholic Charities—Archdiocese of Washington, the D.C. Apprenticeship Academy, M.C. Dean Inc., and United Planning Organization. Also in attendance, members of the Department of Employment Services' Youth Apprenticeship Advisory Committee, among others.
A group of students huddled around one exhibitor table in the ACAD classroom as Liz DeBarros walked past the banner and into the room. "I really like the road to apprenticeship map because it really gets you to see why [students] are learning math, science and English in school," said DeBarros. Plus, she acknowledged that it gets to the heart of what many young people are interested in: "It can show you where you can get a career, where it can go, and how much money you can make."
As senior adviser for the D.C. Building Industry Association, DeBarros attended the open house to tour the Academy's facilities, which support classes for both the adult apprentice trainees participating in the D.C. Apprenticeship Academy and technical education courses for high school students enrolled in ACAD.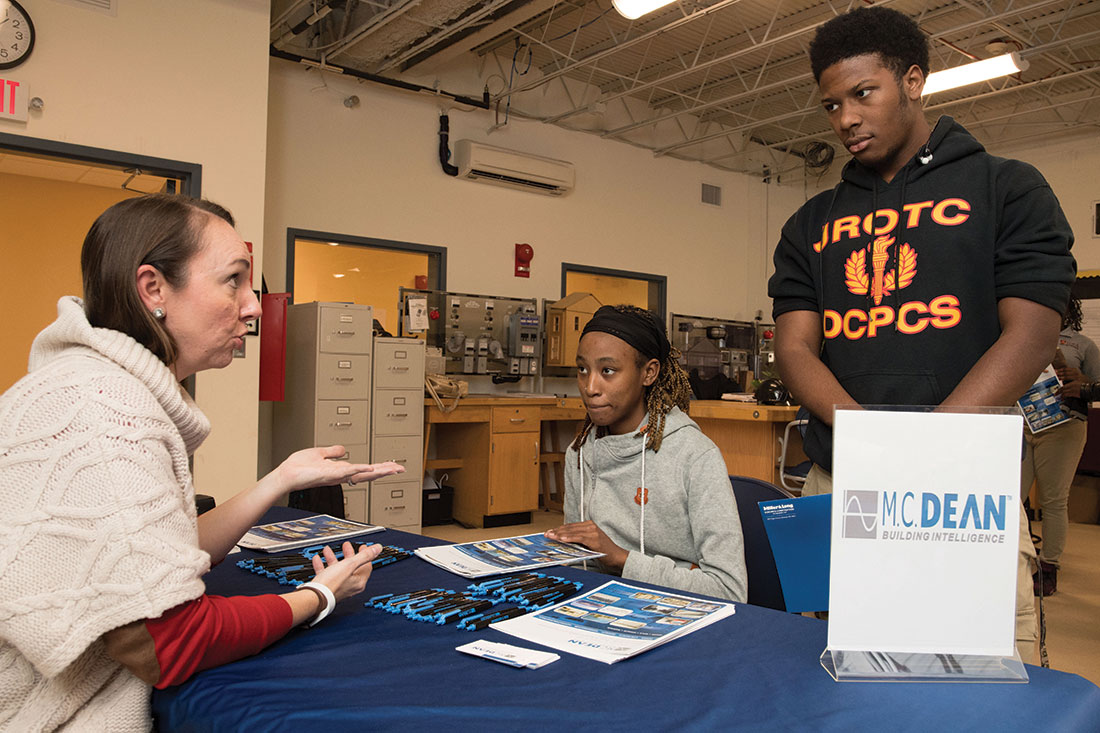 Also an appointed member for the YouthApprenticeship Advisory Committee alongside Foundation board member Bill Dean, DeBarros is enthusiastic about young people gaining exposure early to the various career pathways ahead.
"A lot of people in the construction and trade industry don't have to go the four-year college route," said DeBarros, giving a nod to the mix of academics and trades skills emphasized in the Academy program. She hopes that by attending and networking with company and organization representatives, students will be inspired by the "depth and breadth of the construction industry"—and gain valuable mentorship in the process.
A Fresh, New Look
For senior Dajour McDowney, 17, the spark for construction was lit when she was younger, helping her uncle on projects like rebuilding porches and painting houses. "I was so excited, it was so fun," McDowney remembers. Now, she has checked off Construction I and II courses at the Academy—with sights on becoming a psychologist after graduation. Still, skilled trades are on her radar, as she made a stop at the M.C. Dean table during the open house.
As a young woman, McDowney is confident about the contributions she and other women can make in this industry. "I'm capable of doing the same things that men are doing in the construction business, too," said McDowney, currently with an internship working on the Academy's latest tiny house project, the Minim House. "Of course they have more strength, but it's all about the ability and the mindset for doing the work."
Meanwhile, Mehki McClam, 18, aspires after high school to enroll in an apprenticeship program, with a focus on electrical. "Once I get my certification, I plan to go to college for two years and get my associates degree in entrepreneurship," he said. "The best boss is yourself."
Career Building Blocks
With the estimated 20-plus students visiting the M.C. Dean table, Erin May shared insights about the Tysons, Virginia-based engineering and integration firm. May, who is with human resources and runs the company's four-year electrical apprenticeship program, explained the program's ins-and-outs: "Students go to school in the evening one or two nights a week. In four years, they complete 8,000 on-the-job training hours. Once they graduate, they get their completion certificates in the state they attended or in turn they can get their journeyman's license in the electrical field."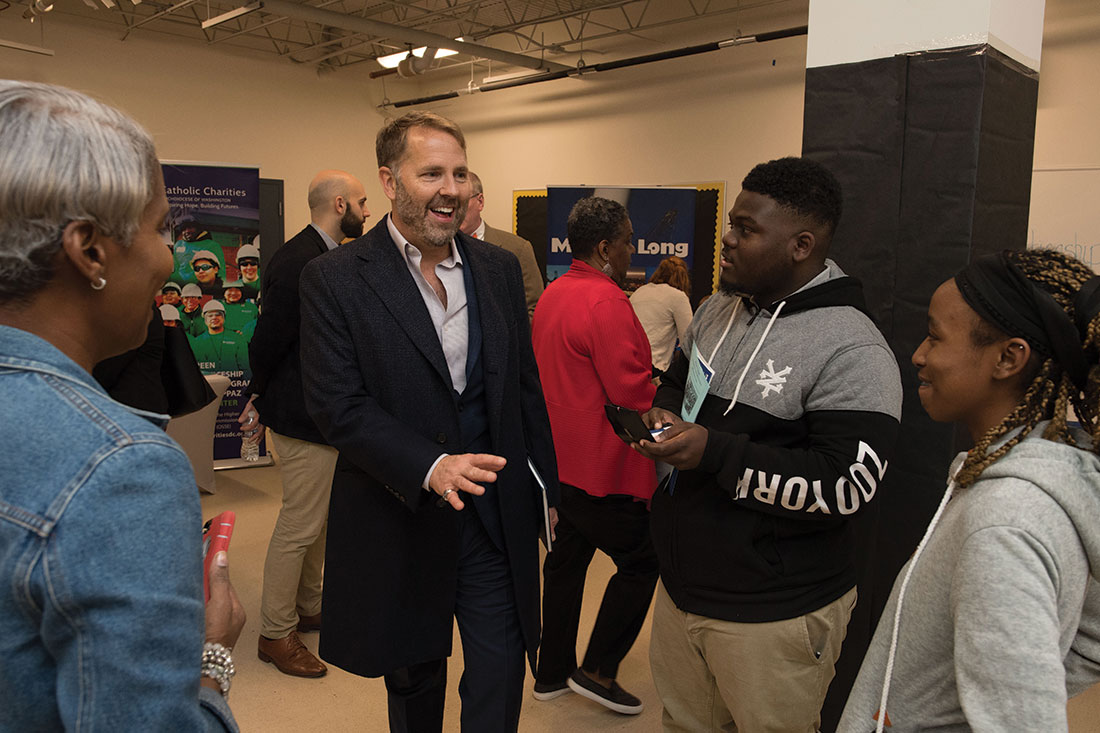 She noted that apprentices are working alongside journeyman electricians and learning the day-to-day operations of their future careers. That knowledge—combined with classroom learn- ing—transfers to the job site. They are starting their lives, working hard and making money to take care of themselves and their families, said May. Ultimately, she said, the apprenticeship program lays the building blocks of these individuals' future careers. "They become crew leaders, super- intendents, project leaders and some who have gone through the apprenticeship program work in our modeling group, working on computers and 3-D modeling for projects," May said.
Bridget Maley is program manager at the Spanish Catholic Center in the District of Columbia, part of Catholic Charities that offers green construction and hospitality programs in the District and Maryland. At the open house, Maley and her colleague Celia Sterling specifically highlighted the opportunities provided through the Green Pre-Apprenticeship Construction Program, which include safety and flagger training, for those directing traffic during highway construction. "It's a great way to show you can have stability, a great job and a great career outside of the four-year college track," Maley said.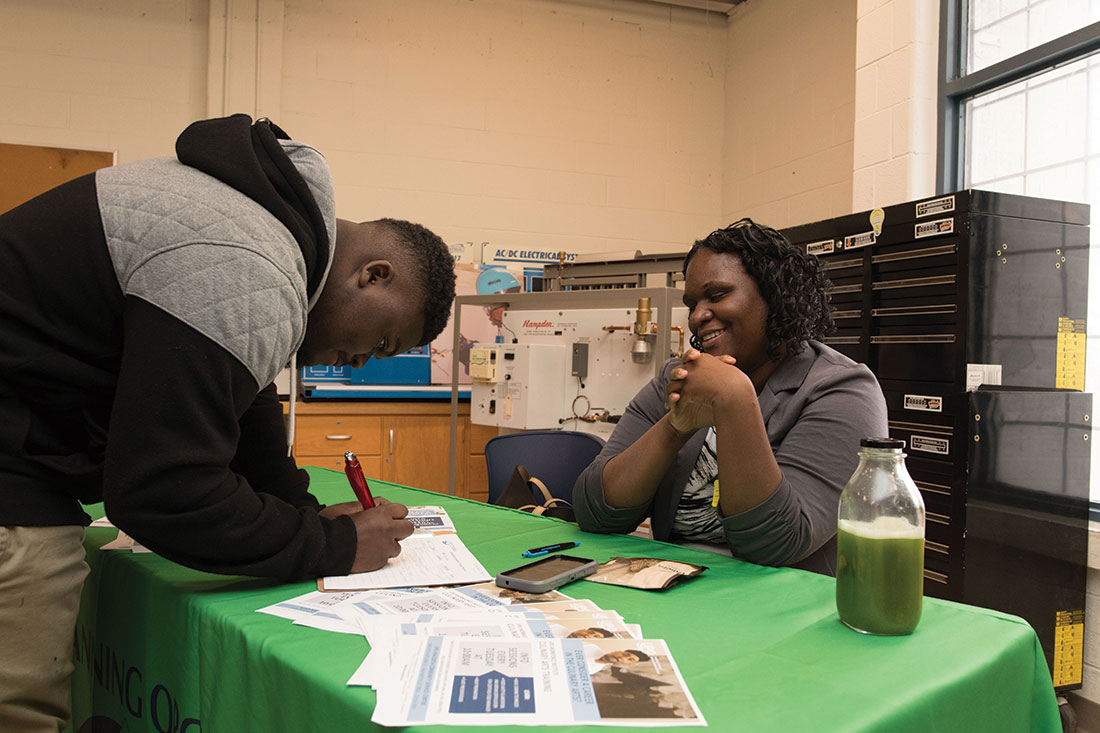 Ultimately, the green construction program can serve as a pipeline program for Academy graduates, according to Sterling, supervisor of the Green Pre-Apprenticeship Construction Program. Nearby, the United Planning Organization provided information on its spectrum of classes, free to District residents ages 18 and over, according to Darnita Lawrence. Lawrence, an outreach specialist with UPO, said course offerings include professional building maintenance, telecommunications, electrical technician, culinary arts and hospitality. Among program benefits? Students receive tokens for transportation and job placement assistance, from resume development to mock interviews coaching.
Throughout the afternoon, each organization echoed to young people the importance of realizing that college isn't the only pathway to success. Embracing the trades with a solid foundation of academics is an alternative avenue towards career growth—no matter the final destination.
Ultimately, senior officials gained insights to help move the conversation forward about unique programs like the Academy of Construction and Design. For Manning, the visit proved a learning opportunity. "What we saw here was some best practices," Manning told JOBS Coalition Pathways after the event, "and how the construction community has rallied around the school. That's something that I'm sure can be replicated other places in the country, and I would love to be part of seeing that happen."
"Not every student is college bound," reiterated Myrtle Alexander, an economist who has studied dual education in Switzerland. "Offering something hands-on where you can actually obtain a high school diploma and credentials to take you straight to industry is a win-win."
In the end, it's the students who are the winners. For McClam, an apprenticeship in electrical just might open the door to reaching the dreams of his youth. He recalls sitting in his bedroom and staring at the world globe—imagining all the places he wished to travel one day. After talking with M.C. Dean about its program, McClam felt even more confident about those aspirations becoming reality: "It's about opportunity."