CTE On the Brain
The Cause for Excellence: Advancing Equity and Engagement in Career and Technical Education, Sept. 17

A stigma is attached to career and technical education (CTE), particularly when it comes to African-American students who historically have been "tracked" into hands-on, skilled trades. But a powerhouse panel during CBC said such stigmas must be shed, so young people can embrace the career opportunities CTE offers.
Khalilah M. Harris, deputy director for the White House Initiative on Educational Excellence for African Americans, said that it's still honorable for students to pursue a trade based on technical skill. "There is no child that should get out of high school [or] middle school where they haven't had intentional exposure to careers they may not have thought of," Harris said.
Panelists explained that today's CTE is broader – going beyond traditional vocational classes like shop and heating, ventilation and air conditioning to include creative careers in hospitality management and biotechnology. Harris added that the humanities shouldn't be carved out, and STEM (science, technology, engineering and mathematics) is part of the conversation as well. "Being exposed to career pathways is not just about trades," she stated.

Students may have been exposed to CTE without even realizing it, according to Donna Harris-Aikens, director of the Education Policy and Practice Department at the National Education Association. One reason: some programs don't brand themselves that way. She agreed career and technical education today is not just about the trades, saying, "It is literally about careers."
"If we can't start wrapping our minds around that," Harris-Aikens said, "it's going to be very difficult to make the changes systemically within public education and higher education and everything in between."
Part of eradicating the stigma is rewriting the history of CTE. Karen King, program director for the Division of Research on Learning at the National Science Foundation, concluded: It's more that just a "stepping stone" to college.
Black Women & Incarceration
Black Women & the Criminal Justice System: We, Too, Sing America
A Sojourner Truth Forum, Sept. 18
Black women are incarcerated, serving time on death row, and facing police violence. Female leaders from law enforcement, grassroots organizations and civil rights advocacy came together to examine these issues and develop action plans for change.
The panel opened with questions, asking who are law enforcement officers and what influence do they have in the relationship between communities and police?
"They are humans who have vices, prejudices; they have bad days," said Charlene L. Hinton, chief of staff for the Petersburg, Virginia Bureau of Police. "Unfortunately, they are not always representative of that community." That translates into them not always
understanding the culture, she added, or having the ability to communicate in a manner that's understood by the people in the communities they serve.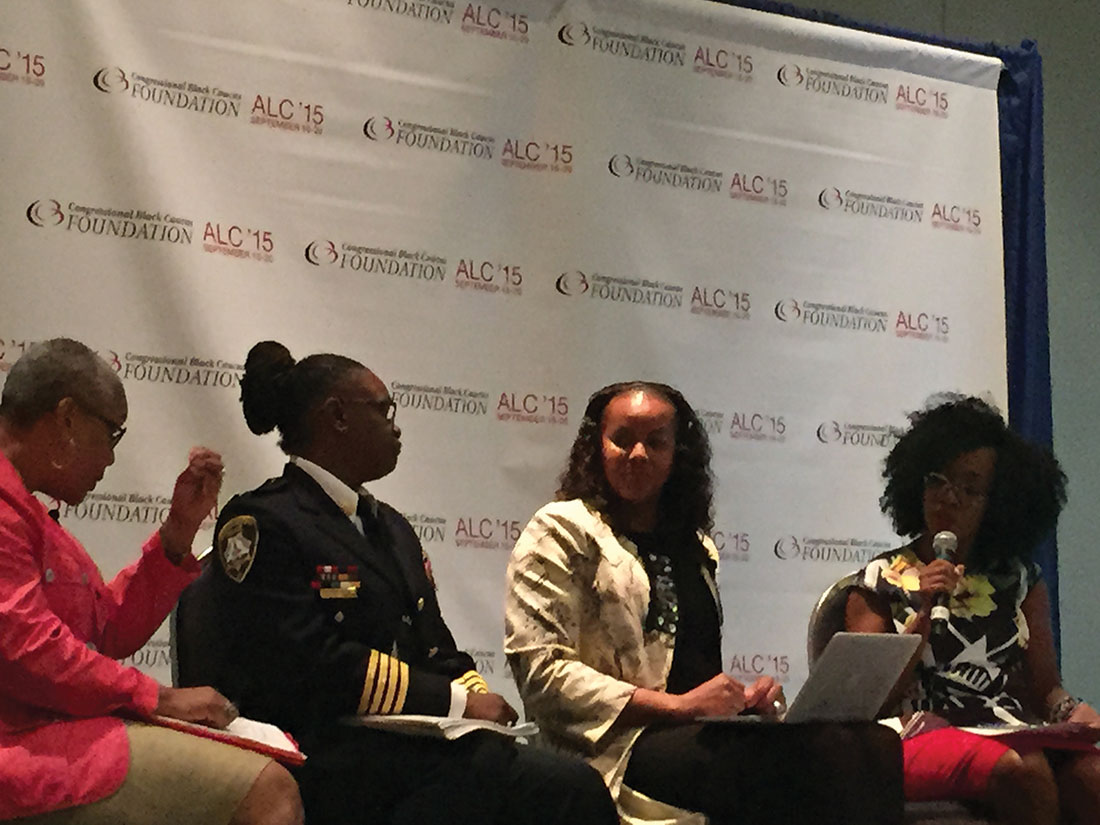 "That's what generates a lot of our problems that we are seeing across the country today," Hinton said, referencing the wave of police killings and violence against African-Americans across the country from Ferguson to New York.
Meanwhile, Natalie A. Jackson, who worked on the Trayvon Martin case, reminded the audience that the police is a government entity that has the right to take one's life. "They can be regulated and we should regulate them," said Jackson, a managing partner of the Women's Trial Group.
When black women are victims of crimes, it's important to have females who look like them as officers, lawyers and in other positions within the criminal justice system to break down emotional barriers, the panelists said. They outlined obstacles including: low numbers of women applying to become police officers and passing the physical agility requirements; struggles of black lawyers to become prosecutors because of perceptions they are biased towards black defendants; and, harassment in a male-dominant cop culture. "You need a strong cohort of women to go in with you so you feel that you're not alone," said Brenda V. Smith, project director of The Project on Addressing Prison Rape.
Systemic Abuses
Smith also outlined pathways to incarceration for black women. She said that many women experience victimization as children, adults and when in custody. And while most women are incarcerated for nonviolent offenses, those who are convicted of violent offenses or serve significant jail time do so because of a man. "They are often co-defendants and are often scared to say a word because they fear for their safety and they fear for their family's safety," Smith said.
The panelists also tackled the issue of sentencing discrimination, a conversation sparking discussion on mandatory minimum laws, which Jackson deemed "unfair" for disproportionately affecting women and not allowing judges to take an individualized approach to sentencing.
As a "call to action" on these laws, Smith urged people to encourage their congressional representatives to push against mandatory minimums that disproportionately impact communities of color. "If we could do something about mandatory minimums for drug offenses," said Smith, "that would make such a huge difference in the imprisonment of women."